An opportunity to extend international cooperation in social work
Wednesday - 16/04/2014 00:18
On March, 13th, 2013, Assoc.Prof.Dr Nguyen Van Kim (Vice Rector of USSH) had a work meeting with the board of leaders of the College of Social Work, University of Utah (United States) led by Prof.Dr Jannah Mather (Dean of the College). There were also Assoc.Prof.Dr Nguyen Thi Kim Hoa (Dean of the Faculty of Sociology), Assoc.Prof.Dr Nguyen Hoi Loan (Dean of the Division of Social Work), Assoc.Prof.Dr Nguyen Van Hieu (Director of the Office for International Affairs and Programs), and Doctor Tran Van Kham (Deputy Head of the Office for Research Affairs).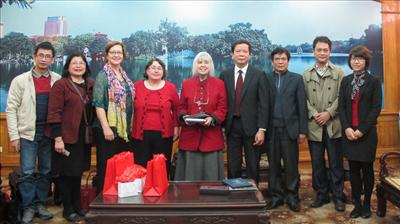 At the meeting leaders of the two universities had a direct discussion on opportunities for bilateral cooperation in broadening and developing social work programs.
Assoc.Prof.Dr Nguyen Van Kim stated that social work as a academic major in Vietnam came into being 10 years ago. The University of Social Sciences and Humanities (USSH) is one of the first institutions to open the Social Work program at its Faculty of Sociology. The strength of this program is its development on the basis of foundational and multi–disciplinary sciences. Until now the University has trained a large number of experts and individuals working in the field of social work.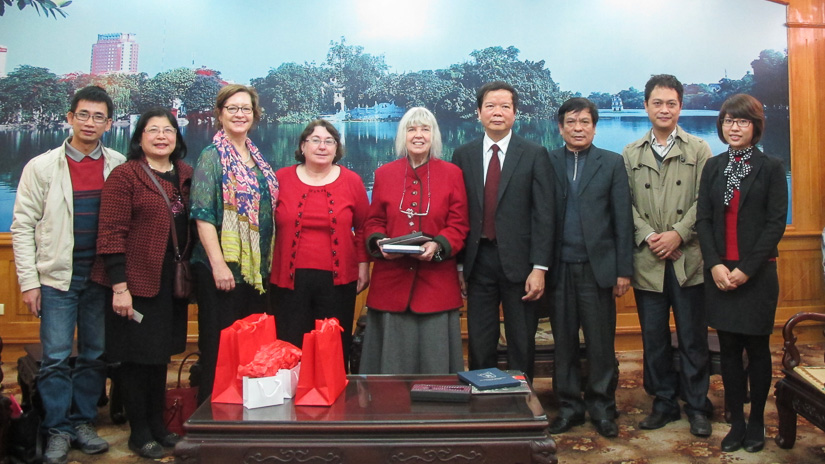 Assoc.Prof.Dr Nguyen Van Kim and Prof.Dr Jannah Mather and the delegation
Next, Assoc.Prof.Dr Nguyen Van Kim suggested some fields of bilateral cooperation in the near future: the two universities will provide programs at bachelor's – master's – doctorate level; co-hold conferences, conduct joint studies and exchange documents; and cooperate in training lecturers and experts in social work.
Prof.Dr Jannah Mather agreed on the suggestions and confirmed the University of Utah is willing to cooperate with USSH and would like to learn more about the development of social work in Vietnam. Professor Jannah Mather also informed on three most concerned issues in Vietnam, which are mental health, the protection of children and women's health. Therefore she hoped that in the coming time the two sides could co–organize conferences on these issues.
The University of Utah has a tradition of teaching social work for over 60 years and is one of first public research-based universities in the United States. In November, 2013, the University of Utah and USSH signed an official memorandum of understanding.