Japanese language courses commenced
Saturday - 29/08/2015 12:20
On August 18th and 20th, the University of Social Sciences and Humanities successively kicked off the basic Japanese language courses (Basic 1) in Thue Thien Hue, Da Nang and Quang Nam provinces. These courses belonged to a training program carried out by the University under the instruction of Vietnam National Administration of Tourism (VNAT). Along with USSH's Faculty of Oriental Studies, the Tourism and Scientific Services Company Limited was in charge of these courses.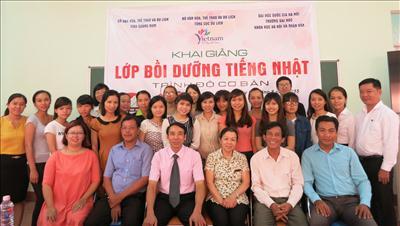 In Hue, the opening ceremony was held at Hue University of Foreign Languages with the participation of Mr. Tran Quang Hao (Deputy Director for Personnel Affairs) at VNAT; Mr. Le Huu Minh (Deputy Director of Thua Thien Hue's Department of Culture, Sports and Tourism); and representatives of relevant departments and bodies .
In Da Nang, with the support of Da Nang University of Foreign Languages, the opening ceremony was successfully held. In addition to the delegation from VNAT there were also leaders from different bodies and offices of Da Nang Department of Culture, Sports and Tourism such as Office for Personnel Affairs and Office for Travel Management. Speaking at the ceremony, Assoc. Prof. Dr Pham Quang Minh (Vice Rector of USSH) highlighted the reputation of USSH in tourism teaching, especially the teaching of foreign languages for tourism such as Japanese, Korean, Thail and Indonesian. USSH was also the only institution authorized by VNAT to organize different proficiency tests for international tour guides.
Assoc. Prof. Dr Pham Quang Minh delivered his speech at the opening ceremony in Hue
In Hoi An (Quang Nam), the opening ceremony was held at University of Phan Chau Trinh with the participation of 40 students. In his opening speech, Mr. Ho Tan Cuong, (Deputy Director of Quang Nam Department of Culture, Sports and Tourism) highly appreciated the quality and responsibility of USSH in its training.
The basic Japanese language program in 2015 was not only limited to officials working in public sector, but also available for employees working for travel agencies, accommodation establishments and other related businesses. In 4 months, learners would be provided with basic knowledge and Japanese language skills so that they would be professionally fit for the increasingly growing and luxurious market.