Launching IELTS courses for lecturers
Friday - 19/07/2019 03:52
During two days July 15th-16th, 2019, USSH collaborated with Jaxtina English Center to launch 02 IELTS courses for 30 USSH's lecturers.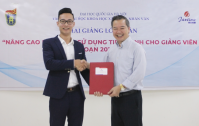 Prof.Dr Pham Quang Minh and General Director of Jaxtina English Center – Mr. Hoang Tuan Anh sign the official contract
The students of these two classes are lecturers from various faculties and units of USSH. Using a 6-month training module, Jaxtina English Center committed to ensuring overall/equivalent bandscore 6.5 for the lecturers. These courses are part of USSH's Project of Improving English proficiency for lecturers in the period of 2018-2020. Accordingly, lecturers will have to maintain their IELTS band scores according to their respective age ranges and the University will launch English language courses to support them. 
Speaking at the opening ceremony, Prof.Dr Pham Quang Minh (USSH's Rector) said: USSH is developing into a leading university with a research-based environment in Vietnam in the process of regional and global integration. Foreign language capability is the first key that the lecturers must obtain to develop themselves professionally. Studying English must be standardized according to the international scales as in IELTS. Thus, this is an effort of USSH to standardize the foreign language skills of its lecturers and it can only be successful if the lecturers commit to side with the University and the Center to fulfill the objectives set forth in the courses.