Meeting with Ambassador of the Islamic Republic of Iran to Vietnam
Tuesday - 18/11/2014 22:19
On November 13th, 2014, Prof.Dr. Nguyen Van Khanh (Rector) welcomed and worked with Mr. Hadi Soleimanpour (Deputy Minister of Foreign Affairs of the Islamic Republic of Iran) and Mr. Hossein Alvandi Behineh (Ambassador of the Islamic Republic of Iran to Vietnam) on the occasion of their visit to USSH.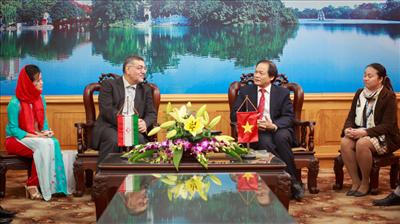 Mr. Hadi Soleimanpour expressed his willingness and personal feelings of Iranian people for the country and people of Vietnam. He appreciated the close relationship between the Embassy of the Islamic Republic of Iran to Vietnam and USSH and the activities the two sides had jointly held. However, under the current position as director of the Center for International Research and Education (CIER) of Iran's Ministry of Foreign Affairs, Dr. Hadi Soleimanpour said that cooperation, first and foremost in the educational and research areas is not yet suitable with the full potential of both parties.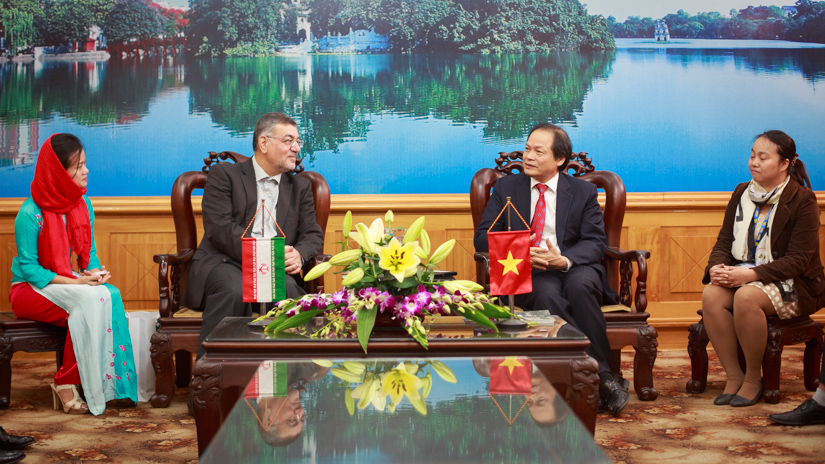 Prof.Dr Nguyen Van Khanh and Mr.Hadi Soleimanpour at the meeting (Photo: Thanh Long)
Concurring with the observations and ideas of Hadi Soleimanpour, Prof. Dr. Nguyen Van Khanh proposed some cooperative activities, such as organizing conferences, exchanging faculty and students, and establishing research centers on the language and culture of each country. He confirmed this would be the basic steps for Vietnam and Iran to build more intimate relations in other fields.
Agreeing with and appreciating these proposals, Ambassador Hossein Alvandi Behineh and Vice Ambassador Hadi Soleimanpour hoped CIER and USSH would soon conclude a Memorandum of Understanding (MoU) when he was still in office.