Meeting with the representative of Hiroshima University
Thursday - 07/09/2017 02:51
On September 7th, 2017, Assoc. Prof. Dr Tran Thi Minh Hoa (USSH's Vice Rector) and representatives of the Faculty of Oriental Studies, Office for Cooperation and Development had a work meeting with Dr. Taiji Hotta (Deputy Vice President of International Education, International Center, Hiroshima University). The meeting was used to discuss about the implementation of PEACE Student Exchange Program at University of Social Sciences and Humanities.
The PEACE (Project of Effective Action with CLMV's Education to promote the Capacity of Research and Social Planning for Peaceful, Inclusive and Sustainable Development) Student Exchange Program aims to educate future professional resource personnel, who will contribute to ones' own knowledge and skills for the inclusive and sustainable development of the Asian region. Students will attend a 4-term academic year from April 8th, 2017 to February 14th, 2017; be provided with a round-trip airplane ticket and eligible to apply for the JASSO scholarship programs to cover the cost of living (80,000 Japanese yen/month). The 5 study areas included in this Program are Food and Medicine, Environment and Resources, Education and Employment, Language and Culture, and International Economics and Management.
Hiroshima University has established partnerships in this program with universities in Cambodia, Laos, Myanmar, Vietnam and Thailand. The 5 Vietnamese partners are Vietnam National University, Hanoi; Vietnam National University, Ho Chi Minh City; University of Medicine and Pharmacy, Ho Chi Minh City; University of Transport and Communications; Foreign Trade University. Dr. Taiji Hotta said Hiroshima University hopes to receive and will provide ample opportunities for USSH's students to apply for this Program. In return, it will send its own students to USSH.
On behalf of USSH, Assoc. Prof. Dr Tran Thi Minh Hoa expressed her thanks to the enthusiastic cooperation by Hiroshima University. She said USSH will select its best candidates to participate in the PEACE Program; and is willing to receive students from Hiroshima to take part in short-term courses and summer tours held by it. The Faculty of Oriental Studies and Office for Cooperation and Development will help connect the two sides.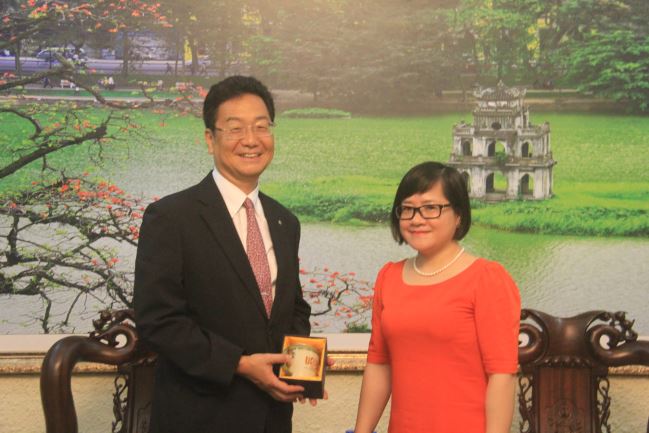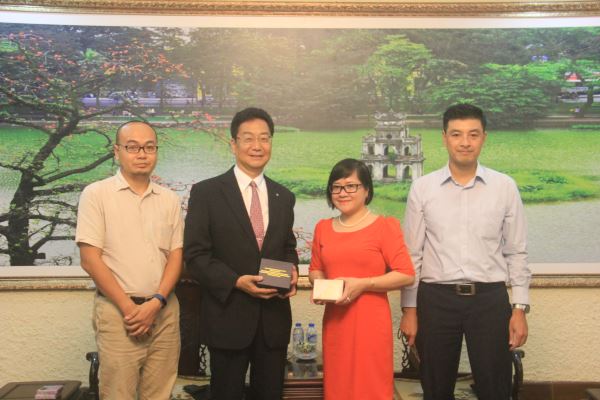 Assoc. Prof. Dr Tran Thi Minh Hoa takes ceremonial pictures with Dr. Taiji Hotta
Hiroshima University was established on May 31, 1949 under the National School Establishment Law. It has both undergraduate schools such as School of Law, School of Economics, School of Letters, School of Education and graduate schools such as Graduate School of Advanced Sciences of Matter, Graduate School of Integrated Arts and Sciences, and Graduate School of Social Sciences. It operates based on 5 guiding principles: The Pursuit of Peace, The Creation of New Forms of Knowledge, The Nurturing of Well-Rounded Human Beings, Collaboration with the Local, Regional, and International Community, and Continuous Self-Development.