10 prominent events in the academic year 2016-2017
Saturday - 16/09/2017 01:00
Despite difficulties, in the year 2016-2017 the University of Social Sciences and Humanities (USSH) continued to gain achievements in all fields. With its educational philosophy of liberalism, the entire University spared no effort to implement the strategy of developing into a leading research-based university in Vietnam, incrementally elevating itself into an equal of prestigious regional and international universities in the world. To this end, the University determined that quality is its focal point. In ensuring educational quality, it devised crucial measures such as renewing governance, strengthening communications and internationalization and improving services. The following 10 prominent events in a sense reflect these collective efforts of the University.
1. Prof. Phan Huy Le received the Ho Chi Minh Prize on Science and Technology
On January 15th, 2017, Prof. Phan Huy Le was granted the Ho Chi Minh Prize on Science and Technology thanks to his work "Lịch sử và văn hoá Việt Nam - Tiếp cận bộ phận (Vietnamese history and culture – a sectional approach). This work was considered a theoretical and methodological breakthrough in studying Vietnamese history and culture and highly appraised by domestic and international scientific communities; it was also a foundational framework for proposing the status of Vietnam's Thang Long Citadel as a world heritage site to UNESCO. Up to now, 13 teachers of USSH have received the Ho Chi Minh and State Prizes on S&T – a rare achievement among the research and training institutes in Vietnam.
Prof. Phan Huy Le receives the Ho Chi Minh Prize on Science and Technology
2. For the first time a research fellow had received a PhD in Science and Technology Management
To realize the goal of developing a Research University, in the last academic year, the University successfully trained and granted PhD degrees for 30 research fellows majoring 15 different programs. In particular, in 2013, USSH became the first institution in Vietnam to train PhD's candidates in Science and Technology Management and after 4 years had produced the first PhD's degree holder of this major.
In this academic year, the University also granted Master's degrees for 265 candidates majoring 17 different majors, among which was Vietnamese studies of the Faculty of Vietnamese Studies and Language in 2015, and which for the first time had produced a foreign PhD's degree holder.
These results represent USSH's pioneering efforts in opening new programs to meet the social demands.
The first Doctor in Science and Technology Management of USSH and Vietnam is Mr. Hoang Van Tuyen (Ministry of Science and Technology)
3. 42 international publications including 6 on the ISI/SCOPUS journals and 02 monographs in English
Last year, USSH published 15 specialed materials, including 02 monographs in English; 603 research papers, including 42 international ones (04 on the ISI journals and 02 on the Scopus journals).
In addition, the University is conducting 17 research projects at State level, 03 Nafosted projects, 25 projects at VNU level and 33 projects at base level. Furthermore, it has established the research project "Internet and Society" and built 03 laboratories sponsored by VNU, Hanoi.   
These projects serve as scientific foundation for the development of national policies. Most notably, the increased international publications have constituted USSH's leading academic interest.
4. Philosophy became the third training program to fulfill the quality standards set by AUN
The last year marked USSH's progress in quality accreditation. The bachelor's program in Philosophy was accredited by AUN based on its standards and became the USSH's third program to achieve this (after Linguistics and Oriental Studies). Besides, the bachelor's programs in Vietnamese studies and Psychology were also highly validated by the Ministry of Education and Training. The University also conducted peer assessment with the bachelor's programs in History and Sociology. The bachelor's programs in Literature, Journalism and Communication, Tourism, Anthropology and Political Science are going to be assessed for quality assurance in 2017. 
Head of the AUN Accreditation Team and Assoc. Prof. Dr. Nguyen Anh Tuan - Dean of the Faculty of Philosophy, USSH at the 69th AUN-QA Assessment for Bachelor's Program in Philosphy
5. Establishment of two new units at University level and two new divisions at faculty level
Last year, the University established 02 new units at University level, the Center of Sea and Islands and the Division of Religious studies; 02 new units at Faculty level, the Division of Public policy (at Faculty of Management Science) and Research Center for Application and Development of Social Work (at Faculty of Sociology). This reflects new progress in teaching and studying social sciences and humanities and the development of USSH as a whole.
Also last year, 03 USSH's members received the title of Professor, 07 members were nominated Assoc. Professor, raising its total number of Professors and Assoc. Professors to 102 (11 Profs and 91 Assoc. Profs), including 28 currently studying overseas. In this year, 24 staff members successfully defended their dissertations, 05 defended their theses. The University currently has 232 staff members who are doctors, accounting for 60.3% of its total members.
Prof. Dr Pham Quang Minh grants the appointment decision to Assoc. Prof. Dr Tran Thi Kim Oanh (Dean of the Division of Religious Studies) and Dr. Nguyen Thi To Uyen (Vice Dean of the Division of Religious Studies)  
6. USSH received grants from Dao Minh Quang Foundation for its young staff members
In the year 2016-2017, the University extended and signed 25 memoranda of understanding with foreign partners, raising their number to 273. It also received nearly 1.000 international scholars that studied and gave lectures; welcomed more than 40 international delegations, including high representatives of different embassies such as the American, Israeli, New Zealand, Iranian, Korean and Venezuelan embassies. In particular, the Dao Minh Quang Foundation (Germany) committed to grant an annual budget of VND 380 million for USSH's young staff members and the planned establishment of a Center for Cooperation in Research and Training with Germany and EU.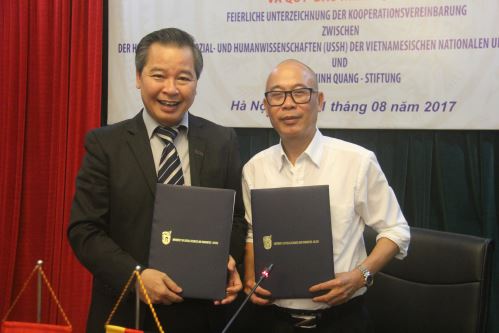 Prof. Dr Pham Quang Minh exchanges official MOU with representative of the Dao Minh Quang Foundation
7. Conferences of USSH's organs and bodies
In the year 2016-2017, the Organs and Bodies of USSH held many great events such as the 30th Congress of USSH's Labor Union for the term 2017-2022 from March 24th to 25th, 2017; the 5th Congress of USSH's Association of Veterans for the term 2017-2022 on March 18th, 2017; the 9th Congress of USSH's Youth Union for the term 2017-2019 from March 17th to 18th.
The 9th Congress of USSH's Youth Union
8. Former Deputy President of Vietnam Truong My Hoa visited USSH
On August 22nd, 2017, Mrs Truong My Hoa – former Secretary of the Party Central Committee, former Deputy President of the Socialist Republic of Vietnam, President of the "Beloved Spratlys and Paracels" Club, President of the Vu A Dinh Scholarship, visited USSH.
During this visit, the Former Deputy President introduced the meaningful events held by the "Beloved Spratlys and Paracels" Club to USSH's youth. This visit sent a profound message on the appreciation of national seas and islands; on the will to integrate with the scientific and intellectual world; on the desire to develop Vietnam's prosperity and protect national peace and territorial integrity. Once again, the University became a destination for people engaging in meaningful educational activities and yearning to provide Vietnamese youth with a political strength to fulfill national political and social missions.
Former Deputy President of Vietnam Truong My Hoa visited USSH
9. The introduction of the one-door model
Having moved its library to Block M, last year, the University further amended the entire 1st, 2nd and 3rd floors of its Block E, dramatically transforming its appearance. The entire 1st floor has since been used for student services according to the one-door model, hosting the Office of Student Affairs and an opening space for students' extracurricular activities. Most of the grounds on 2nd and 3rd floors were developed into rooms for conferences and traditional exhibitions with convenient and modern facilities. In addition, for the first time USSH had used the 1st floor of the A-B Block to build a modern canteen for its staff members and students.
Prof. Dr Pham Quang Minh gives tokens to the newly-admitted students
10. The founding of the Master's Tea Club and Lunch Box Club for English
With the purpose of improving English language proficiency for its staff and students, USSH created the Master's Tea Club and Lunch Box Club for English. The two clubs held weekly meetings to discuss topics concerning learning and studying. Their members were given opportunities to practice English and exchange professional knowledge with foreign scholars and international students that were teaching and studying at USSH.