https://ussh.vnu.edu.vn/en/news/activities/discussing-online-education-with-expert-from-nanyang-technology-university-singapore-16530.html
At the meeting, Assoc. Prof. Dr Hoang Anh Tuan listened as Prof. Salil Bose shared his experiences in creating and implementing distance courses. Having initiated online courses at NTU, Prof. Salil Bose considered this an inevitable trend in higher education. Distance education fosters convenience for both teachers and learners by utilizing the Internet. Teachers do not have to come to their classes and instead create curricula and supervise their students through online channels. Additionally, students can discuss their subject matters through chat rooms. It also helps bridge the geographical gaps among students from different countries and cultures.
Advantages also come with challenges though, said Prof. Salil. For example, online teaching means teachers cannot see their students directly and thus find it hard to maintain lasting interaction. Students are also expected to familiarize themselves with online quizzes and questions, in other words, to be much more active. And maintaining an online education management platform requires a substantial budget and a well-trained technical team. Currently, NTU operates such platforms as Online Education Management System and Learning Activities Management System.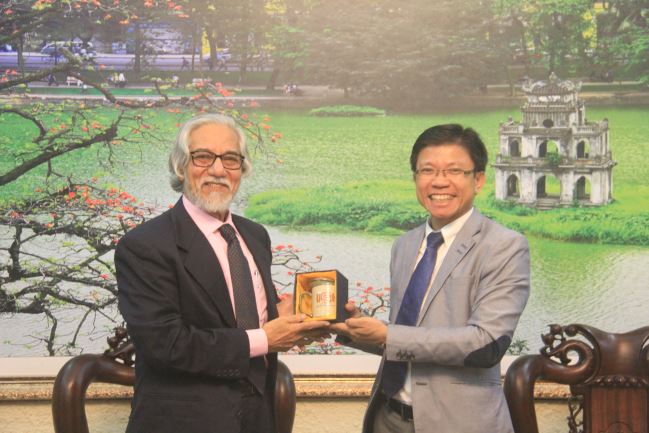 Assoc. Prof. Dr Hoang Anh Tuan presents a token to Prof. Salil Bose
On behalf of USSH, Assoc. Prof. Dr Hoang Anh Tuan highly appreciated Prof. Salil Bose for sharing his lessons. At the moment, a number of USSH's staff was using simple platforms such as the Learning Management System to perform their tasks. The Vice Rector suggested holding specialized seminars and workshops to introduce more about distance education to USSH's staff. Prof. Salil Bose and the technicians from NTU will join and support these activities.