Five young Vietnamese who met President Obama
2016-05-31T05:10:47-04:00
2016-05-31T05:10:47-04:00
https://ussh.vnu.edu.vn/en/news/activities/five-young-vietnamese-who-met-president-obama-13893.html
https://ussh.vnu.edu.vn/uploads/ussh/news/2016_06/five-young-vietnamese-who-met-president-obama31052016161044.jpg
University of Social Sciences and Humanities, VNU Hanoi
https://ussh.vnu.edu.vn/uploads/ussh/logo.png
VietNamNet Bridge – "It's with great pride, enormous honor and a unique opportunity in my life that I will remember forever," said Hoang Tuan Anh about his meeting with President Barack Obama.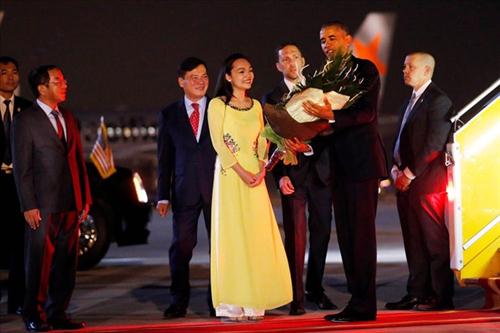 "Mr. Obama's hands are very warm!" said Tran My Linh, a student of the National University of Social Sciences and Humanities, who was selected to present flowers to the US President on the evening of May 22 at Noi Bai International Airport.
Linh, 21 years old, is a student of linguistics. She is not only pretty but also an excellent student. She won the consolation prize at the 8th National English Olympiad and the talent prize at the Miss Vietnam National University 2015.
In 2015 Hoang Tuan Anh was among Vietnamese students who had the chance to meet the US President at the Summit of Young Southeast Asia Leaders Initiative (YSEALI), which took place in Kuala Lumpur, Malaysia.
"This was quite an unexpected opportunity. The message conveyed by Mr. Obama in his speech greatly inspired me," he said.
Currently, Tuan Anh is in charge of human resources for the International Association of Students in Economic and Commercial Sciences (AIESEC) in Vietnam.
Nguyen Chi Long, 25 years old, a 6th year student at the University of Medicine and Pharmacy (University of Hue) – won a lot of prizes. He was a representative of Vietnam at the YSEALI Summit in Myanmar.
In this program, Chi Long shook hand with President Obama twice. Along with young representatives from 10 Southeast Asian countries, he met with and talked with the US President.
Ta Di Dan is a 16 years old boy of Vietnamese origin, who is currently studying at Oxford Academy High School in Cypress,California, USA.
Di Dan is one of the 10 excellent scouts who represented 2.3 million members of the Scout Association of America presented the annual report to President Obama and the US Congress.
On March 1, he and representative of the Scout Association of American visited the White House and met with the US President and other senior leaders.
Di Dan stressed that President Obama had a very strong handshake.
Cu Huy Hiep (born 1991) is a member of the YSEALI Civic Engagement who took part in a 5 week program at the University of Omaha in Nebraska, USA in September 2015. During this trip, Hiep had the opportunity to meet with the US President.
Author: VietNamNet Bridge