https://ussh.vnu.edu.vn/en/news/activities/meeting-with-the-delegation-from-stamford-international-university-thailand-15580.html
At the meeting, Assoc. Prof. Hoang Anh Tuan introduced about USSH's main achievements with an emphasis on its strategy of internationalization aimed at elevating its quality to an international standard. Up to now, the University has established relations with over 250 international partners and will continue to expand its scope of international cooperation. On behalf of USSH, the Vice Rector expressed his desire to learn from the experiences and foster cooperation with Stamford University through such activities as exchanging students and faculty especially through short-term courses and programs, and conducting joint research projects.
In return, Mr. Sebastian Henriksson expressed his gratefulness for being warmly welcomed by USSH. He said as a member of the Laureat system of international universities, Stamford University would like to expand its international influence to universities in Southeast Asia, including those in Vietnam. He also invited members of USSH's board of rectors to visit Stamford University in the near future.
Assoc. Prof. Hoang Anh Tuan appreciated the goodwill of Mr. Sebastian Henriksson and hoped the two universities will soon sign a memorandum of cooperation to realize the above ideas. The Office for Cooperation and Development will serve as a bridge between the two sides.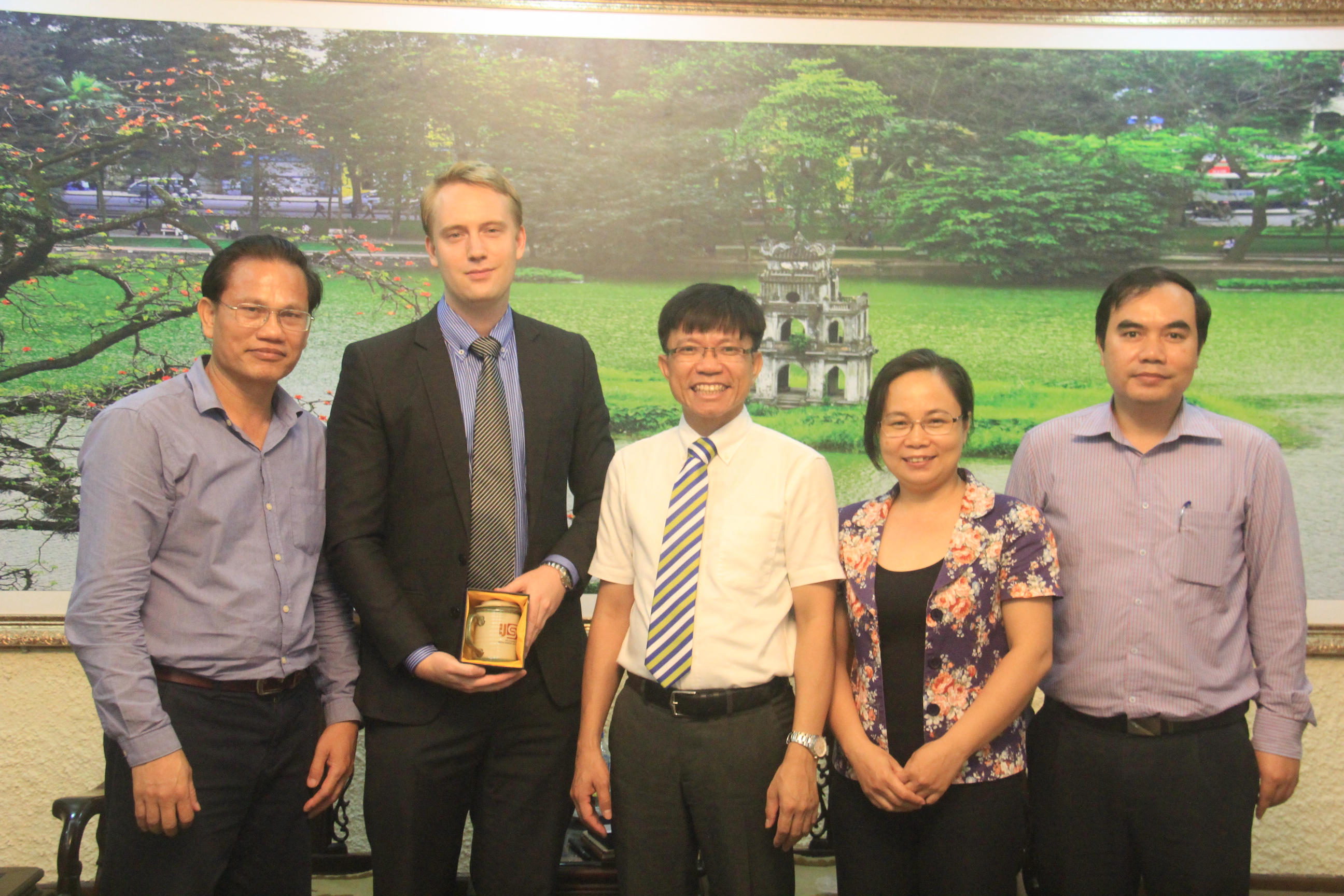 Assoc. Prof. Dr Hoang Anh Tuan takes a ceremonial picture with Mr. Sebastian Henriksson
Stamford International University, founded in 1995, serves students from more than 68 countries. Officially accredited and/or recognized by the Thailand's Ministry of Education, Stamford International University (STIU) offers courses and programs with officially recognized higher education degrees such as pre-bachelor degrees (i.e. certificates, diplomas, associate or foundation degrees), bachelor's degrees, master's degrees in several academic areas.