https://ussh.vnu.edu.vn/en/news/characters-events/social-development-management-in-vietnam-policy-directions-and-solutions-17818.html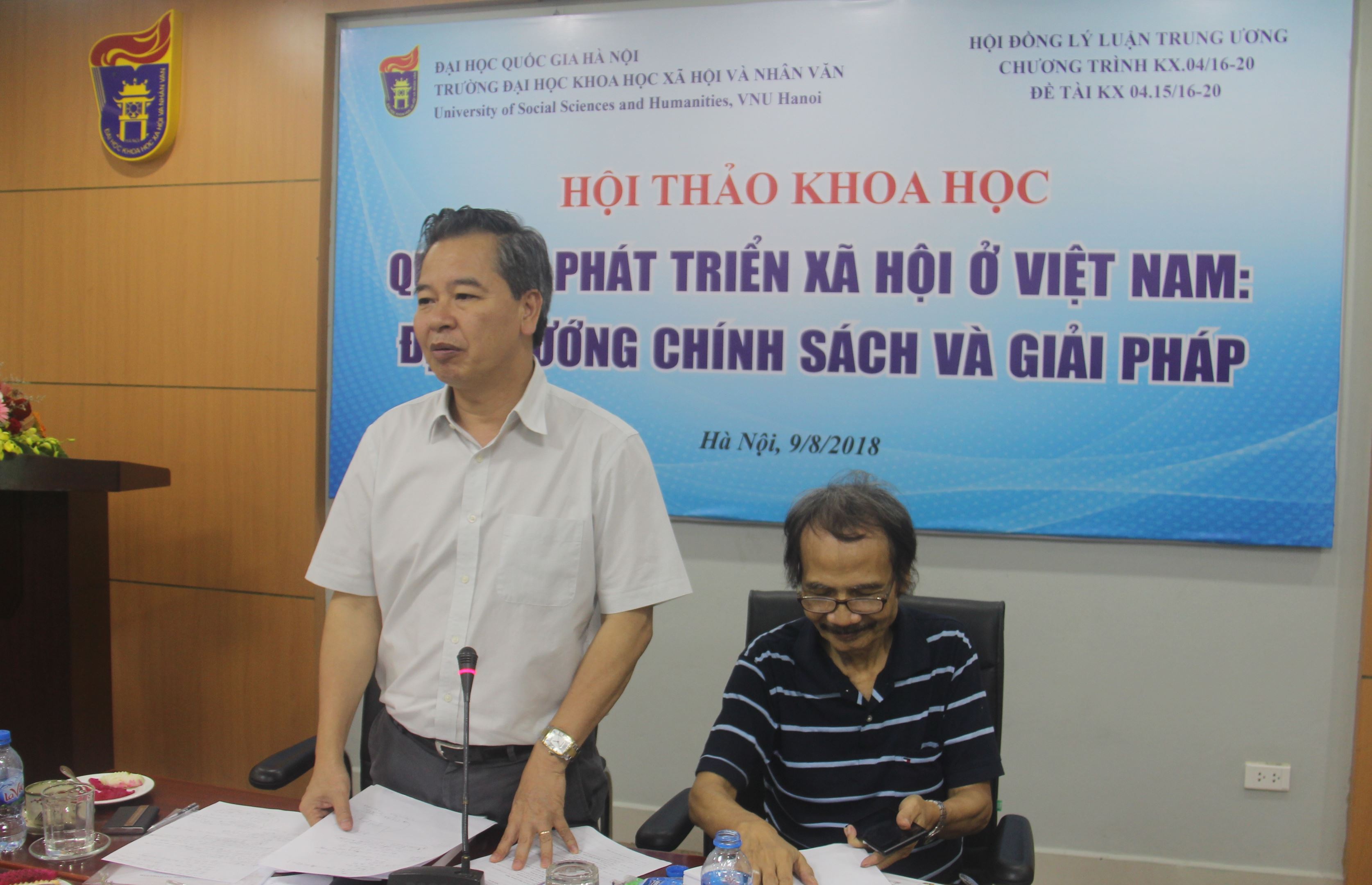 Prof. Dr Pham Quang Minh (USSH's Rector) gives the opening remark
The workshop received around 20 papers dealing with the policy-making in SDM in Vietnam under different perspectives: social welfare and human security, the factors that affect the SDM progress, the role of grassroots political authorities in SDM, the management of social abnomalies, the impact of administrative reforms on SDM, the reformation of social supportive policies, the reduction of social inequality and rich-poor gap based on SDM policies, and SDM in health insurance. 
In his opening speech, Prof. Dr Pham Quang Minh referred to the importance of SDM research in the current context. Accordingly, effective and oriented SDM is the most basic issue for the realization of a socialist-oriented country, SDM determines the maintenance of social order, the prevention of possible conflicts, the improvement of material and spiritual livelihood, creating an engine for socio-economic development. In the context of integration and strengthening of international cooperation, many urgent issues concerning SDM in Vietnam arise, requiring solutions based on a new thinking, with a new system of policies according to new situations.
Prof. Dr Pham Tat Dong (Vice President of Vietnam's Association of Educational Encouragement) emphasizes that social welfare has to be aimed at improving the welfare capacity of each individual and community
Presenting his paper "Social welfare and human security", Prof. Dr Pham Tat Dong said social welfare policies have to focus on improving the welfare capability of each individual, each community with an emphasis on local knowledge. In particular, solutions to support citizens have to be directed at improving knowledge, extending the understanding and job-hunting skills of citizens in order to be effective.
Prof. Dang Canh Khanh from Institute of Tradition and Development Studies suggested the objective study, consideration and evaluation of ancestral cultural heritage in social governance and management by resolving the negative and conservative remnants but at the same time promoting the positive aspects from national traditions.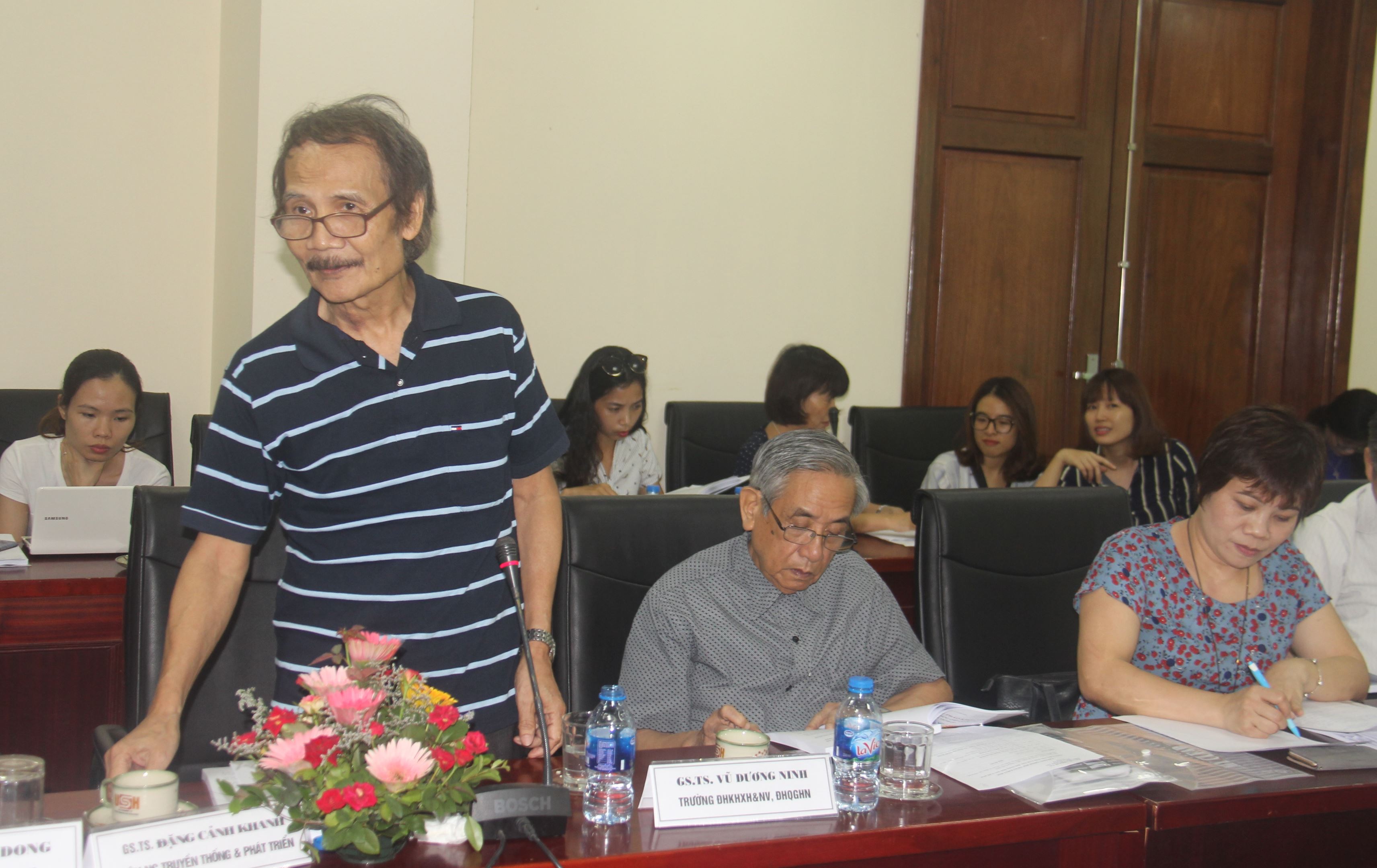 Prof. Dang Canh Khanh (Institute of Tradition and Development Studies) emphasizes the role of "rule of intellect" by Nguyen Trai
With the paper "Some thoughts on managing social development from "the rule of intellect" perspective by Nguyen Trai in today's Vietnam", he remarked: the great culturalist and thinker Nguyen Trai had some profound thoughts on the rule of ethics, the rule by law and created some of the basic principles for managing Vietnam - the principle of "rule of intellect", which means using intellect and culture to govern the country. Accordingly, to be maintained and developed a society has to have laws and ethics. But laws and ethics have to be developed based on a developed culture-intellect of a nation. This ideology retains its values in today's context because without a common intellectual foundation and intellectual persons social management cannot be effective.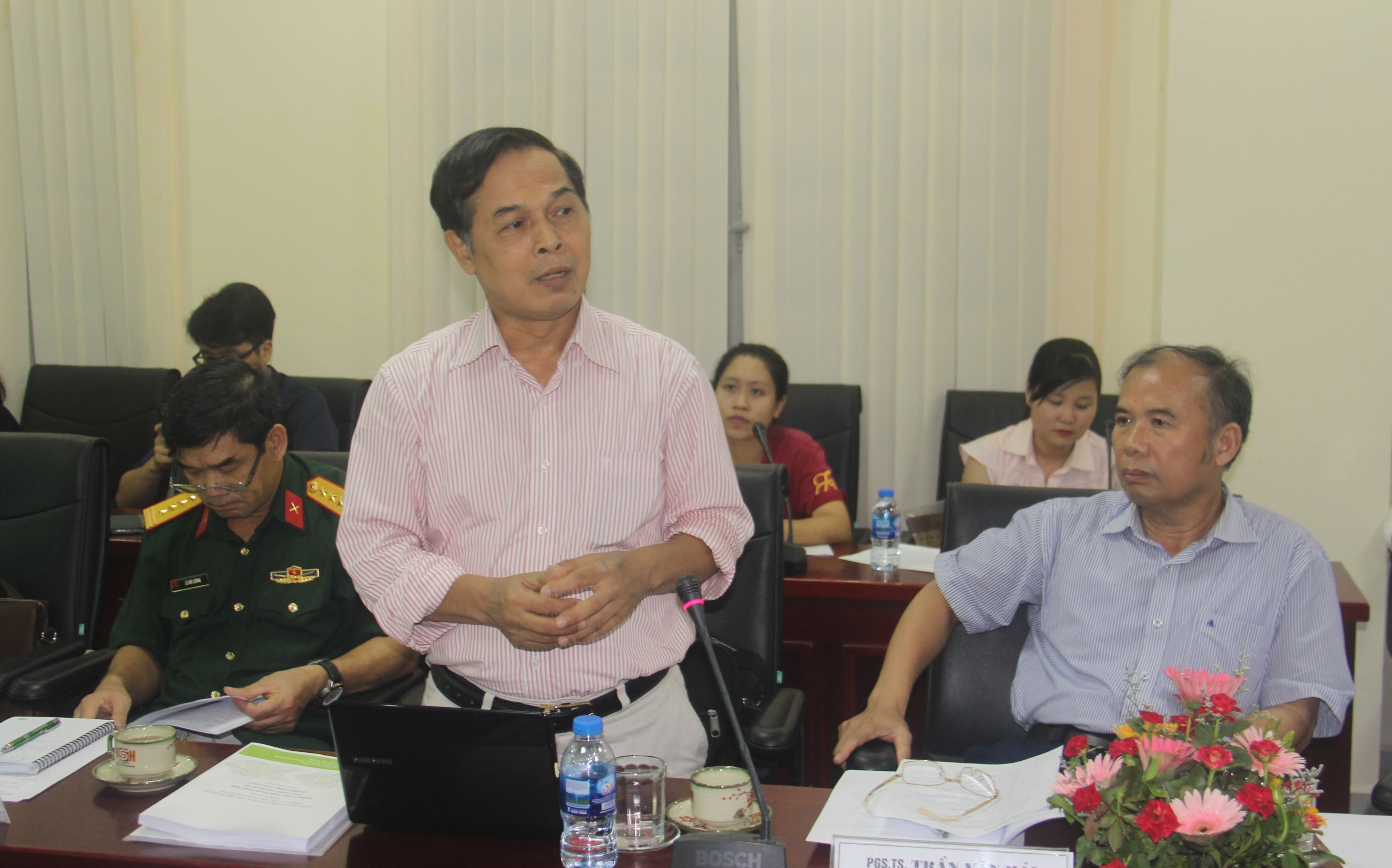 Assoc. Prof. Dr Hoang Ba Thinh (USSH) said SDM in Vietnam has not received the active and positive participation from the community and citizens
With the paper "Some factors affecting the progress of managing social development in Vietnam today and relevant issues", Prof. Hoang Ba Thinh and Dr. Doan Thi Thanh Huyen presented some challenges faced by Vietnam's SDM today. They are the overlapping and heavy administrative system, the inadequate quality of managers and authorities, and low salaries and benefits that can motivate employees in the public sector. SDM in Vietnam is currently primarily based on the top-down model without sufficient interest in the model that involves the participation of citizens and the community. The active role of community in SDM in a bottom-up model has not received ample attention.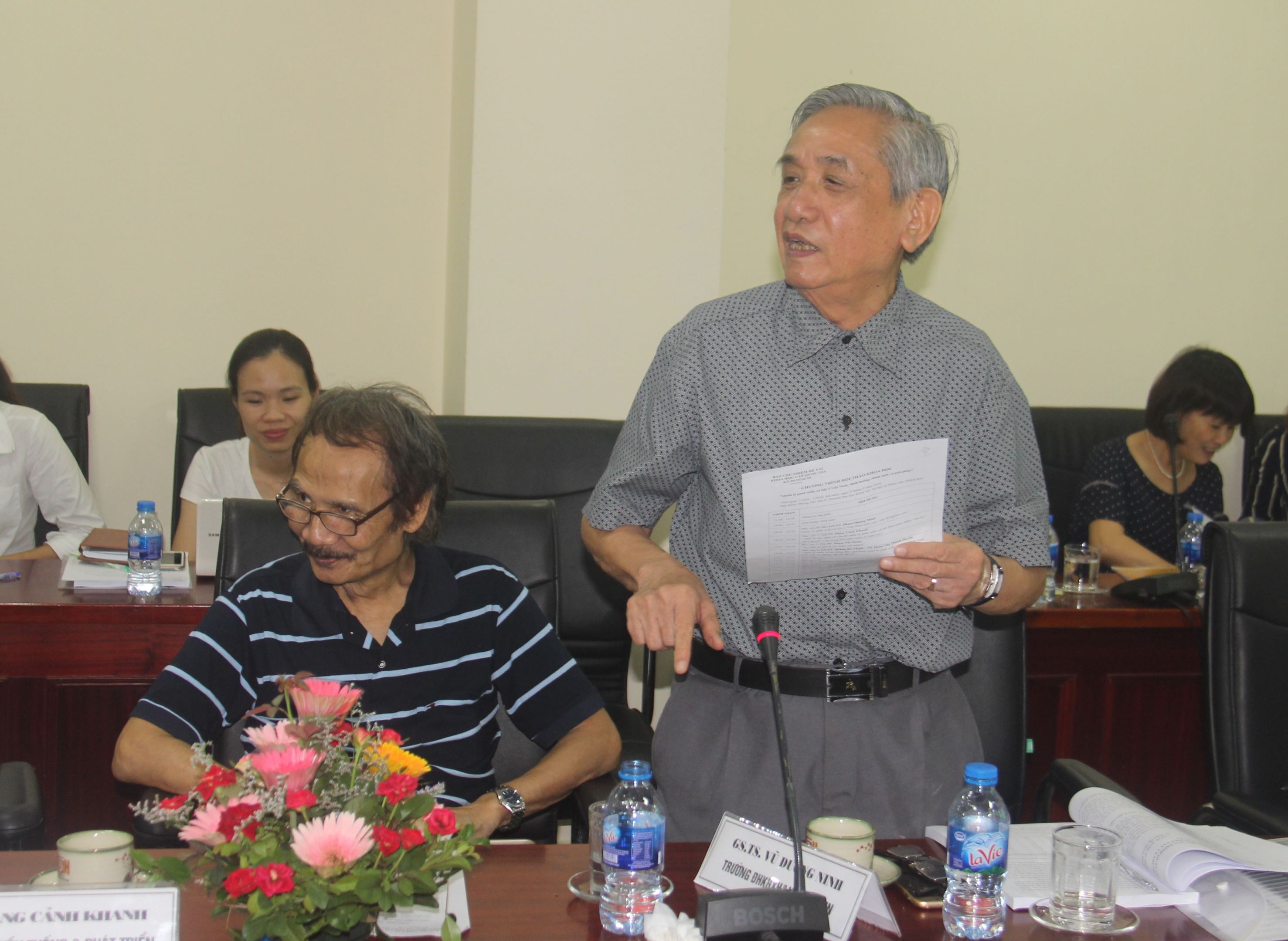 Prof. Vu Duong Ninh (USSH) said the intellectual and elitists of a country play an especially important role in SDM
Emphasizing the role of directing the intellectuals and elite, Prof. Vu Duong Ninh (President of USSH's Association of former teachers) said: In a time we under-emphasized the role of intellectuals and were unheedful towards their viewpoints, leading to improper ways of managing and resolving social issues. As such, intellectuals have to be listened to and recognized, and their ideas have to be respected even when they go against the popular opinion.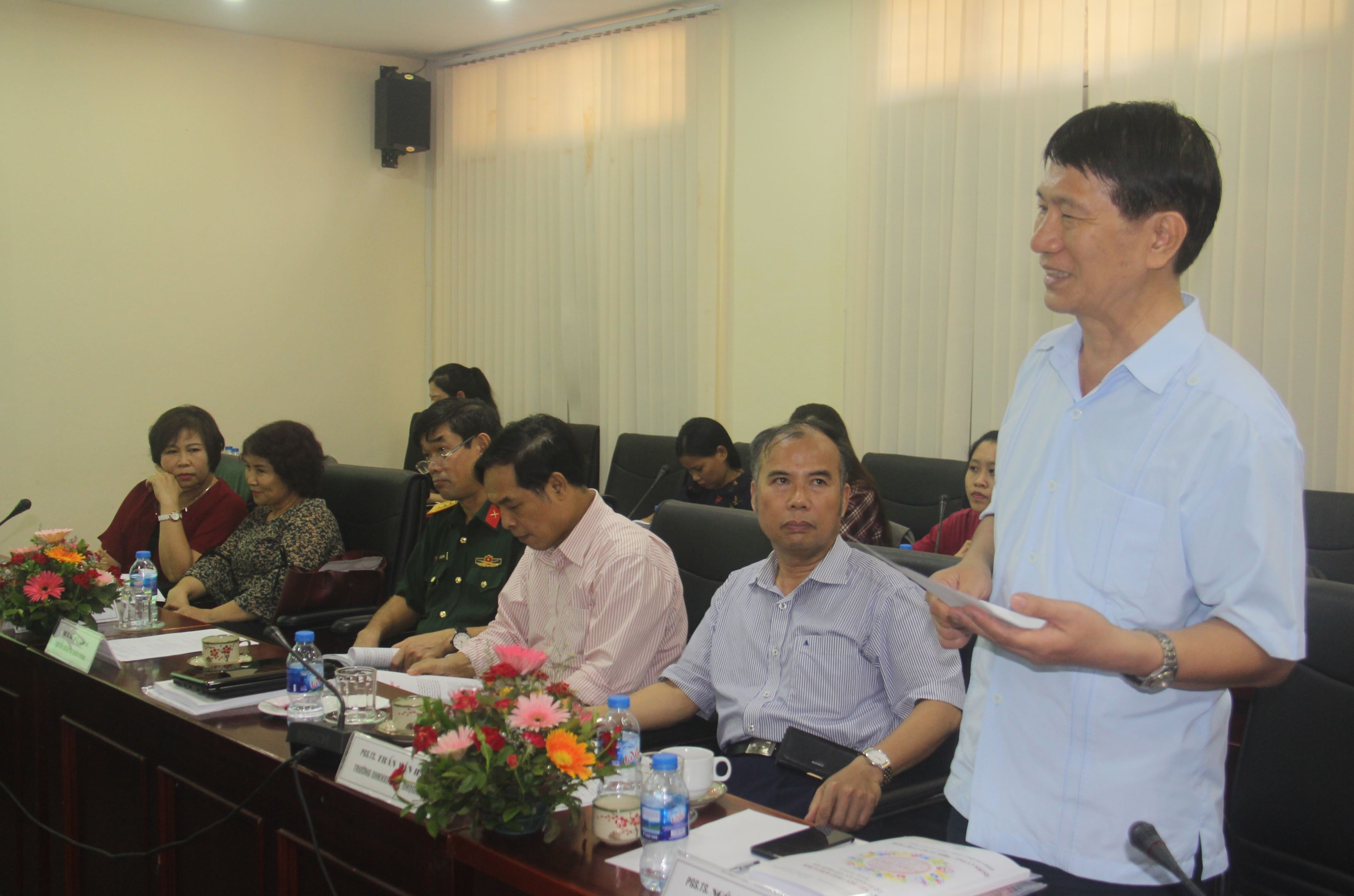 Assoc. Prof. Dr Ngo Thanh Can (Institute of National Administration) discussed the role of administrative reforms in propelling SDM
On the urgent need for administrative reforms to promote SDM in Vietnam, Assoc. Prof. Dr Ngo Thanh Can said: "There is no poor country, only one that is bad at management". He suggested some specific administrative reforms: create administrative reforms aimed at directing and focusing on the compilation of normative documents to ensure business development, paving the way for economic development; resolve the functional overlapping among government authorities; create an environment for the development of fairness and equality; promote the administrative stratification between central and local authorities so as to provide civil and organizational services; and construct a capable force of staff and officers.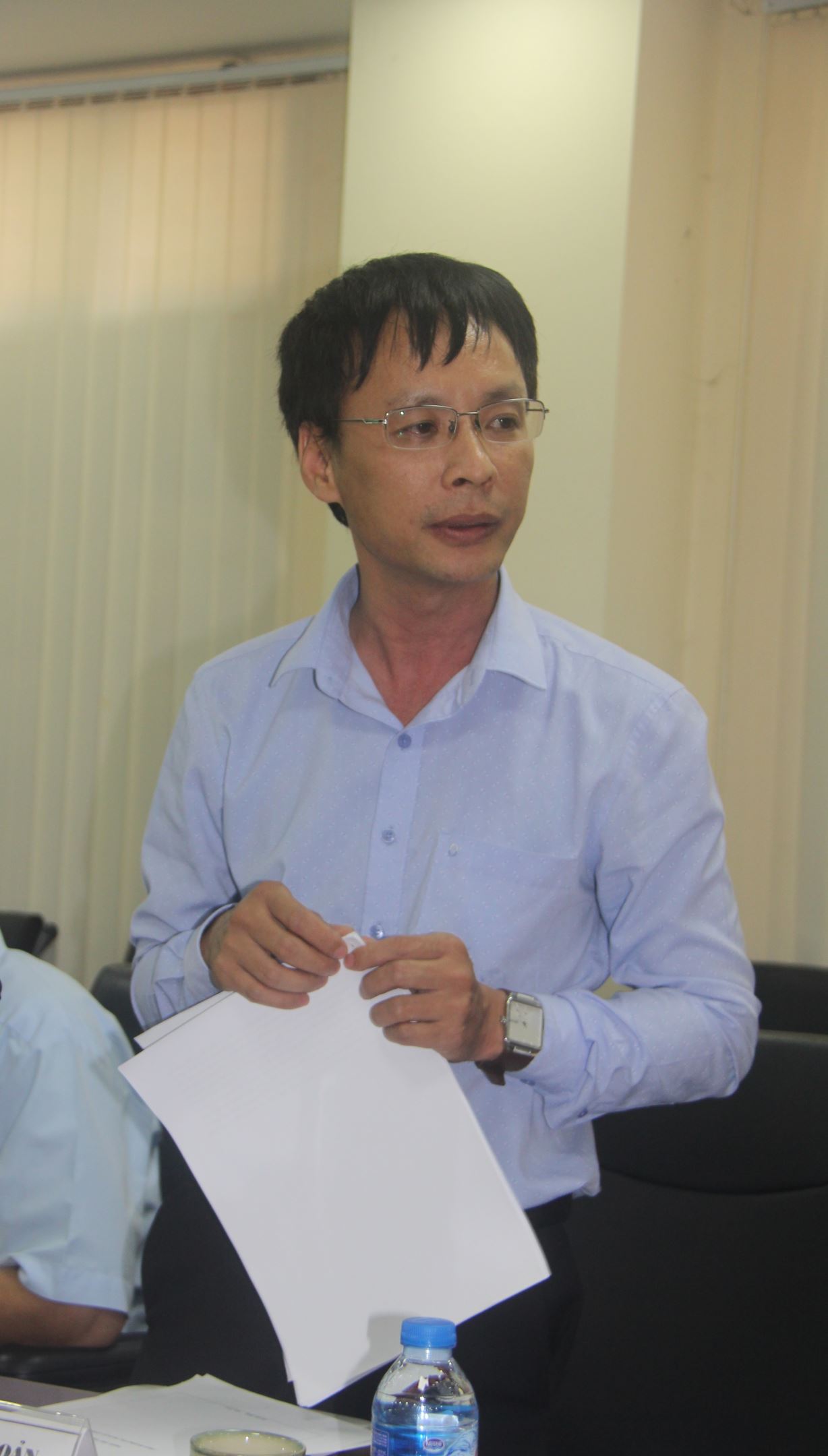 Dr. Nguyen Ngoc Toan (Department of Social Assistance, Ministry of Labor, Invalids and Social Affairs) said the citizens have right to social assistance
On the implementation of social assistance policies with vulnerable groups of citizens, Dr. Nguyen Ngoc Toan provided a fresh approach in which this activity is the State's responsibility in ensuring the rights and right to equality of citizens. First this should be reconceptualized as the right of citizens instead of a humanitarian assistance act. Social work models have to consider both supply and demand. This activity has to be gradually transferred from the State to society at large.
Assoc. Prof. Dr Tran Thi Thanh Thuy (Institute of Leadership Studies and Public Policy) mentioned the 5 prominent features of Vietnam's SDM today that policy makers have to take into account. First, society changes rapidly, sometimes unpredictably and unusually. Internet and technology is a factor that strongly and deeply influence the sectors of social development. Socity is becoming increasingly "open" and the boundaries between sectors "blurred". The risk of conflicts increases, especially value conflicts. The individualization of needs and its response to personal and social needs become a trend. Therefore, she suggested a historical and cultural approach, coupled with the examination of a new social context based on which to make policies and solutions for SDM.