https://ussh.vnu.edu.vn/en/news/characters-events/international-publication-not-difficult-but-requires-determination-17709.html
At the seminar, Prof. Dr Pham Quang Minh emphasized international publication is the inevitable path for Vietnamese scholars to integrate with the world. It is also very urgent for researchers as a whole, no matter which field they currently pursue. The Rector also pointed out the difficulties faced by Vietnamese scholars in the process of integrating, such as language barriers, the lack of scientific information, differences in research methodologies and especially the epistemological barriers.
On the other hand, the context of increasing international integration brings many opportunities: Vietnam increasingly becomes an attractive research target of the global academic community; access to information and regional-global conection are more convenient; and overseas Vietnamese scholars become more and more popular.
Since 2010, USSH has been pursuing policies that promote international publication. In 2010 there were only 13 publications but the number kept increasing year by year. Up to 2015, the University had produced 50 international publications and in 2017, the number reached 55. In the period of 2012-2016, the number of articles published on the ISI/Scopus journals was only 26. Not only rewarding and directly supporting the authors having international publications, the University holds many seminars and workshops for experience-sharing, courses on academic writing, and creating forums and networks that promote international publication among its staff, especially young lecturers. Recently, the University proposed an award worth 250 million VNDs for any book published by a prestigious foreign publishing house. Thus, the awareness of the role of international publication has gradually been raised among its staff.
According to Prof. Dr Pham Quang Minh, international publication in social sciences and humanities is not as difficult as was commonly thought, but it requires great determination. To begin with, young scholars have to actively participate in international conferences, then create professional relations and cooperate with international scholars in common research projects. Moreover, they have to actively improve their academic English as a prerequisite condition of academic integration.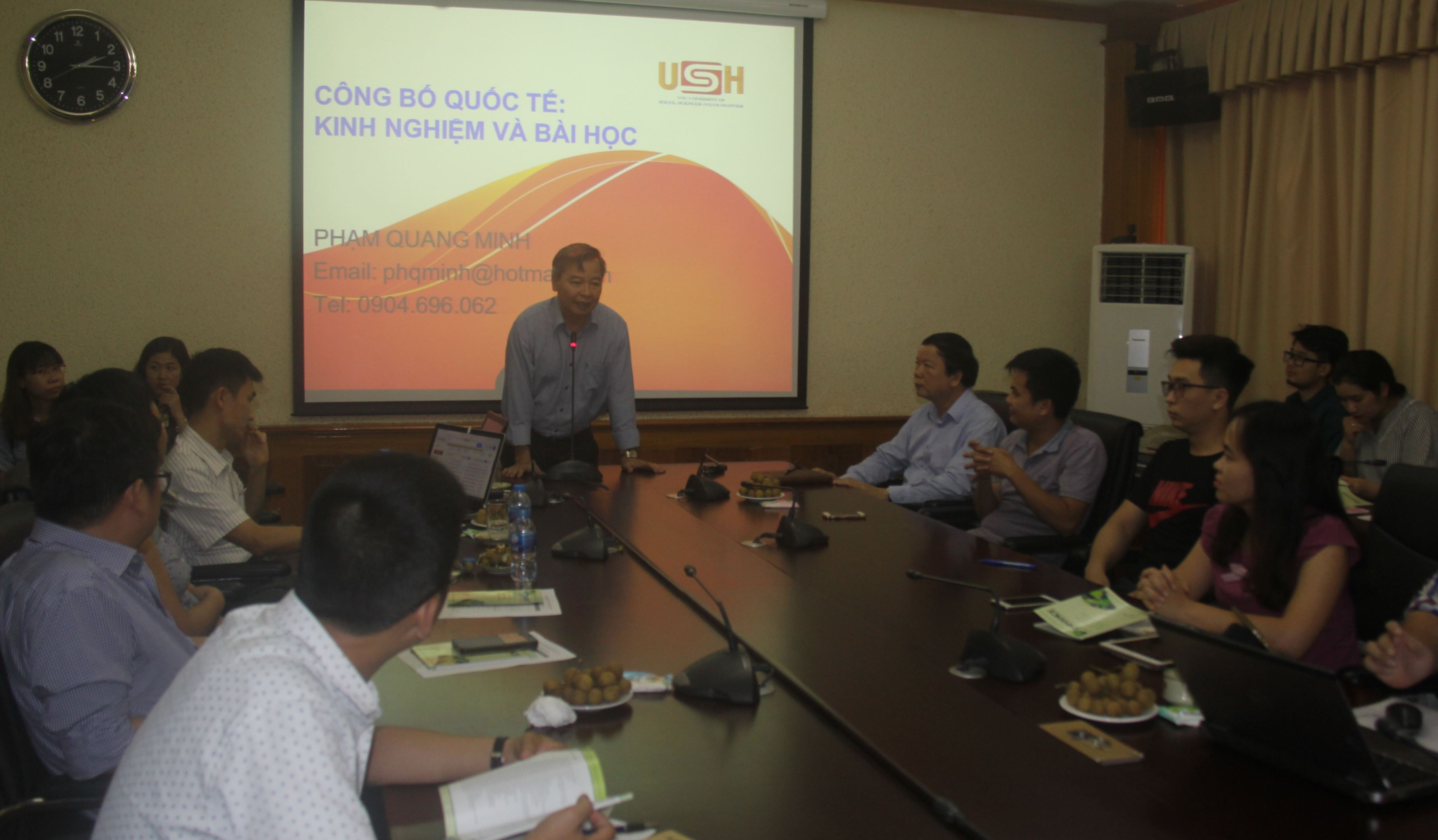 Prof. Dr Pham Quang Minh speaks at the seminar
Sitting on the same side of the fence, Dr. Tran Quang Tuyen said the widespread relevance of inter-disciplinarity and multi-disciplinarity has opened up many opportunites for scholars specializing in social sciences and humanities. International publications in prestigious journals help raise not only the reputation and position of individual scholars but also the ranking of their faculty and university, attracting the potential fundings. Therefore, scholars have to possess proper motivation and high determination, regardless of the difficulties.
He also warned against having articles published on "low-quality" journals not included in the ISI or Scopus database, or through small private businesses and unknown/unethical academic groups. Normally, these journals require a fee and quickly accept submissions without peer-reviewing. Without clear information, the lecturers are tempted to send their articles to these journals, causing them to lose credibility and waste time.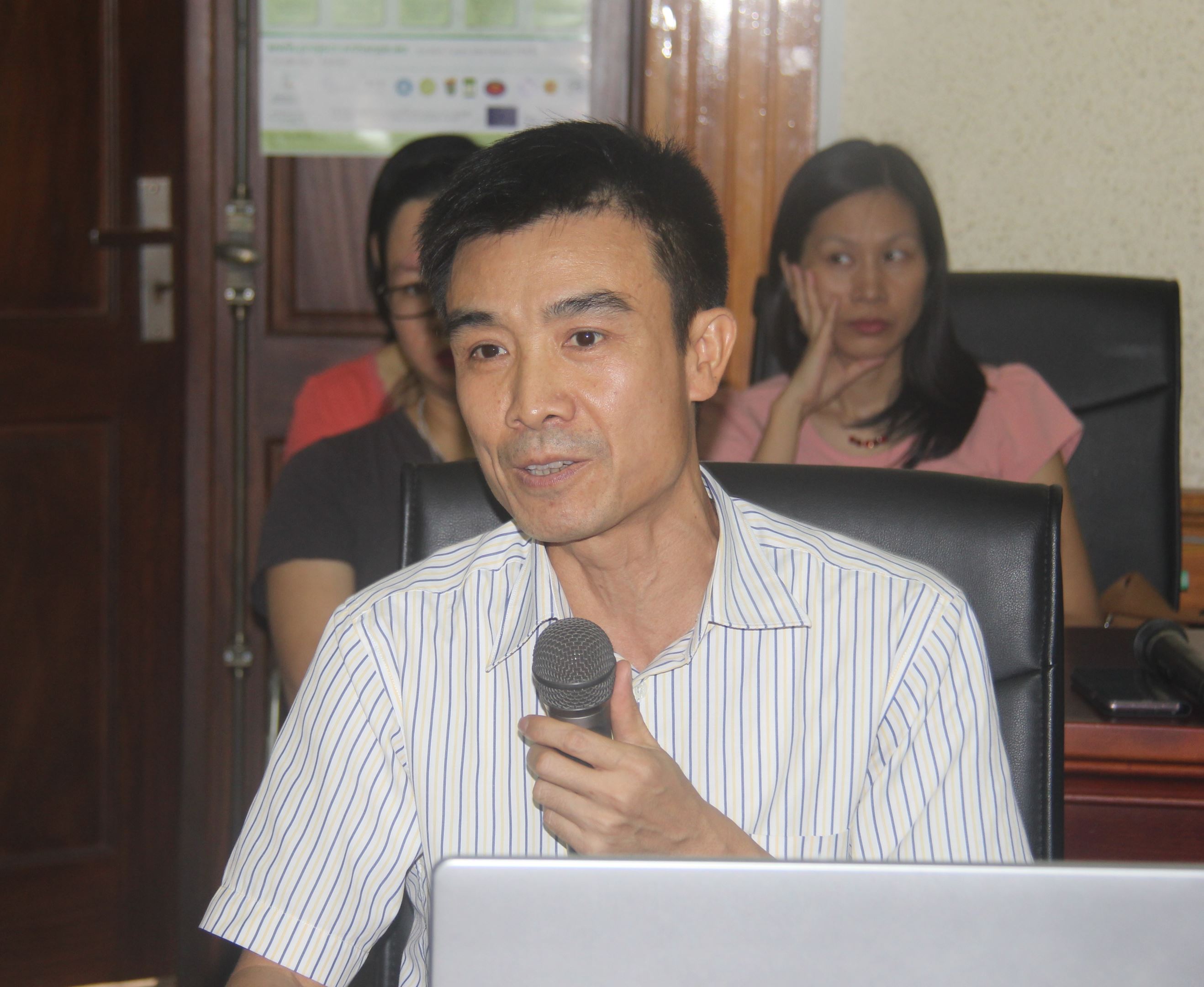 Dr. Tran Quang Tuyen presents his ideas
On methodology, studies in the fields of economics, business and finance tend to use quantitative methods while social sciences and humanities qualitative methods. Statistical methods are very beneficial and valuable for social sciences and humanities.
In the next presentation, Dr. Nguyen Thi Minh Nguyet said the most important thing that makes up the quality and value of an international publication is to clarify its research basis and methods; in other words, what the author studies, which methods are used, which data are based on to make conclusions, and the role of the author in his/her study.
For their submissions to be accepted, Dr. Nguyen Thi Minh Nguyet advised young scholars to maintain a friendly and receptive attitude towards the comments and remarks by international referees. The editors of prestigious international journals are primarily leading scientists, and they can even create new trends by accepting or refusing certain submissions. Therefore, researchers should find out the "taste" of each journal and group of editors to properly orient their studies.
Dr. Nguyen Thi Minh Nguyet shares her ideas
The female scholar also argued for the awareness of creating one's own academic prestige at an early time, when one is still a student or an assistant to his/her professor. What is simply needed is to show responsibility, perseverance, a constant interest in new ideas, a receptive attitude towards the opinions of one's precursors and colleagues and active participation and connection with other scholars in one's field of interest.
Also at the seminar, the University's young staff suggested establishing a network among scholars inside and outside it so information about international publication can be shared and updated. USSH also needs to create more academic forums and professional workshops on in-depth topics such as how to use quantitative methods in social sciences and humanities, how to use data processing software, new theories in social sciences and humanities, and inter-disciplinary and multi-disciplinary research.
This training workshop held by University of Social Sciences and Humanities is part of the program "Strengthening national research and innovation capacities in Vietnam" (ENHANCE) sponsored by the Erasmus Program+ under the European Union.
ENHANCE is aimed at improving the capacities of Vietnam's educational institutions, promoting the performance and management of innovation and research. Participants in this program include 02 Vietnamese government authorities: Ministry of Education and Training and Ministry of Science and Technology; 06 Vietnamese higher education institutions: Thai Nguyen Univerisity USSH (VNU, Hanoi), Agriculture and Forestry University (Hue University), USSH (VNU, HCM City), Can Tho University and An Giang University; 03 European higher education institutions: Slovak University of Technology in Bratislava (Slovakia), Glasgow Caledonian University (Scotland) and Alicante University (Spain) – the coordinating unit. The project lasts for 3 years (2015-2018).