https://ussh.vnu.edu.vn/en/news/activities/aeon-corporation-grants-30-scholarships-to-ussh-s-students-13183.html
https://ussh.vnu.edu.vn/uploads/ussh/news/2015_12/aeon-corporation-grants-30-scholarships-for-usshs-students18122015171217.jpg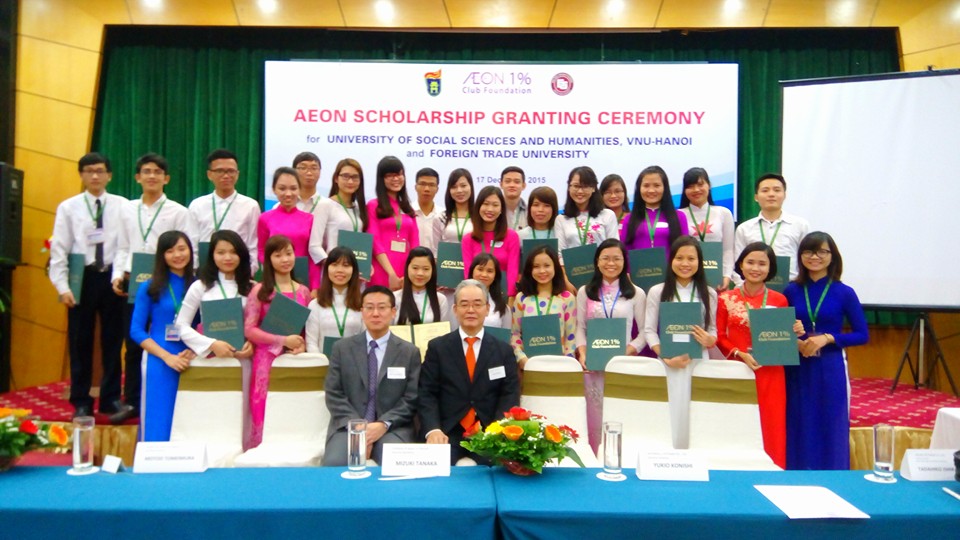 The awarded students take a ceremonial photo with AEON's representatives (Photo: Hoai Nam)
As part of the official agreement signed with USSH in 2012, this was the 4th scholarship granting ceremony organized by AEON. Each scholarship is worth US$290.
Speaking at the Granting ceremony, Mr. Yukio Konishi (General Director of AEON MALL Vietnam) said that, the objective of AEON scholarship is to support students in their study and scientific research and promote exchanges with Vietnamese students. This helps consolidate the Vietnam-Japan bilateral relations.
Also through this activity, AEON hoped this would be a foothold for Vietnamese youth and people interested in AEON's business activities: "Thanks to your widespread support, we have successfully maintained 8 companies in Vietnam. Our companies put a high expectation on business development in Vietnam", said the General Director.  
In response, the students delivered their appreciation for the support of AEON, and also discussed with its representatives about their dreams in the future.
The AEON scholarship is extracted from 1% of pre-tax profits of the companies that belong to AEON Corporation (Japan).