https://ussh.vnu.edu.vn/en/news/activities/english-as-a-medium-for-instruction-in-vietnamese-social-sciences-and-humanities-18157.html
The conference was held under the framework of a partnership between USSH and University of South Australia and sponsored by Australia-ASEAN council with the aim of promoting linkages between Australian and Vietnamese training institutions in responding to the higher education challenges in Vietnam.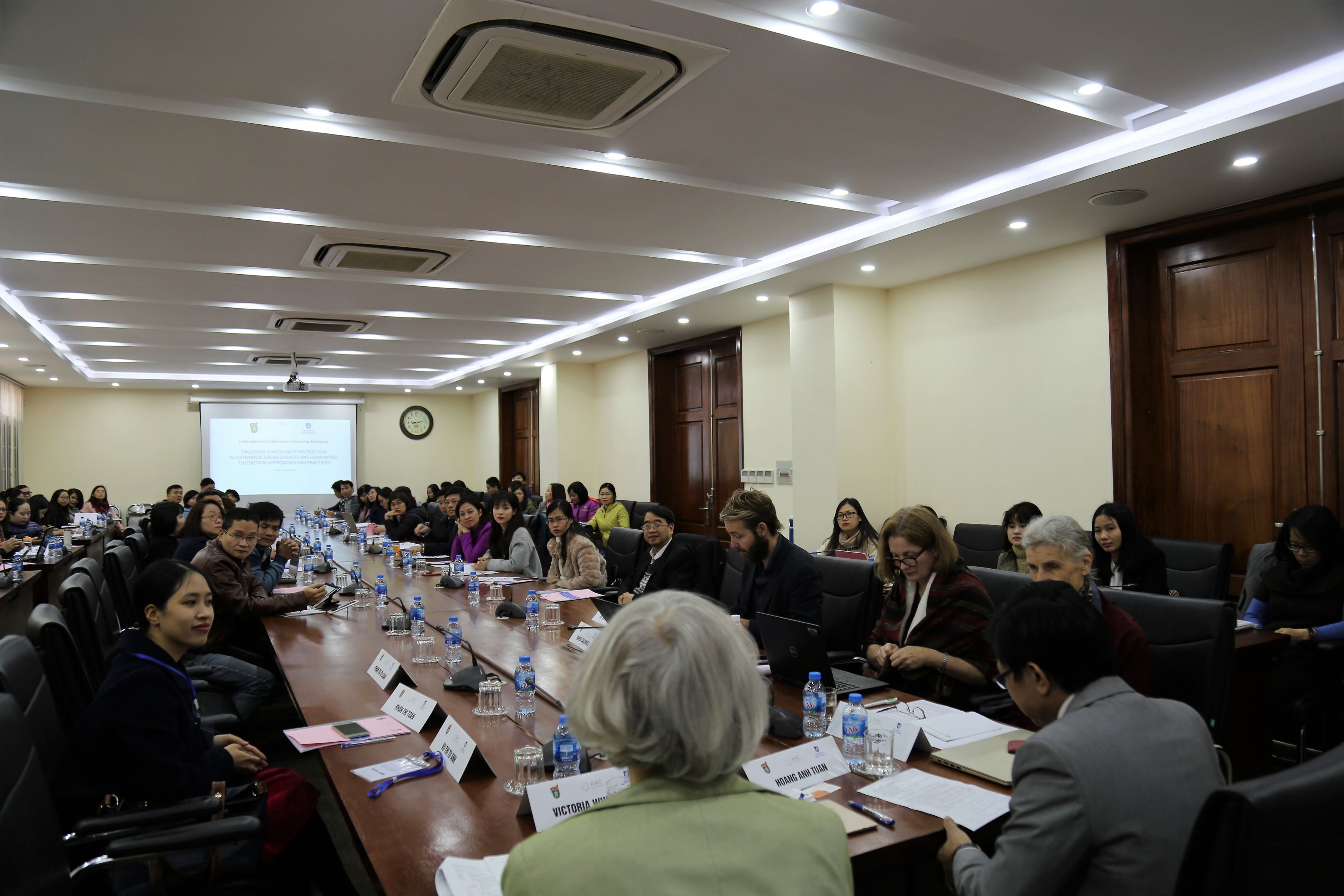 English as medium of instruction (EMI) is a strategy adopted by many universities where English is a foreign language. It originated from European countries such as Sweden, Finland and New Zealand in the 2000s and then spread to other Asian countries such as Singapore, Hong Kong, China and Japan. Currently, 24 Vietnam's universities apply EMI for different disciplines and majors. During this process, the Vietnamese lecturers and students face many challenges related to language capability, teaching and learning methods, and teaching materials and equipment. Therefore, this conference was expected to create a forum for managers, researchers and lecturers to share their EMI views, policies and experiences; thereby defining its implications for teaching and studying social sciences and humanities in Vietnam.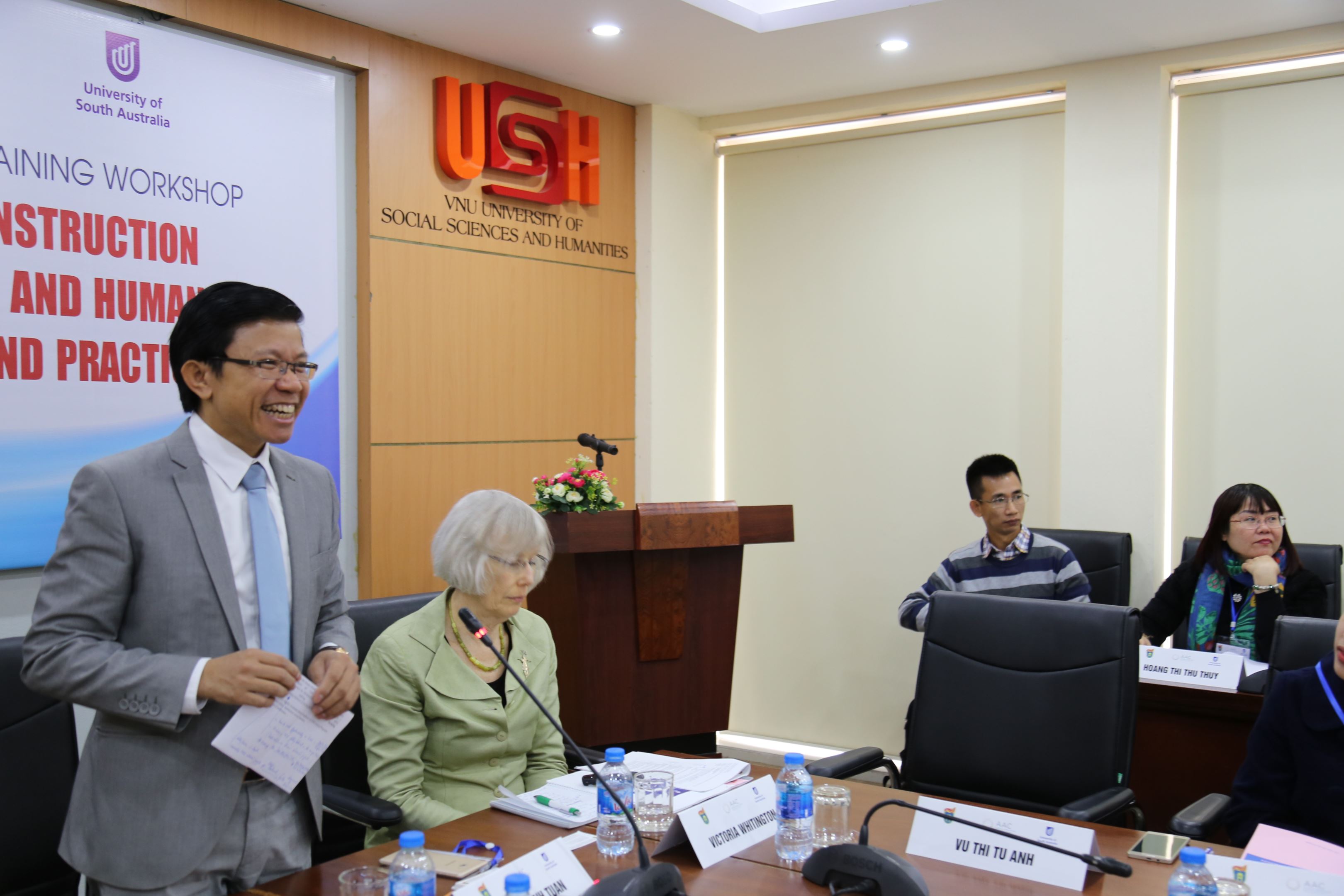 Assoc. Prof. Dr Hoang Anh Tuan delivers his opening remarks
Speaking at the opening ceremony, Assoc. Prof. Dr Hoang Anh Tuan (USSH's Vice Rector) said EMI has become a popular topic in the world, especially in Asia. Many universities have recognized EMI as an important tool for promoting higher education and international integration. Vietnam is not an exception. For example, in November 2018, EMI was mentioned and discussed at the conference "High-quality human resources for development in the industrial revolution 4.0 and the responses of Vietnamese higher education" co-held by VNU, HCM City and Vietnam National Council for Education and human resources development.
The Vice Rector also said during the context of international competition, Vietnam's universities have to cope with many big issues, including foreign languages. Thus, in order to avoid being left behind, they should form a network for long-term and stable cooperation in EMI.
After the opening session, the conference continued with the topics: "Policy & Implementation: EMI national and institutional policies in action", "EMI policies in action: Lecturers', administrators' & students' views", "EMI curriculum and classroom strategies in action".
The keynotes at the conference:
The paper "EMI and the internationalization of higher education" by Assoc.Prof Victoria Whitington (Associate Head of School of Education, University of South Australia) identified both the benefits and challenges of EMI for higher education institutions, based on recent findings and her own expriences of students in Australia, Papue New Guinea and Singapore. Then it suggested future directions for government policy making and institutional decision making.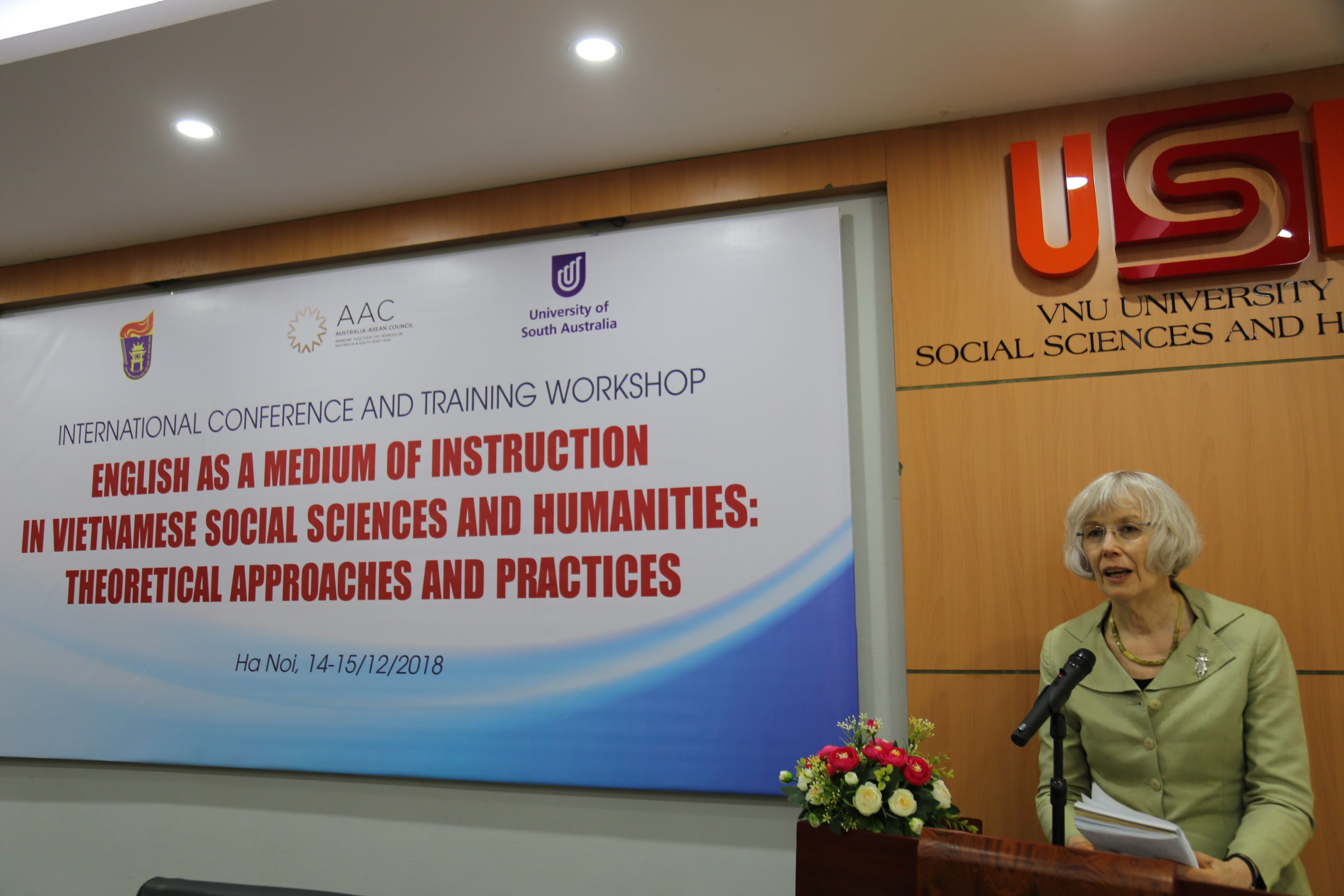 Assoc. Prof. Dr Victoria Whitington (Associate Head of School of Education, University of South Australia) presents her paper
The paper "EMI in University Social Sciences in Vietnam: From policy development to implementation" by Assoc. Prof. Dr Vu Thi Tu Anh (Ministry of Education and Training, Vietnam) pointed out the opportunities and challenges in using EMI to develop policies of teaching foreign languages at social sciences universities, and emphasized the careful consideration of necessary steps in devising EMI policies.
The paper "EMI in Vietnamese Social Sciences and Humanities: Dreams - Challenges - Prospects" by Assoc. Prof. Dr Hoang Anh Tuan (USSH's Vice Rector) described the difficulties and challenges faced by USSH in designing and teaching subjects in English, especially when it comes to basic sciences such as Philosophy, History, Literature and Political Science. The paper then suggested new and systematic policies to encourage lecturers to deliver and inspire students to take EMI courses.
The paper "EMI in higher education for the 21st century" by Assoc. Prof Kathleen Heugh (School of Creative Industries, University of South Australia) described the importance of bilingualism/trilingualism capability during the internationalization of higher education in many countries, including Vietnam. Then it pointed to the need for combining English proficiency with regional and native language proficiency of university students.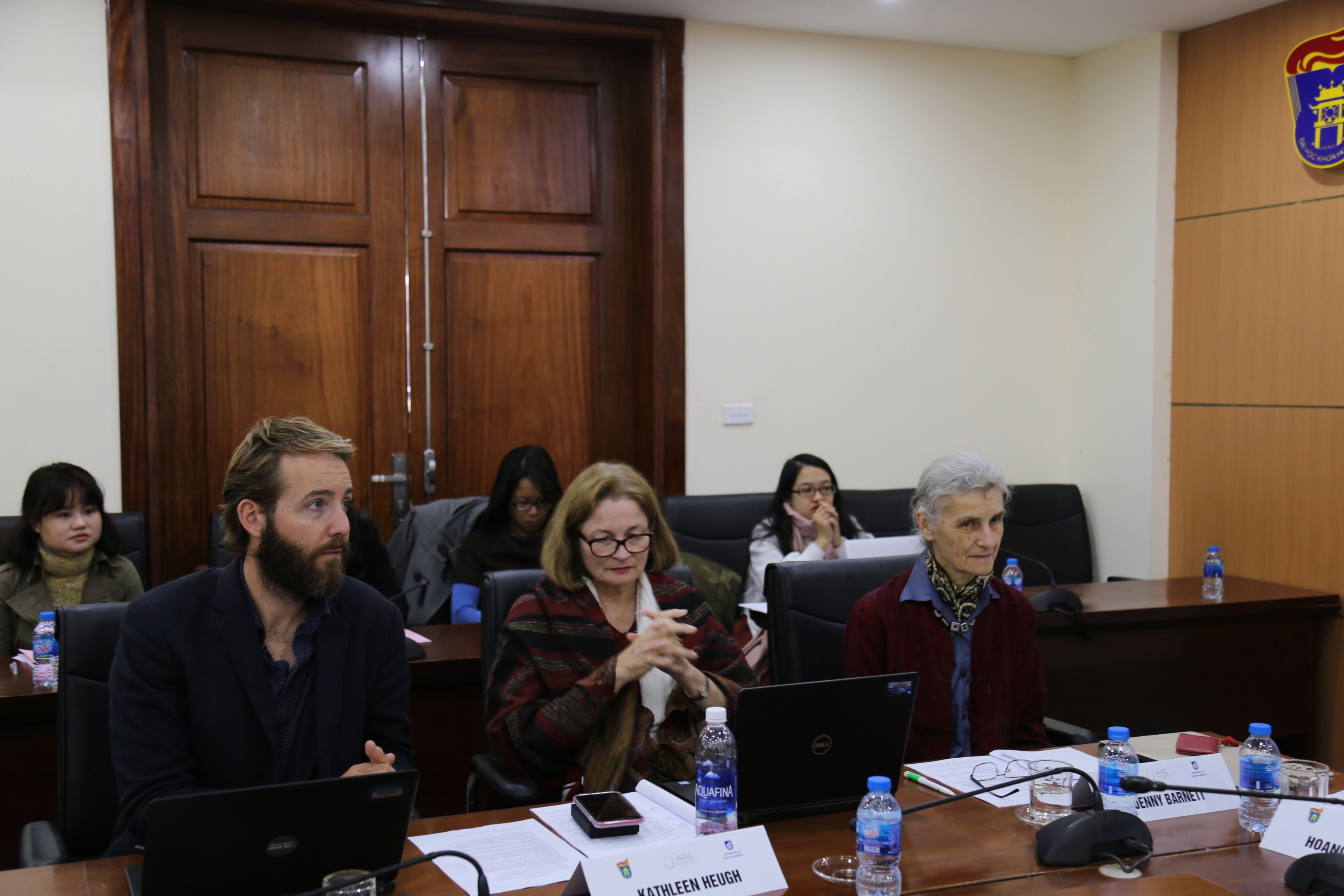 The representatives of University of South Carolina, from left to right: Dr. David Caldwell (School of Education), Assoc. Prof. Dr Kathleen Heugh (School of Creative Industries), Dr. Jenny Barnett (School of Education)
The paper "Training EMI teachers in Vietnam: Theoretical and implementation issues" by Dr. Vu Thi Thanh Nha (University of Languages and International Studies, VNU Hanoi) discussed the issues in training EMI teachers such as defining a framework of competencies and adjusting the training objectives in accordance with a variety of local contexts, policies and EMI strategies. The paper was based on a research study with 58 postgraduate students taking a methodology course in EMI in a public university in Vietnam.
The paper "Genre pedagogy: Implications for EMI" by Dr. David Caldwell (School of Education, University of South Australia) gave an overview of genre pedagogy, with an emphasis on written text production. The paper then discussed how genre pedagogy can assist EMI lecturers in helping students become expert writers in their respective disciplines.
After the conference, the training workshop titled "Course design for EMI" will take up on December 15th with two main contents: "Pedagogical choices available to EMI educators" with interactive presentation and pair work; and "Making and justifying pedagogical choices for EMI coursework" with small group activities, reports and whole group discussions.