https://ussh.vnu.edu.vn/en/news/characters-events/ambassador-of-republic-of-azerbaijan-to-vietnam-visits-ussh-16948.html
Welcoming the Ambassador, Prof. Dr Pham Quang Minh said this exhibition was a chance for USSH's students to enlarge their knowledge about the history and culture of a beautiful country at the crossroads between East Europe and West Asia. This was also an opportunity to further relations between USSH and the Embassy.
In the next year, with support from the Embassy of Azerbaijan, the University would invite Azerbaijani lecturers to USSH. The Embassy would also help create masters and PhD fellowships for Vietnamese students and in turn, USSH would provide scholarships for Azerbaijani students.
After the opening ceremony, Mr. Anar Imanov had a talk with USSH's students about the history, culture, and socio-economy of Azerbaijan and the history of Vietnam-Azerbaijan relations.
In 1918, the Republic of Azerbaijan was established but only lasted until 1920. After the collapse of the Soviet Union, Azerbaijan regained independence. Today, it belongs to the Caucasus region in Euro-Asia. It is bordered on the east by the Caspian Sea, north by Russia, northwest by Gruzia, west by Armenia and south by Iran, has an area of 86.000 square km and a population of 9 millions. Its main languages are Azerbaijani used by 95% of the population. Its economy focuses largely on industries such as mechanical engineering, oil and mining, oil refinement, clothing and chemical manufacturing.
Prof. Dr Pham Quang Minh and Ambassador Anar Imanov welcome USSH's students to the pictoral exhibition
On the Vietnam-Azerbaijan bilateral relations, the Ambassador said despite geological distance and political, economic and social differences, the two countries share a long, traditional friendship and partnership and the two peoples are close to one another. In 1959, President Ho Chi Minh visited Azerbaijan. In 1983, the Azerbaijan's leader Heydar Aliyev visited Vietnam when he was one of USSR's political members. In 2014, Azerbaijan's President Ilham Aliyev visited Vietnam and Vietnam's President Truong Tan Sang visited Azerbaijan.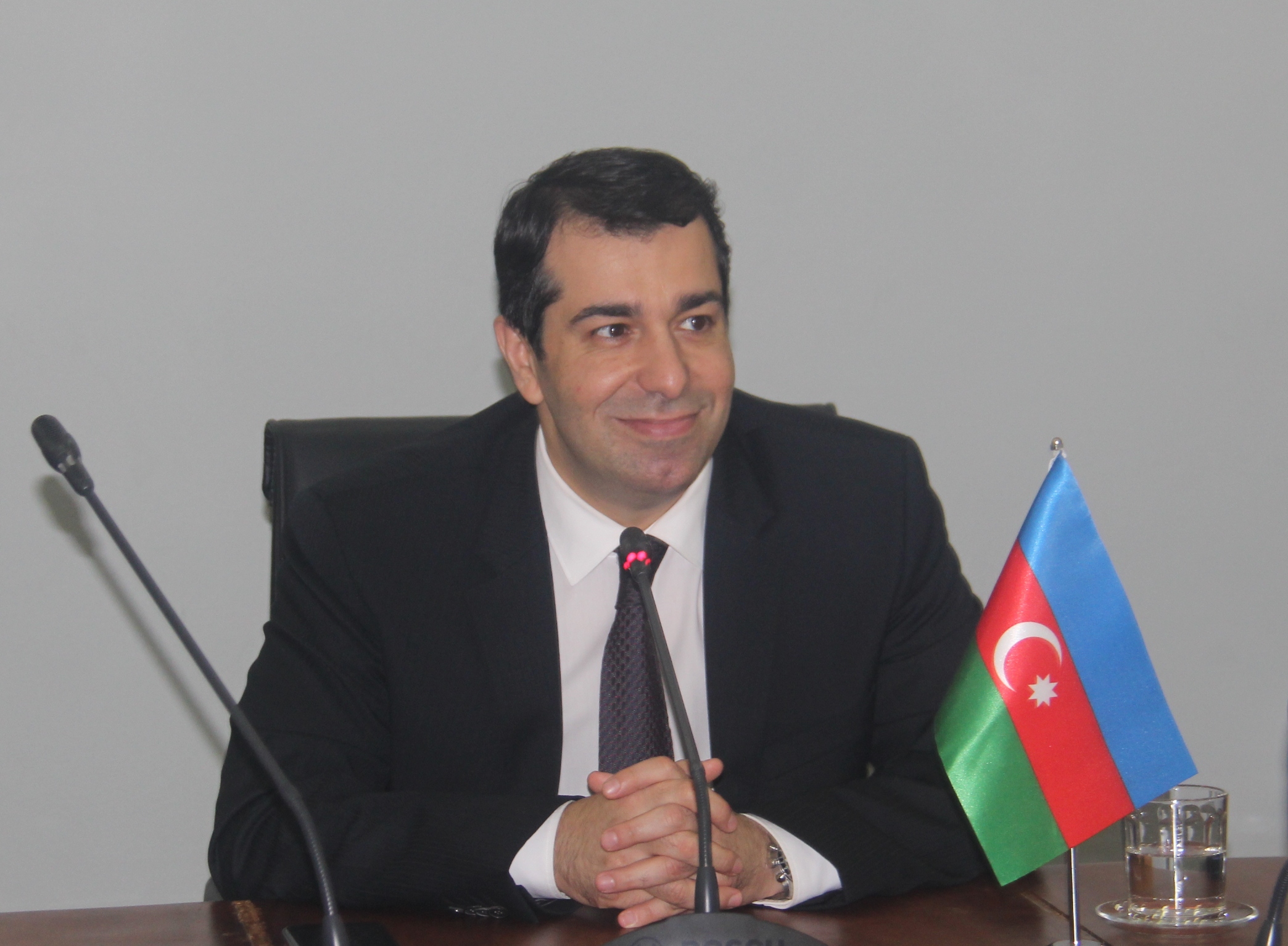 Mr. Anar Imanov had a talk with USSH's students
After the Soviet Union broke up, Vietnam became one of the first countries recognizing Azerbaijan (1991) and the two countries officially established diplomatic relationship in 1992.  The Embassy of Azerbaijan to Vietnam was founded in 2013. Historically, the Azerbaijani greatly contributed to the creation and development of Vietnam's petroleum industry. In the near future, the Azerbaijan-Vietnam inter-governmental committee would come into operation and promote bilateral relations, helping to fulfill high-profile agreements and increase bilateral trade to 1 billion USD.
During wartime, thousands of Vietnamese studied in Azerbaijan, after which they came back to serve at different positions within the Party's leadership and the Vietnamese government, contributing to national development. They served as friendly cultural ambassadors among the peoples of Vietnam and Azerbaijan through the Center for Azerbaijani History and Culture, part of the Institute of Policy, Law and Management of Vietnam Union of Science and Technology Associations and the Vietnam-Azerbaijan Friendship Association.
Mr. Anar Imanov and USSH's students
Mr. Tamerlan Khalikov expressed his gratitude for being warmly welcomed by USSH's students and hoped in the near future, he would be able to welcome more Vietnamese students.