https://ussh.vnu.edu.vn/en/news/activities/sharing-new-studies-on-japan-and-asia-10129.html
https://ussh.vnu.edu.vn/uploads/ussh/news/2014_08/sharing-new-studies-on-japan-and-asia18082014210549.jpg
Apart from USSH's young researchers, other experts were present such as Prof.Dr Nguyen Kim Son (Vietnam National University), Prof.Dr Do Quang Hung (USSH), Prof.Dr Nguyen Huu Dung (Vietnam Academy of Social Sciences), etc.
Three papers were discussed at the seminar.
The first was titled "The humanistic worldview of gratitude in the doctrine of Shinran (1173 – 1262)" by Dr.Pham Thi Thu Giang (Division of Japanese studies). Shinran was a monk in the Kamakura era and known as the founder of Jōdo Shinshū sect, one of the largest Buddhist sects in Japan. The underlying feature of his religious activities in 90 years and simultaneously Jodo Shinshu's most powerful idea was a broad humanistic worldview. Shinran always wanted to develop a kind of Buddhism for the "hatred", "greedy" and found a way towards their enlightenment. Through concepts such as Karma, Buddhatā, tanha, Akunin shôkisetsu, Shinran showed his distrust of traditional Buddhist tendencies and deep sympathy for the traumatized people not considered by contemporary Buddhism as targets of enlightenment.
The second paper was titled "Confucianism and the idea of democracy (On the idea of Confucian "democracy" by Tran Trong Kim in Confucianism)" by Dr.Nguyen Tho Duc (Dean of Division of Chinese studies). The paper illustrated Tran Trong Kim's basic ideas and opinions on Confucian "democracy", through which to evaluate their strengths and weaknesses. In addition, it put Confucianism in the development of regional Confucianism in the early 20th century, preliminarily identified the similarities and differences between Kim's modernization of Confucianism in terms of "democracy" and that of modern Chinese Confucians.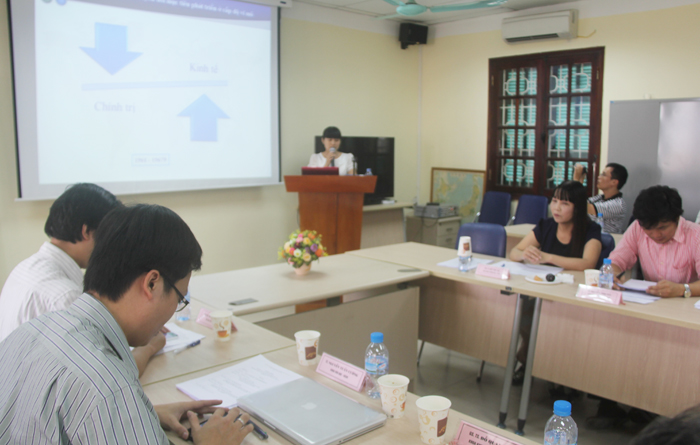 The last paper was titled "The harmonious character of Korea's strategy for economic development from 1961 to 1970, with an emphasis on capital and human resources" by MA. Nguyen Thi Thu Huong (Division of Korean studies). The paper examined how capital and human resources were utilized in South Korea's strategy for economic development from 1961 to 1979 (when former President Park Chung hee was in office). On that basis, it illustrated the harmonious combination of internal and external resources, Western educational ideas and Korean traditional morality by South Korea. Prof.Dr Nguyen Duy Dung said the researcher made the right decision by attempting to study South Korea's "Miracle on the Han river" in the last 60s and 70s, in which it rose from a poor country to an Asian dragon. Not only did the paper clarify particular aspects of Korea's strategy for economic development, it also examined this event to draw valuable lessons for the development of Vietnam.
The series of seminars "New studies on Japan and Asia" is sponsored by Toshida Foundation and aimed at promoting academic exchanges between young scholars and contributes to the sharing of latest findings on Japan and Asia.