https://ussh.vnu.edu.vn/en/news/activities/the-more-society-develops-the-more-social-sciences-and-humanities-are-respected-10024.html
https://ussh.vnu.edu.vn/uploads/ussh/news/2014_07/the-more-society-is-developed-the-more-social-sciences-and-humanities-are-respected14072014225635.jpg
On July 9th, 2014, upon welcoming and working with representatives from Hà Nội mới, An ninh thủ đô, Viet Nam Net newspapers, Assoc.Prof.Dr Tran Thi Minh Hoa provided relevant information about USSH's university entrance examination, and made known the recent innovations in the University's training policies.
In 2014, the total number of students involving in the University's entrance exam was 6,691, including 3,861 of Group C (Literature, History, Geography). Until September 7th there had been 2,589 candidates that completed registration, accounting for over 67%. This year, for the first time the University has begun to admit students majoring Office Management – a new, fascinating and socially–important major. Faculty of Psychology created its first advanced program, and Public Relations received a large amount of students although this is only its 2nd year of operation.
Asked about the difficulties encountered in enrollment, Vice Rector Tran Thi Minh Hoa said the basic sciences have seen increased numbers of applications in recent years. This year, applications for Anthropology increased 67%, those for Sino-Nom increased 38.7% and those for Political Science rose 9.86%. Besides, in the last 3 years, students enrolling in 7 basic majors are granted tuition assistance and many other privileges. These are special incentives for basic sciences that are crucial to a country's development.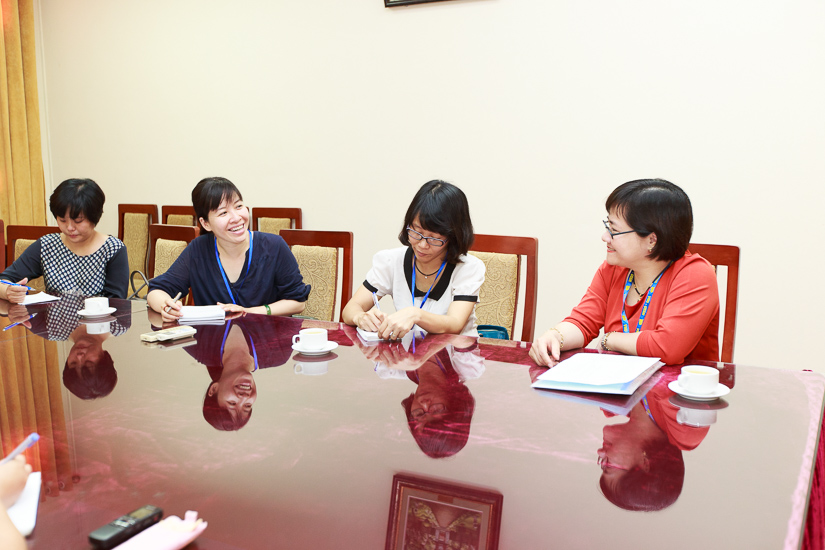 On the one hand, the University continuously improves the teaching of basic sciences that is its advantage, on the other hand it proves to be leading in socially-important majors such as Office Management, Social Work, Media and Communication, Oriental Studies, Psychology, International Studies and Art Studies, etc. A strong basis of social sciences helps the University's new majors become more qualified, unique and quickly favored. In recent years, the University has called for students from both group A and B of the entrance exam so students from all groups have the chance to study Social Sciences and Humanities, and opportunities are more opened for competitive students. According to the QS ranking, the University now ranks 1st in Vietnam in Social Sciences and Humanities.
As for job opportunities, Mrs. Hoa affirmed social sciences and humanities provide adequate opportunities for all. This is shown in the positive results of the surveys on employment rates after graduation at USSH. The students have good input, and after 4 years at university they are trained to have solid foundational knowledge, methodologies and thinking and thus high adaptability.