https://ussh.vnu.edu.vn/en/news/activities/the-disputes-in-the-south-china-sea-impacts-and-approaches-to-peace-and-cooperation-10443.html
https://ussh.vnu.edu.vn/uploads/ussh/news/2014_10/the-disputes-in-the-south-china-sea-impacts-and-approaches-to-peace-and-cooperation13102014104602.jpg
Participating in the Conference were Mrs.Rebea Brauer (Country Representative of Konrad – Adenauer – Stiftung, Vietnam) and other scholars from the US, Germany, Japan, the Phillipines and Indonesia, etc.
In his opening remarks, Prof.Dr Nguyen Van Khanh reaffirmed the South China Sea (East Sea in Vietnamese) is an indispensable and natural component of Vietnam, whose history is consistent with that of Vietnamese people. This historical fact is not only reflected in historical documents but also international legal instruments and recognized by international conferences in the (early) modern period.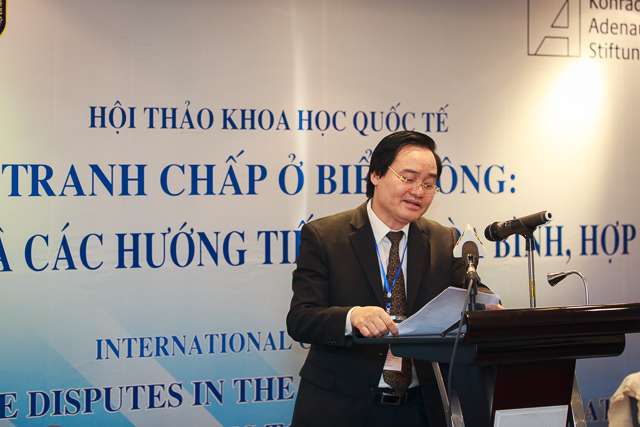 Director of VNU Phung Xuan Nha gives his remarks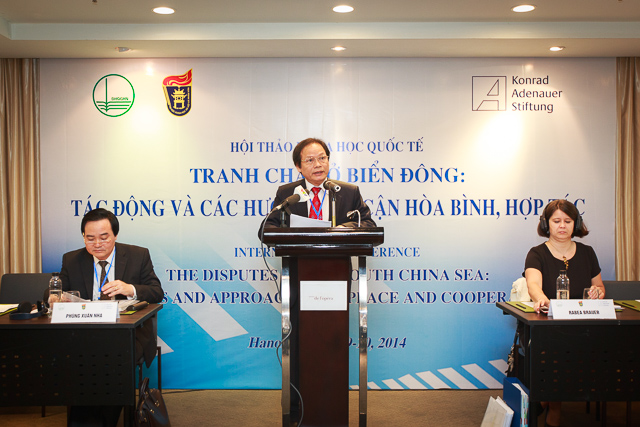 Prof.Dr Nguyen Van Khanh delivers the opening speech
Regarding the South China Sea disputes, Vietnam has always maintained its indisputable sovereignty over the Spratly and Paracel Islands, and is willing to resolve them peacefully based on international law. However, recent developments, one of which is China's anchoring of the HD-981 oil rig in Vietnam's exclusive economic zone, confirm the complicated situation in the South China Sea and generate potential challenges.
In this light, the conference aimed to identify the current situation, the underlying causes and solutions for current maritime disputes. The papers will contribute to the implementation of Vietnam's national maritime strategy, the protection of its sovereignty and sustainable development of international relations in the South China Sea.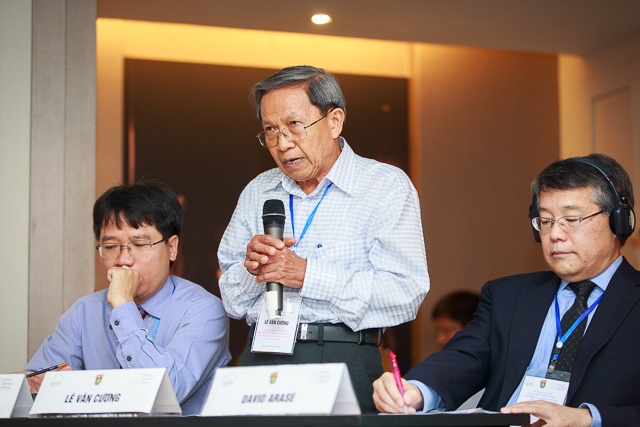 General Major Le Van Cuong (Former Director of Institute of Strategic Studies) presents his paper titled "China's hegemonic ambitions in the South China Sea: Challenges and responses"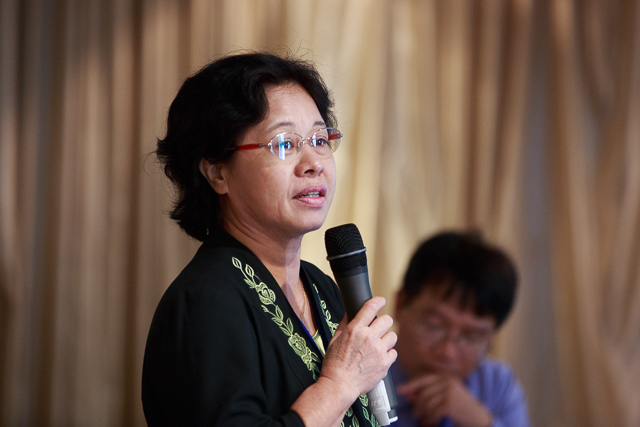 Assoc.Prof.Dr.Nguyen Thi Thanh Thuy presents her paper titled "The US Pivot to Asia in the Context of Escalating Disputes in the South China Sea"
Some main contents discussed at the Conference were: the South China Sea in the Big Picture of the Big Powers: China and the US; the Territorial Disputes in the South China Sea from International Law Perspective; implications of the conflict between Japan and China for resolving conflicts in the South China Sea; the political and economic approaches to resolving maritime territorial conflicts.