https://ussh.vnu.edu.vn/en/news/characters-events/us-deputy-secretary-of-state-visits-vietnam-discusses-cooperation-sea-disputes-13746.html
https://ussh.vnu.edu.vn/uploads/ussh/news/2016_05/us-deputy-secretary-of-state-visits-vietnam-discusses-cooperation-sea-disputes23042016183235.jpg
The U.S. high-ranking diplomat joined talks with Pham Binh Minh, Vietnamese Deputy Prime Minister and Minister of Foreign Affairs, in Hanoi on Thursday afternoon.
The conversation was part of Deputy Secretary Blinken's trip to the Southeast Asian country, which focused on discussing sea disputes and carrying out preparations for President Obama's visit in May.
The two officials conferred on measures to enhance the Vietnam-U.S. relations in the near future and the coordination between the two nations' foreign ministries to successfully organize the U.S. president's visit.   
Deputy PM Minh urged Washington to work with Hanoi for the extensive and effective development of the two parties' comprehensive partnership, benefiting the two peoples and contributing to the preservation of peace, stability and cooperation in the region.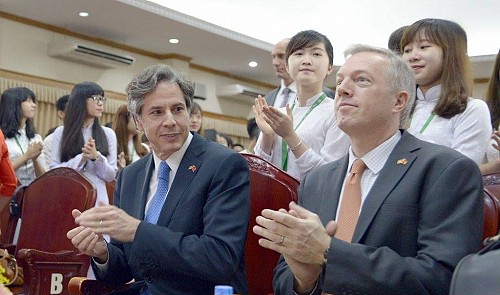 United States Deputy Secretary of State Antony Blinken (L) and United States Ambassador to Vietnam Ted Osius at a meeting with students from the Vietnam National University-Hanoi on the morning of April 21, 2016
The Vietnamese deputy head of government reiterated Hanoi's commitment to the ratification of the Trans-Pacific Partnership (TPP) free trade agreement and hoped that the U.S. Congress would expedite the process, creating opportunities for collaboration on economic and trade affairs between the trade bloc's member states.
He requested that Vietnam and the U.S. deepen their ties in nine fields listed in a joint statement made in 2013, primarily focused on national development.
On the morning of the same day, Deputy Secretary Blinken made a speech in front of 400 students at the University of Social Sciences and Humanities, under the Vietnam National University-Hanoi, highlighting the importance of the Asia-Pacific region in Washington's long-term external policies.
Blinken noted that the coming visit of President Obama is an indication of the increasingly collaborative friendship between Vietnam and the U.S., once again proving that former enemies can become partners.
The U.S. president will be accompanied by a delegation of elite officials, including Secretary of State John Kerry, who has been a pioneer in generalizing the relationship of the two nations, according to the U.S. diplomat.
Responding to the questions, Blinken stated that Washington would continue its ties with traditional allies, namely Japan, South Korea, and the Philippines, while fostering cooperation with emerging partners such as Vietnam.
The North American country will expand its military presence in the Asia-Pacific region, establishing a foundation to ensure security, stability, peace and cooperation in the area, the deputy secretary stated.
Regarding the East Vietnam Sea situation, he hoped that China would carry out amicable approaches and respect international law and order so as not to isolate itself.
The U.S. diplomat reiterated that Washington would protect the interests of its allies and partners in the region, hoping that all disputes will be settled with negotiations under international law, respecting peace and the freedom of navigation.