https://ussh.vnu.edu.vn/en/news/characters-events/president-truong-tan-sang-vietnam-national-university-must-be-a-symbol-and-pride-of-vietnamese-education-13466.html
https://ussh.vnu.edu.vn/uploads/ussh/news/2016_03/president-truong-tan-sang-vietnam-national-university-must-be-a-symbol-and-pride-of-vietnamese-education29022016151042.jpg
Also participating at the meeting were Minister of Science and Technology Nguyen Quan, representatives of the Office of the President, Office of the Government, Ministry of Planning and Investment, Ministry of Finance, Ministry of Construction, etc.
On the part of VNU there were Mr Phung Xuan Nha – Member of the Central Executive Committee of CPV and Director of VNU; members of VNU's Executive Committee of the Communist Party; and leaders and staff of other offices and departments.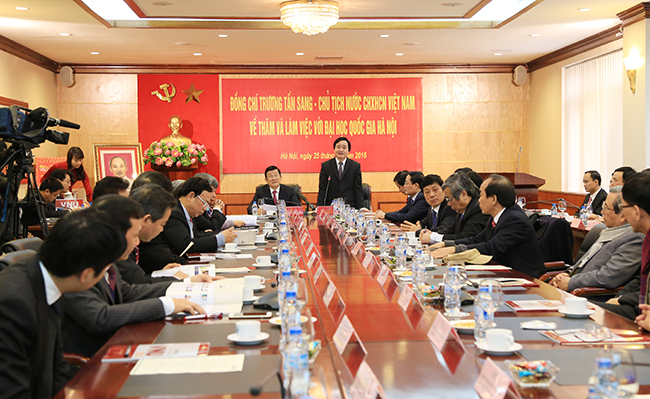 VNU Director Phung Xuan Nha speaks at the meeting with President Truong Tan Sang
At the meeting, the VNU's leader reported to the President on VNU's recent achievements. In particular, the legal position and high autonomous status of a national university provides VNU with ample opportunities to become an advanced research university; VNU also scores great achievements in the training of high-quality human resources, creating advanced technologies and transferring knowledge. VNU is a leading and foremost institution in reforming the Vietnamese higher education system. In 2015, Quacquarelli Symonds listed VNU among 191-200 leading Asian universities and the best among Vietnamese higher education institutions. This was the first that VNU ranked 1st in Vietnam in the tables created by QS, Scimago, URAP, Webometric, 4ICU.
On the upcoming establishment of the Vietnam-Japan University, VNU's the 7th member university whose aim is to become an internationally recognized university and a good symbol of the Vietnam-Japan friendly relations. Until now, VNU has coordinated with relevant Vietnamese and Japanese organizations and agencies to prepare for the establishment of the university.
Speaking highly of the important efforts and contributions made by VNU to national development and expressing his appreciation of its recent achievements, President Truong Tan Sang said that VNU has made necessary steps to become a new, advanced and integrated university in the world and proved its entrepreneurship in educational reforms. The President highly praised VNU's management system in recent years, as its staff and students have closely collaborated to maintain its position as a pioneer. VNU has made unprecedented achievements by becoming one of the 191-200 leading Asian universities; and its Vietnam-Japan University project has made preliminary successes in consolidating the Vietnam-Japan relations. These are highly commendable efforts. However, the President noted that more rigorous steps are required to grow VNU into an advanced university in the region, effectively contributing to national development.
The President emphasized, in the context of globalization, the quality of human resources plays an increasingly important role. Therefore, as a central and leading Vietnamese educational institution, VNU has to continue reforming its training and researching capacity, applying advanced teaching models in the world and creating groundbreaking efficiency in education.
Responding to the questions regarding the improvement of infrastructures, especially the construction of VNU in Hoa Lac aimed at providing the best opportunities for lecturers and students in their professional endeavors, President Truong Tan Sang said that VNU should effectively combine available resources and synchronize them. The immediate task is to mobilize all existing resources to finish building the University of Sciences in Hoa Lac so that it will have been available by 2018.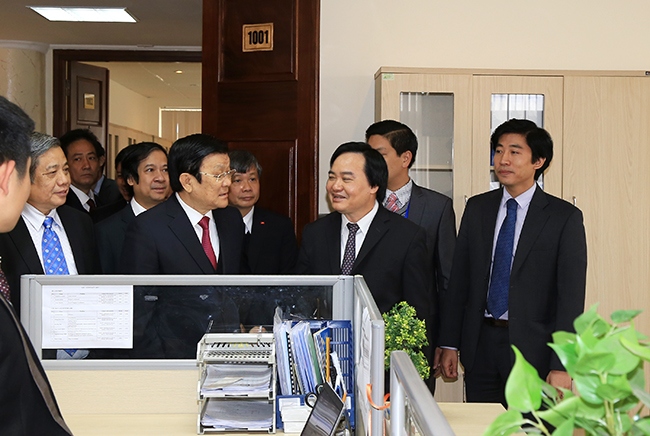 President Truong Tan Sang visited the Management Board of Vietnam-Japan University (VNU)
On the development of the Vietnam-Japan University, a new member of VNU, the President emphasized that, this university is a symbol of Vietnam-Japan friendly relations and receives much attention from the Party and State. Despite remaining difficulties in preparing for this project, VNU should continue to simultaneously develop the university's infrastructures and training curricula. The President said it is necessary to complete its Feasibility Study. Vietnam-Japan University is tasked with training internationally-recognized human resources, which will help it to acquire advanced and modern technological models to manage and govern higher education and expand these models to other universities in Vietnam to serve the cause of national industrialization and modernization.