https://ussh.vnu.edu.vn/en/news/activities/international-scientific-seminar-on-the-country-s-development-policy-12794.html
https://ussh.vnu.edu.vn/uploads/ussh/news/2015_11/international-scientific-seminar-on-the-countrys-development-policy07112015181636.jpg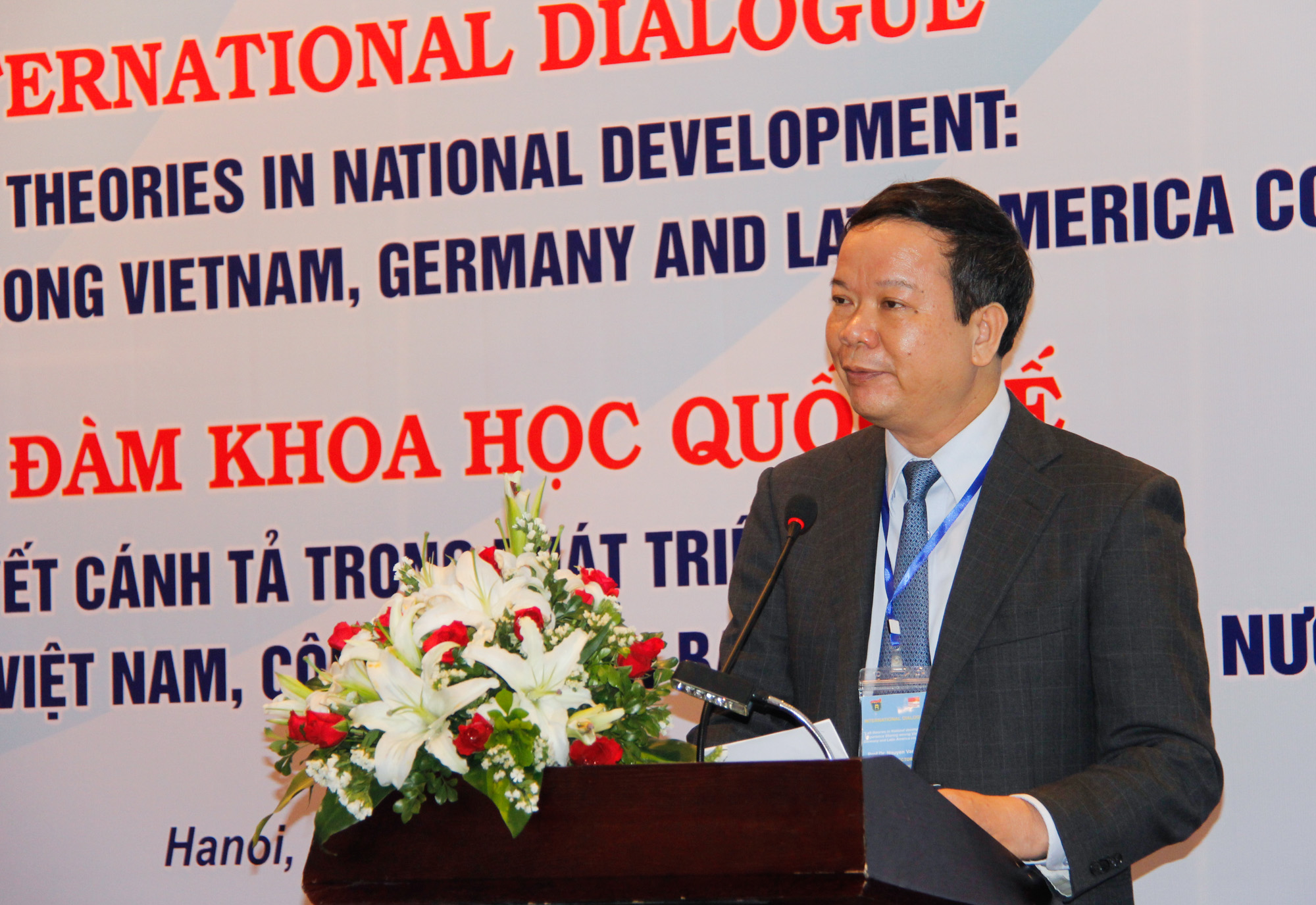 Opening remarks by Prof.Dr. Nguyen Van Kim
This was one of the activities between Rosa Luxemburg Foundation and the Institute of Policy and Management of USSH within the project named "Choosing Leftist theories in a changing world".
Participants at the seminar included Mrs. Liliane Danso - Dahmen (Director of Rosa Luxemburg Foundation in Southeast Asia); Prof.Dr. Nguyen Van Khanh (Rector of USSH, Director of the Institute of Policy and Management); and Ambassadors of Latin America countries to Vietnam such as Cuba, Chile, Venezuela, Brazil, Colombia and Mexico.
Speaking at the seminar, Prof. Dr. Nguyen Van Kim (Vice Rector of USSH) said: "The development of the Left movement and its regional and global impact has been a big issue in most Latin America countries and many nations of the world. It is both a challenge and an opportunity in the development of countries and regions, including Germany, Latin America and Vietnam. "
He also hoped that "international and Vietnamese researchers and experts continue to examine and clarify the guidelines and policies; and their rationale, effectiveness, scope and impact degree; at the same time there are lessons to be learned from the reality of each country, which is a basis of developmental policies and enhancing opportunities for bilateral and multilateral cooperation between countries today".
The seminar discussed "Leftist theories" and the national leadership of "Left Parties" with presentations revolving around three subjects: Vietnam (Vietnamese Market economy from a leftist perspective - Theorical and Practical issues by Assoc.Prof. Dr Nguyen Van Dan), the Federal Republic of Germany (Leftist theories and the development of social democratic market economy of FRG by Assoc.Prof.Dr Dinh Cong Tuan) and Latin America countries (Socio-economic achievements of Venezuela under the leadership of the left party in 15 years by Mrs. Katiuska her Maestre - Charge d'affaires ad interim of Venezuelan embassy to Vietnam, ...).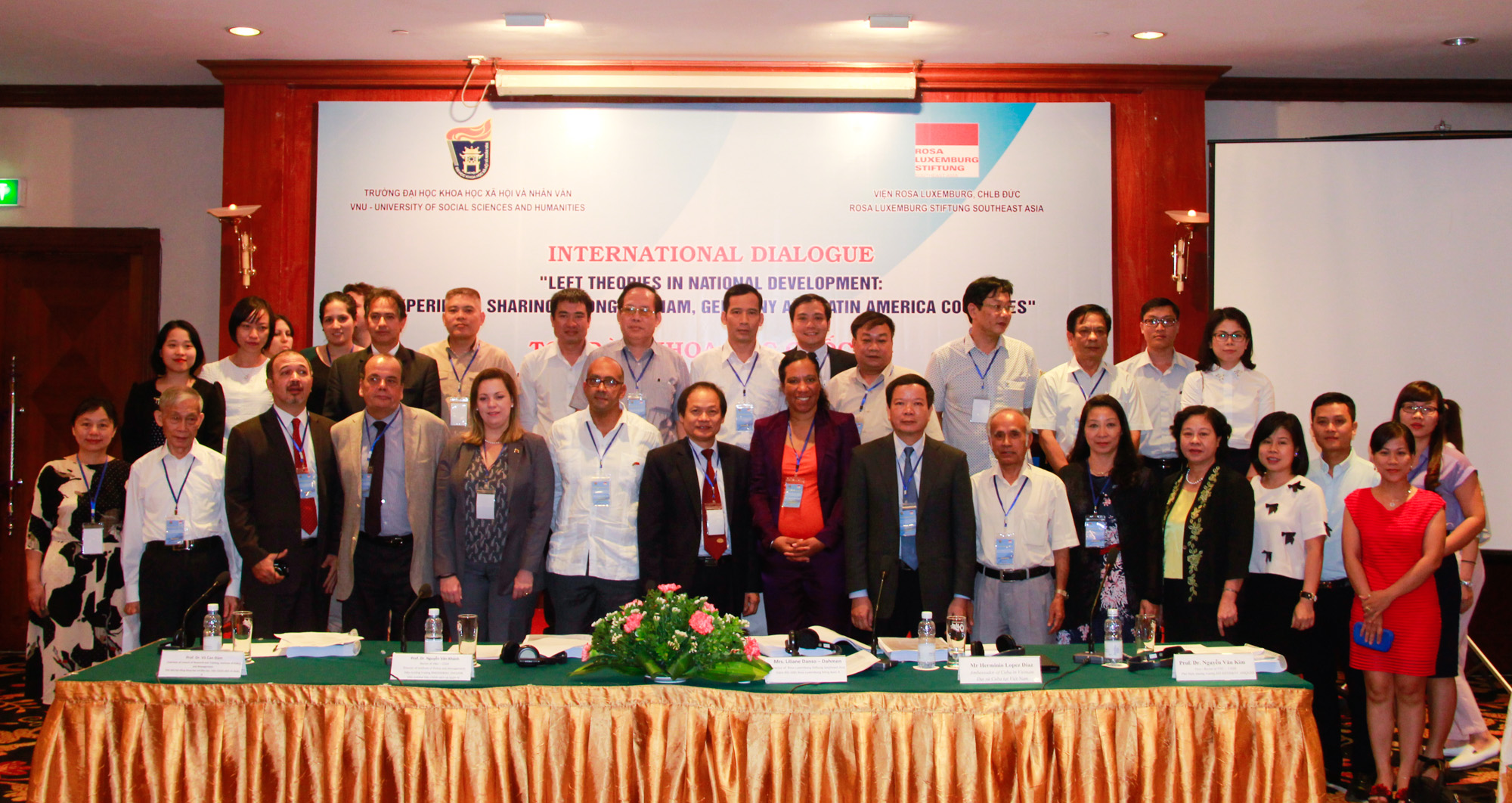 The participants took a photograph together
Rosa Luxemburg Foundation has supported and coordinated with the University of Social Sciences and Humanities in the "Choosing Left theories in a changing world" project for over 6 years (2009-2015). There have been many academic activities successfully held through annual international seminars (2009, 2010, 2011, 2012, 2013) such as "Leftist rationale from the Marxist viewpoint" (November 2010) and most recently an international seminar named "The state role and contribution to the development of Vietnam and Cuba" in October 2014.