https://ussh.vnu.edu.vn/en/news/activities/high-quality-human-resources-and-scientific-research-are-necessary-to-promoting-regional-development-and-international-integration-12501.html
https://ussh.vnu.edu.vn/uploads/ussh/news/2015_10/high-quality-human-resources-and-scientific-research-are-necessary-to-promote-regional-development-and-international-integration10102015174543.jpg
The Red River basin is approximately 169,000 sq.km, with Vietnam occupying the largest territory of 87.840 sq.km, followed by China with 81.200 sq.km and Upper Laos with 1.100 sq.km. In recent years, the Sino-Vietnam educational relations have been favorable. In February 1993, the memorandum of education between Vietnam and China was signed. In 1996, the two countries continued with an agreement on the further promotion of exchanges and cooperation in 1997-2000. This was followed by an agreement on the exchanges and cooperation in 2001-2004. In 2009, the two countries released an agreement on the mutual recognition of higher education degrees. This was an important legal instrument for Red River basin universities to boost cooperation in high-quality human resources training and research.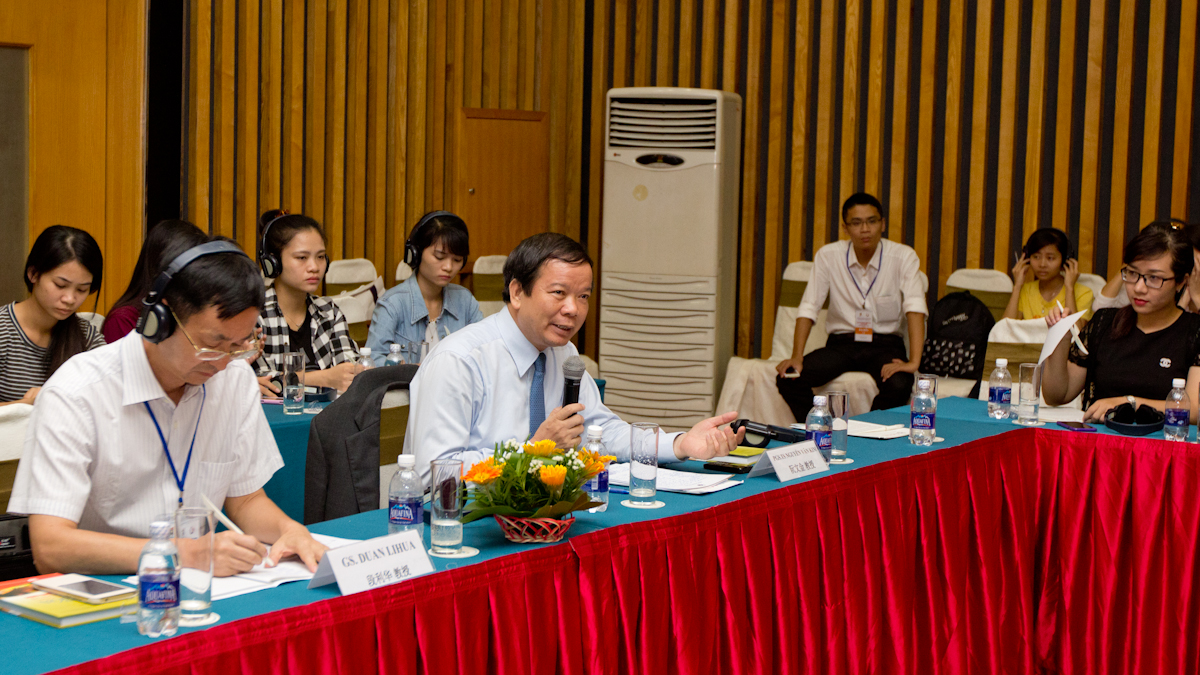 Assoc. Prof. Dr Nguyen Van Kim and Prof, Duan Lihua chair the first session
Cultural, sports and tourism exchanges have been also increased. Vietnam and China annually exchange art performance groups and hold sports and cultural festivals. In addition, the two sides actively established cultural centers in either country.
Sino-Vietnam economic and trade cooperation also grows. While in 2012, total Sino-Vietnam trade was 40 billion USDs; in 2013 it rose to 49.9 billion USDs. China's FDI in Vietnam reached 2.3 billion USDs. For Yunnan alone, its economic and trade cooperation with North Vietnam also rapidly develops as shown in such particular organizations as the Yunnan-Vietnam economic forum and the transnational economic cooperation zone Kim Thanh (Lao Cai) – Hekou (Honghe).
The geographical, economic, cultural and social conditions require the Red River basin universities to cooperate in high-quality human resources training. China currently provides around 130 long-term scholarships for Vietnamese students. Vietnam currently has 13.5 thousand students in China and the latter has 3.5 thousand students in Vietnam. In Yunnan alone there are 2000 Vietnamese students, accounting for 1/3 of the visiting students there.
High-quality human resources for international integration
The opening paper titled "Cooperation in high-quality human resources training between Red River basin universities" proposed many important ideas and solutions to enhance this activity such as student and lecturer exchanges, short training courses 1+3, 1+4 and 2+2 and postgraduate training.
On student and lecturer exchanges, the universities should recognize their credit-based programs to improve student exchanges between those that share common majors or similarities in programs. They are also encouraged to exchange their scholars to teach and practice at one another's campuses.
Assoc. Prof. Dr Nguyen Van Hieu presents his paper 
Regarding the 1+4 model, students study the first year at their home university and move to foreign university for higher education. Or they can spend 3 years at their university and a year in another university improving foreign language proficiency under the framework of 1+3 model. Another way is to join a short-training course which lasts for 2 to 6 weeks during summer or winter. Students can study different majors and enjoy different local cultures and experiences.
With the 2+2 model, students spend 2 years studying foreign languages and basic subjects in their home country. The rest 2 years are spent for specialized subjects and internship in a Chinese or Vietnamese university. The degree is issued by either a university or both. This model helps students to minimize study and living expense.  
The paper also pointed out some difficulties in the educational cooperation between Red River basin universities such as the lack of communication on their majors; language barriers; inflexible curricula, particularly those related to social sciences and humanities; and underdeveloped infrastructures. These serve as obstacles in the promotion of high-quality human resources training between them.
Having cooperated with the Chinese universities for 20 years, Mr. Pham Van Cuong (Rector of Hai Phong University) suggested that "the universities should promote leadership exchanges beside student and lecturer exchanges."
The Rector of University of Culture added: "There should be more regular visits in the areas of training and cooperation. In particular, heads of offices for academic affairs and office for foreign affairs are expected to enhance their communication so as to broaden their information, based on which to make more suggestions and ideas to the Boards of Rectors.
Each university has its own strengths and cultural characteristics. Therefore, the universities may wish to contribute their own advantages to a common transnational platform and construct a strong community. They should focus more on speeding up educational cooperation and exchanges as a way to greatly contribute to high-quality human resources training, said Vice President of Kunming University.
Research cooperation for regional development
Next to cooperation in high-quality human resources training, research cooperation is another important objective. Currently, the Red River basin and the world in general have to cope with many global issues that require common solutions from countries and nations such as climate change, sustainable development and cultural exchanges.
By cooperating in research activities, the universities are better able to produce high-quality human resources and create good scientific products, improve friendship and cooperation between the two countries and two territories in the Red River basin. All these objectives are ultimately beneficial for the development of countries and the world in general.
Assoc. Prof. Dr Pham Quang Minh and Prof. Gan Xuechun chair the second session
The leaders of the universities also suggested some common issues for the current forum and subsequent fora such as sustainable development, cultural, tourism, ethnic issues; urbanization and modernization; tourism and cultural development.
The Rector of Hai Phong University proposed two themes for possible research cooperation: the promotion Vietnam-Hai Phong economic corridor; and the development of cultural and tourism activities along the corridor of Yunnan and North Vietnamese provinces.
According to the President of Dali University, there are 5 themes that need studying in the future: ecological environment, agricultural activities, medicine, ethnic culture and tourism culture. He also suggested a joint-project among the universities to deal with a single topic. Topics that are relevant to local conditions should be financially prioritized. Furthermore, the universities should improve mutual correspondence and academic exchanges to help raise the standards of their scholars.
Regarding financial matters, the universities may seek national funding for national projects such as the Yunnan project which currently receives a large amount of funding from the Chinese government. Universities that are working on localized research projects can look for local funding from their respective authorities.