https://ussh.vnu.edu.vn/en/news/activities/meeting-with-the-ambassador-of-israel-to-vietnam-15832.html
At the meeting, Prof. Dr. Pham Quang Minh introduced about USSH's main achievements in training, research activities and its main directions; in which he emphasized the goal of developing into a research-based university, and promoting internationalization by increasing the number of courses taught in English and expanding relations with international partners. The Rector hoped the Embassy of Israel to Vietnam will contribute to connecting USSH with Israeli universities.  
In response, Mr. Nadav Eshcar expressed his gratitude for the warm welcome by USSH. He said the Israeli Embassy to Vietnam is willing to support USSH in getting in touch with Israeli universities, especially in facilitating the organization of conferences, exhibitions and cultural exchanges between Vietnamese and Israeli students. The Embassy also would like to disseminate information and knowledge about its country to USSH's students and Vietnamese students in general, especially when the next year will mark the 25th anniversary of Vietnam-Israel bilateral relations.
Prof. Dr. Pham Quang Minh highly appreciated the suggestions given by Mr. Nadav Eshcar and said USSH will always welcome the contribution of Israeli Embassy in academic exchanges and activities. The Office for Cooperation and Development will be responsible for connecting the two sides.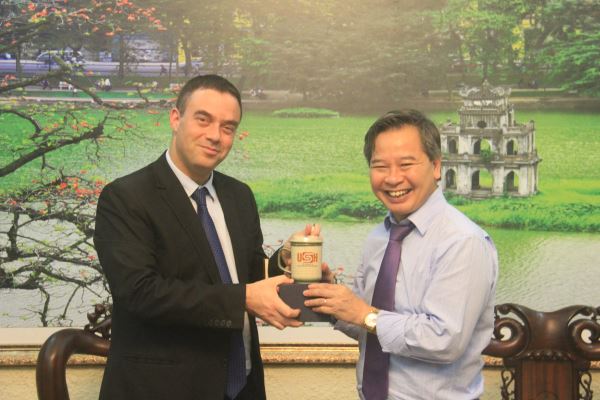 Prof. Dr. Pham Quang Minh gives Mr. Nadav Eshcar a token
The University of Social Sciences and Humanities together with the Israeli Embassy to Vietnam have organized several activities such as the presentation on "Anne Frank - A History for Today" on November 21st, 2016, and the screening of movies in memory of the victims of the Holocaust on February 17th, 1977. These activities were attended by many USSH's lecturers and students as well as representatives of the Embassy.