https://ussh.vnu.edu.vn/en/news/characters-events/conference-on-religion-and-law-in-washington-dc-11855.html
https://ussh.vnu.edu.vn/uploads/ussh/news/2015_05/conference-on-religion-and-law-in-washington-dc26052015111328.jpg
Prof. Dr Nguyen Van Khanh (Rector) led a delegation including scientists and managers from USSH, the National Assembly's Committee on Culture, Education, Youth and Children, the Government's Committee of Propaganda, the Ho Chi Minh Institute for Political Sciences and the Unified Buddhist Congregation of Vietnam.
The main purpose of this conference was to discuss the practicalities in the US and other countries in the management, registration and recognition of religions, property ownership of congregations, new religious types and the religious life of foreign citizens, from which Vietnam can learn to improve its development and issuance of new laws on religion and belief.
At the opening ceremony, Prof. Dr Nguyen Van Khanh through his speech emphasized the importance of religion and law in the development of socio-political life of a multi-ethnic and multi-religious such as Vietnam. Since the introduction of Doi moi, Vietnam has made many achievements in developing the state of law and religion. The awareness of religions and religious life in Vietnam is changed in different ways. In 2004, the National Assembly of Vietnam officially approved the Ordinance on Belief and Religion. In 2013, the amended Constitution of Vietnam confirmed the legitimacy of human rights as a step to hasten the social democratization and the national economic, political, and cultural reforms. Also in this year, the Assembly designed the first law on belief and religion in Vietnam.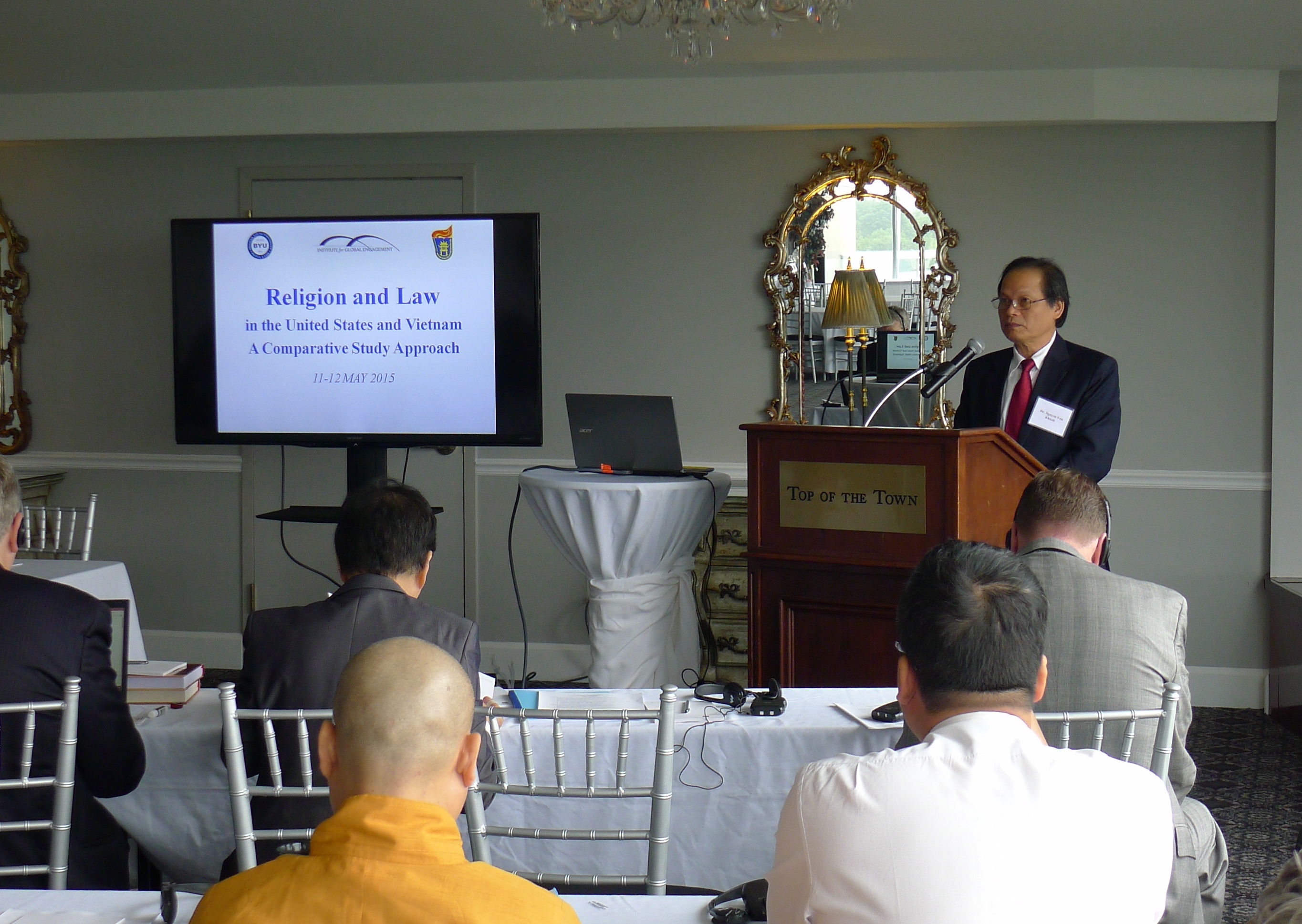 Prof.Dr Nguyen Van Khanh gave his opening speech
The speech also reiterated that Vietnam would like to get more experiences in developing a state of law and religion from the US, which had the earliest secular state and various lessons in dealing with religious issues. This conference was also a change for Vietnamese and American scholars to share their research findings and recommendations on a comparative study on Law and Religion.
The main topics of this conference were:
Constitutional and legal framework for religious activities in Vietnam and the US.
Academic viewpoints on state and law as seen from International, Vietnamese and American Law.
Perspectives of religious communities on state and law.
Perspectives of the executive on state and law.
Perspectives of the legislative on state and law.
Experiences in drafting fundamental laws on state and law.
Establishment and implementation of laws and regulations on state and law.