https://ussh.vnu.edu.vn/en/news/characters-events/persian-literature-saadi-and-vietnam-iran-cultural-relations-11923.html
https://ussh.vnu.edu.vn/uploads/ussh/news/2015_06/persian-literature-saadi-and-vietnam-iran-cultural-relations11062015151432.jpg
Saadi was born in somewhere between 1203 and 1208 in the city of Shiraz, Iran. He was a medieval poet, thinker and author of the poems and statements that became trendy in Persian medieval literature. His main works include Bostan (1256) and Gulistan (1257), both of which contain pedagogical issues and helped him gain recognition in not only Persia but also in the East in general, elevating him to one of greatest poets of mankind.
In his speech, Mr Hossein Alvadi Behineh emphasized: "The introduction of worldwide Iranian cultural figures is especially important in extending the cultural and people-to-people relations between Iran and Vietnam. The publication of the Special Issue dated March 2015 of the Journal for Literary Research by the Vietnam Association for Literature is one of activities recently carried out by the Iranian Embassy and University of Social Sciences and Humanities." He hoped that "this special Issue would further encourage the interest of Vietnamese researchers and writers in Saadi and Persian literature and this event would further enhance the mutual understanding between Iranian and Vietnamese people and between intellectual communities likewise".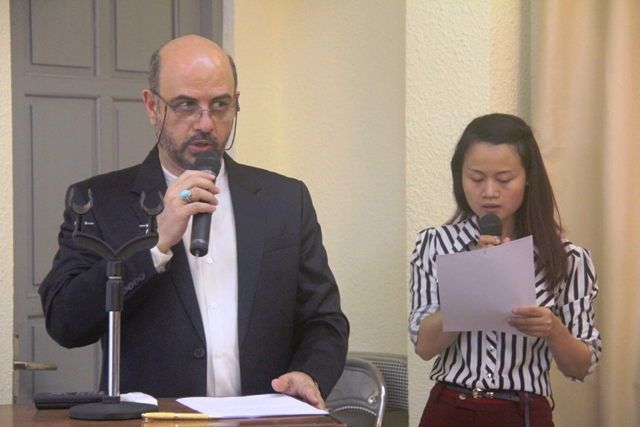 Mr. Hossein Alvadi Behineh gave his opening remarks 
Assoc.Prof.Dr Nguyen Van Kim expressed his appreciation of the Iranian Embassy for providing scholarships for various students, holding cultural and educational events and upgrading the Iran Room of the University. He said that events like this positively helped promote Vietnamese understanding of the interesting and diverse culture of Iran. This seminar was also a meaningful event for Saadi was new to Vietnam but a well-known poet in the world.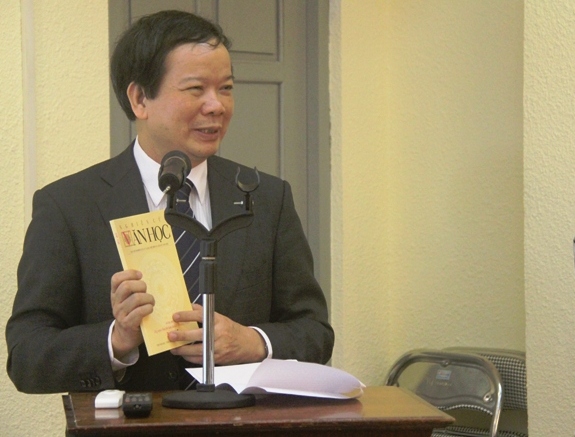 Assoc.Prof.Dr Nguyen Van Kim introduced the Special Issue of the Journal for Literary Research 
Lastly, Assoc.Prof.Dr Do Thu Ha (Dean of Division of Indian Studies, Faculty of Oriental Studies) introduced the Special Issue to celebrate the birthday of Saadi Shizazi. The content of this issue covers four main themes: Overview of the area, life and career of Saadi – The humanistic values and ideas in Saadi's works – The system of symbols in Saadi's poets – Saadi's heritage in Vietnam and the world.