https://ussh.vnu.edu.vn/en/news/characters-events/deputy-prime-minister-vu-duc-dam-advises-students-to-live-for-the-good-things-12344.html
https://ussh.vnu.edu.vn/uploads/ussh/news/2015_09/deputy-prime-minister-vu-duc-dam-advised-students-to-live-for-the-greater-good21092015213443.jpg
Before speaking, the Deputy Prime Minister listened to all questions posed by the students. His simplicity, liveliness and friendliness at once erased the distance between a politician and young students.
On the question: "what do you know about Humanities, what can you do to extend the humanistic values?" USSH's students shared their honest and diverse viewpoints.
Nguyen Thi Thanh Hoa (Faculty of Tourism) said one of the most humanistic activities of students today was to engage in community services. These services helped students become more compassionate and helpful towards others. Nguyen Thao Nguyen (Faculty of Sociology) said she simply observed humanistic values in everyday events such as hardworkingness, discipline and environmental protection. Broadly speaking, students had to learn the way to apply knowledge to their future career and the contribution to national development.
Proud of a traditional university, Nguyen Khanh Toan (Faculty of Management Science) said that he had learnt more about humanities at this university than any other place. This university had used to be a place of more than 1,300 teachers and students that directly participated in the national war for salvation against America, including heroes such as Nguyen Van Thac, Chu Cam Phong and Le Anh Xuan.
Apart from positive viewpoints, many students expressed their real concerns about the future of social sciences and humanities they were pursuing. Nguyen Thu Hang (Faculty of Journalism and Communication) asked: "…many students currently struggle to find employment or a suitable career. What have the Party and Government done to improve this situation?"
Nguyen Viet Phuong (Faculty of Philosophy) said: "…many people said it is hard to find highly-paid job or social status with the social sciences and humanities. What can the Government do to help students majoring these fields become more confident in their future career…?"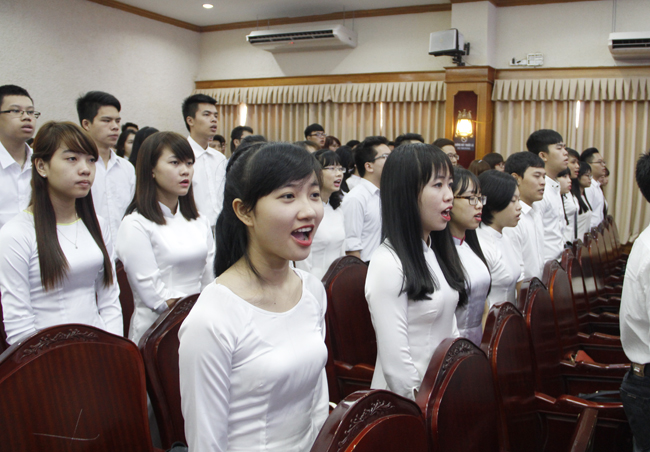 The students responded to Deputy Prime Minister Vu Duc Dam
In response, the Deputy Prime Minister replied: "I would like to tell you I come here today to make sure to you that the majors you are pursuing and will be working for are very important". For a nation to develop, not only science and technology are necessary, because technology alone was not enough for Vietnam to score continuous victories over thousands of years, and economic development alone did not result in happiness. He advised the students to trust their current majors because they aimed to make better values that were the foundation of a happy life.
He said that the Government of course has to find ways to encourage the economy. So is everyone in society. But each individual has to fulfill his own position. If everyone is able to do that, society will develop and employment would increase. Social sciences and humanities would be respected.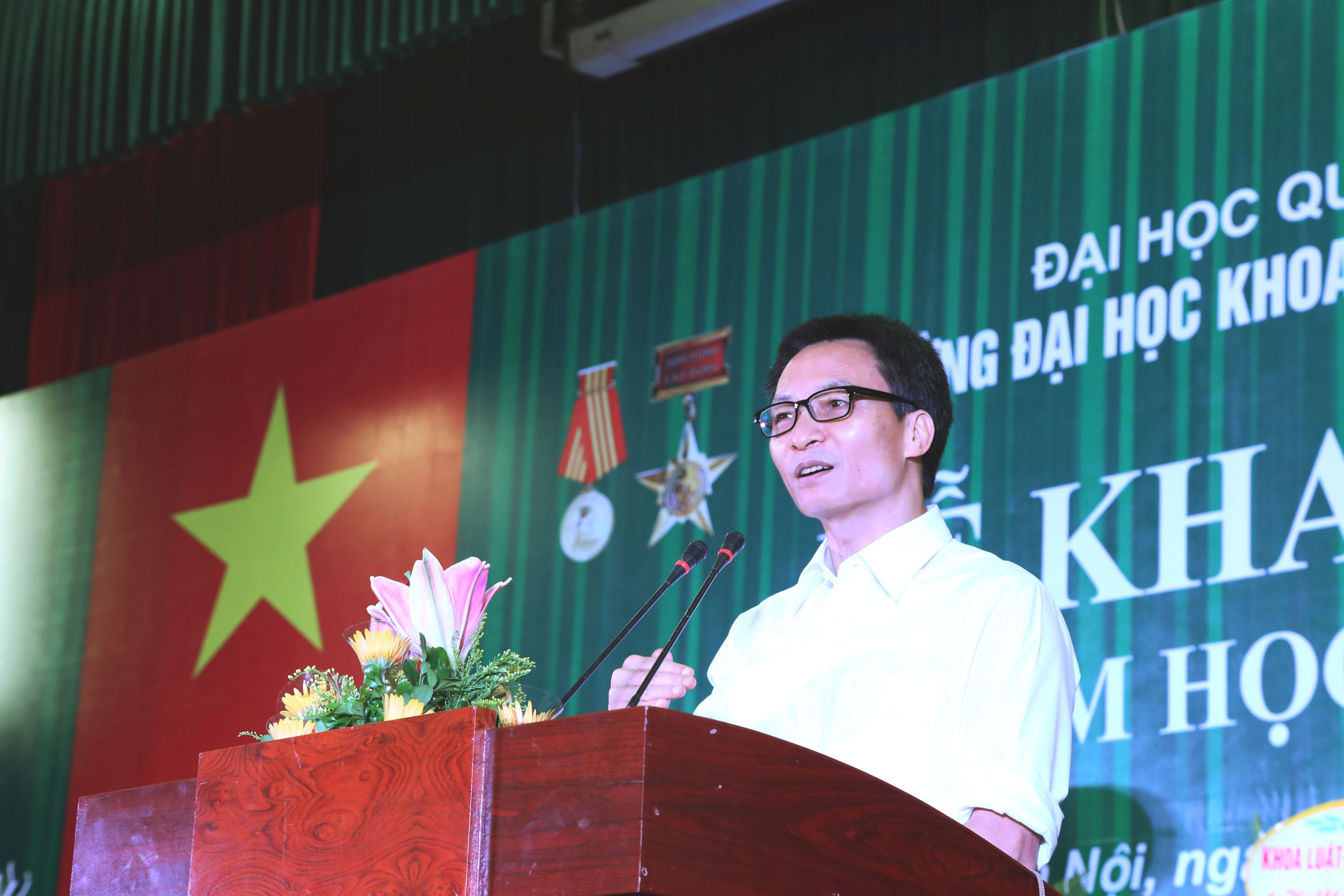 Mr. Vu Duc Dam advised students to live for the good things 
He also encouraged students to avoid from "becoming too old" and comparing themselves to others. They are also expected to ask what they had gained from  teachers, friends, books and even life. By simply doing their best in everything, they would find their place in society.
"The important thing is that everyone should give his best at what they do and learn how to live for others…The best thing in life, some day you will get it, is to bring the good things to others" – said the Deputy Prime Minister.
These goods things can simply be a smile or a sincere act. What is important is they have to act out of goodwill for others and society. Whatever good they did for others, they would be repaid.