https://ussh.vnu.edu.vn/en/news/characters-events/the-party-committee-of-ussh-leading-and-innovative-in-everything-12196.html
https://ussh.vnu.edu.vn/uploads/ussh/news/2015_08/the-party-committee-of-ussh-leading-and-innovative-in-every-move25082015111412.jpg
Training is a shared duty and responsibility
"Maintaining and constantly improving training quality is considered our shared honor and responsibility at the University of Social Sciences and Humanities", said Assoc.Prof.Dr Nguyen Van Kim (Secretary of the Party Committee and Vice Rector).
Aware of its pioneering role in training high-quality human resources, the University has found many initiatives to follow the global education trends. However, no matter what moves it has made, USSH still marks training quality as a yardstick to measure itself.  
The University has undertaken a conversion from traditional system into a credit-based system at all levels, whereby learners can participate more actively in their study process. Consequently, the continuity between educational levels is more ensured and training management becomes more flexible.
After 4 years implementing the credit-based system (from 2007 to 2010), there have been 400 students completing their education sooner than expected. Besides, the number of students graduating on time account for 85% while those getting good degrees account for more than 90%.
"Students are equipped with not only knowledge and professional skills but also a set of ethical standards, including personal morality, professional norms and social responsibility. Therefore, upon graduation, they are eligible for decent jobs in society", shared Assoc.Professor Tran Ngoc Lieu (Head of Office for Academic Affairs) at the University.
Not only opening new faculties to satisfy social demands, the Party Committee has also developed advanced programs and expanded international  programs.
Dual-degree programs are set up by combining USSH's training programs together or with that of other member universities in VNU. The University currently offers 21 undergraduate majors, 6 advanced programs and 129 dual-degree programs. In 2014, the University completed the Strategy for Curriculla Planning to be carried out from 2014 to 2020, which is a foundation for developing majors in the next 5 years.
In the period of 2010-2015, the postgraduate programs developed rapidly in quality and scale, especially in training doctorate and international students. The number of students pursuing doctorate degrees at the University every year is about 140, of which 20 are international students. This rate is constantly increasing with the development of new majors. The proportion of postgraduate programs is roughly 37% of all formal programs. This percentage is gradually approaching that which is required of a research-based university.
In the past 5 years, the University has created 11 more postgraduate programs, increasing the total number to 61. It is expected that it will have held 69 postgraduate programs by 2020.
The University also took the lead in quality assessment. It successfully assessed the Bachelor's program in Linguistics using AUN standards in 2013, and is going to assess the Bachelor's program in Oriental Studies. This is a resolute move with the aim of reaching regional and international standards in the near future.
Following directives from the Party Committee on management and administrative reforms and the application of ISO managerial standards, the University has completed the first phase of quality assessment based on ISO standards and is continuing its second phase.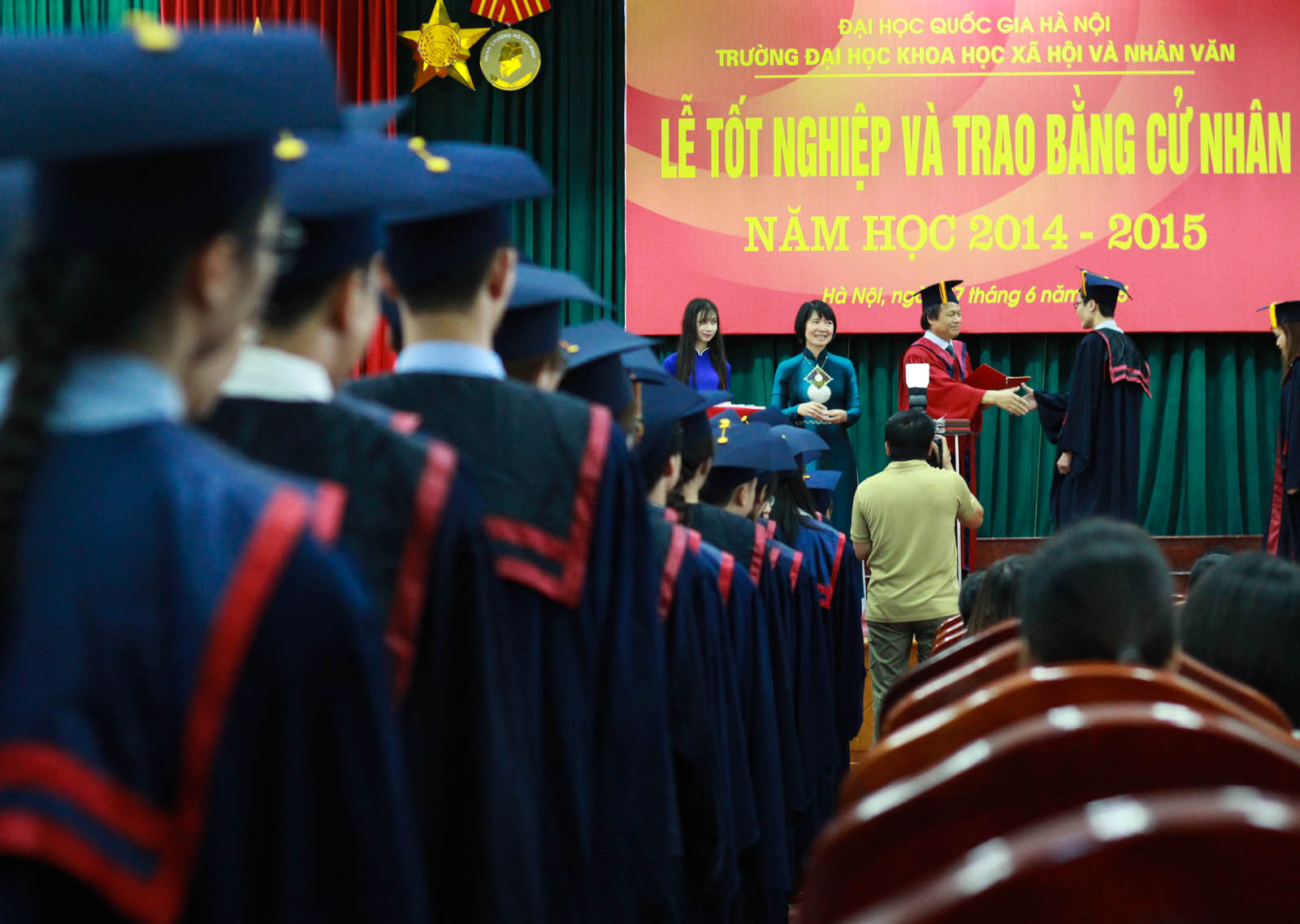 Undergraduates line up at the graduation ceremony for the academic year of 2014-2015
A breakthrough in training high-quality staff
Considering high-quality human resources a decisive factor in its development, the party committee issued an important directive to raise staff performance to international standards. They thereby designed many active policies aimed at improving staff quality.
"Young staff training is always of particular interest to the Party Committee and Board of Rectors. The University has operated various preferential policies to support young staff, from working-hours adjustment to tuition exemption and financial support for postgraduates", said Prof.Dr Nguyen Van Khanh (Rector of USSH).
Presently, the University has about 100 young staff pursuing doctorate degrees. These research fellows are expected to greatly contribute to the goal of high-quality research and training services in the near future.
According to statistics, the current number of lecturers at the University is 358. The percentage of those that have postgraduate degrees is 95, accounting for 5%, including 96 professors and associate professors and 185 doctors. 103 lecturers and 16 are pursuing doctorate and master's degrees, respectively. These impressive numbers exceed the target set by the Party Committee at its 26th Congress.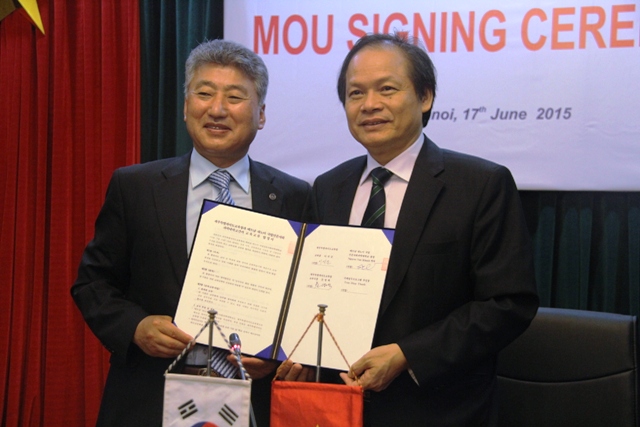 Prof.Dr Nguyen Van Khanh exchanged memorandums  with M.r Ko Dong Hyeon of the Jeju Department of Education
Increased performance in research and international cooperation
With the aim of developing the University of Social Sciences and Humanities into a research=based university, the Party Committee has focused on improving research quality, thereby enhancing training and teaching quality. This also helps USSH to develop its own scientific reputation.
The scientific projects in the previous term significantly developed in both quantity and quality, especially those at State level. They provide policymakers with valuable scientific background based on which to form different policies to serve Vietnam's socio-economic development and ensure its territorial integrity.
Statistics show that, in the past 5 years, the University has produced 2762 papers, of which 188 are published on international magazines and 21 have received Awards for Science and Technology at different levels, including 03 Ho Chi Minh awards, 02 State level awards, 16 VNU-level and Ministry-level awards.
Scientific workshops are also a key strength. They serve as forums for the exchange of domestic and international perspectives on scientific issues and current affairs. In an effort to bring scientific works up to international standards, in recent years, the University has taken several measures to support researchers in having their articles published on international magazines. Until 2014, the number of internationally published articles reached 40. This was an impressive figure compared to only 7 in 2011.
Under the supervision of the Party Committee, the University has secured its position as a representative of Vietnam's higher education. This helps it attract and diversify external sources for development and establish cooperation with many prestigious universities such as Princeton University, San Jose State University, University of Utah, University of Tokyo, Moscow State University, Nanyang Technological University, National Taiwan University, Shanghai University, University of Toulouse II, Panthéon-Assas University, Lund University, Australian National University, Yonsei University, among others.
Developing USSH into a top-notch research and training institution is always the ultimate objective of the Party Committee. The University has achieved remarkable successes in the last 5 years thanks to the contribution of the Committee to providing political and ideological support and fostering internal consensus and cohesion.