https://ussh.vnu.edu.vn/en/news/activities/the-relationship-between-vietnam-and-iran-in-the-new-global-context-9652.html
https://ussh.vnu.edu.vn/uploads/ussh/news/2014_02/the-relationship-between-vietnam-and-iran-in-the-new-global-context18042014121036.jpg
Among the participants were Mr. Hussein Alvandi Behineh (Ambassador of the Islamic Republic of Iran to Vietnam) and many scientists from both countries.
In his opening speech, Prof.Dr Nguyen Van Khanh (Rector of USSH) cited the history of cooperative relationship between Vietnam and Iran along with their cultural and historical similarities, which constitute a foundation for mutual understanding. The diplomatic relationship between the two countries was established in 1973. Recently, this relationship has entered a new stage of development, in which cooperation is carried out in all areas from politics, economy, and culture to science and technology. Upon entering the 21st century, given the shifts in the regional and global context, both Vietnam and Iran would like to promote the tradition of friendly cooperation, bringing this relationship to a new level for the common interests of two peoples.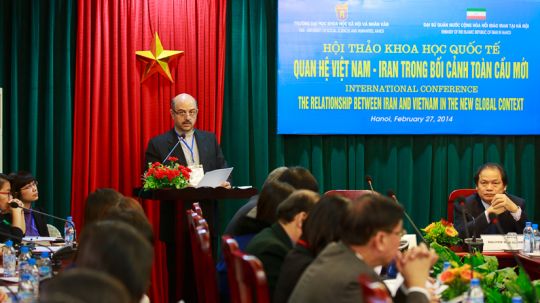 Mr Hussein Alvandi Behineh (Ambassador of the Islamic Republic of Iran) had a speech in the opening section (Thanh Long/USSH)
For USSH in particular, cooperation with the Iran Embassy to Vietnam in recent years has made noticeable results: many Vietnamese students and lecturers have come to research and study in Iran, many Iranian lecturers have come to teach Persian at the University, many academic and cultural exchanges between Vietnam and Iran have been organized, the Iran Room has been established and used as a studio for in–depth study of Persian culture and language towards the opening of the Iranian studies program, etc…
Also at the opening ceremony, Ambassador Hussein Alvandi Behineh had an introduction of Iran's foreign policy with its regional neighbors, including Vietnam. He highly appreciated the significance of this conference as a notable academic event under the Iranian Cultural Week at USSH, which generates new opportunities for cooperation and exchange between scientists of the two countries by exchanging ideas on important regional and global issues.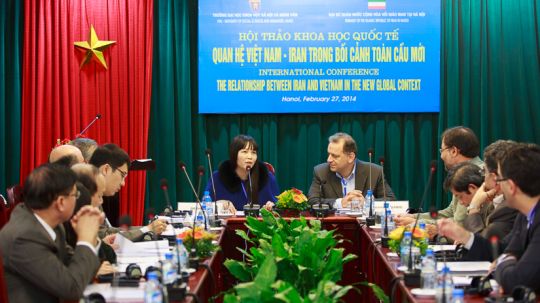 At the conference, with different approaches, the papers shed light on the achievements of Vietnam–Iran cooperation, analyzed the new international factors that affect bilateral relations. Some particular topics were: the potential and opportunities for investment cooperation between Iran and Vietnam; Vietnam–Iran economic and trade relations – situation and prospects; Iran's foreign policy in Southeast Asia with the focus on Vietnam; Iranian people and the Vietnam war seen from a historical perspective and prospects for public diplomacy in the new context; the interaction between politics and religion in the Middle East; and energy security in India–Iran relations, etc…