https://ussh.vnu.edu.vn/en/news/activities/signing-memorandum-of-understanding-with-hankuk-university-of-foreign-studies-9390.html
https://ussh.vnu.edu.vn/uploads/ussh/news/2013_05/signing-the-memorandum-of-cooperation-with-hankok-university16042014175457.jpg
The memorandum of understanding included such topics as as staff and student exchanges, sharing academic materials, creating joint training programs, and co-holding conferences.
At the meeting, leaders of two universities expressed their appreciation for the results in recent years and wished to largely extend opportunities of bilateral cooperation in the near future.
Prof. Dr. Nguyen Van Khanh said the two universities had shared great cooperative relations in many years, which created great potential for bilateral cooperation. The Rector hoped the two sides would continue and develop relations in multiple fields in the near future. USSH is ready to send staff to teach Vietnamese language at Hankuk University of Foreign Studies, as well as welcome South Korean students to study and do research in Vietnam.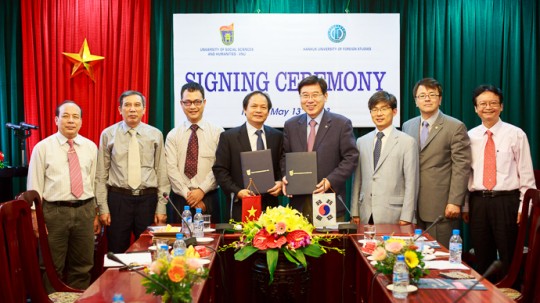 Prof.Dr Nguyen Van Khanh and Dr Chul Park exchange memorandum and have photo with the delegations
Mr. Chul Park affirmed that the memorandum would improve and develop bilateral cooperation to a greater extent. Hankuk University of Foreign Studies would annually choose and award scholarships to students of USSH.
Hankuk Universities of Foreign Studies established in 1954 is the top Korean university specializing in foreign languages and studies. At present, there are 30 languages in the world taught at the university. In particular, Hankuk University of Foreign Studies has a Vietnamese studies program founded in 1967 and trained a lot of famous researchers in Vietnamese studies in South Korea. Hankuk University of Foreign Studies has other institutes in Social Sciences, Humanities, Law, Commerce, Education… with more than 23.000 undergraduates and 3.000 masters.