https://ussh.vnu.edu.vn/en/news/activities/meeting-with-guangxi-university-china-11454.html
https://ussh.vnu.edu.vn/uploads/ussh/news/2015_01/meeting-with-guangxi-university-china27012015151142.jpg
Assoc.Prof.Dr. Pham Quang Minh welcomed the delegation from Guangxi University and emphasized that USSH and Guangxi University had shared partnership for 7 years since the signing of bilateral memorandum in 2007. USSH has a special interest in promoting international cooperation in training and research affairs. In particular, the University sought to further expand cooperation with Chinese universities such as Guangxi University. Currently the University has the Division of Chinese Studies under Faculty of Oriental Studies and Center for Chinese Studies.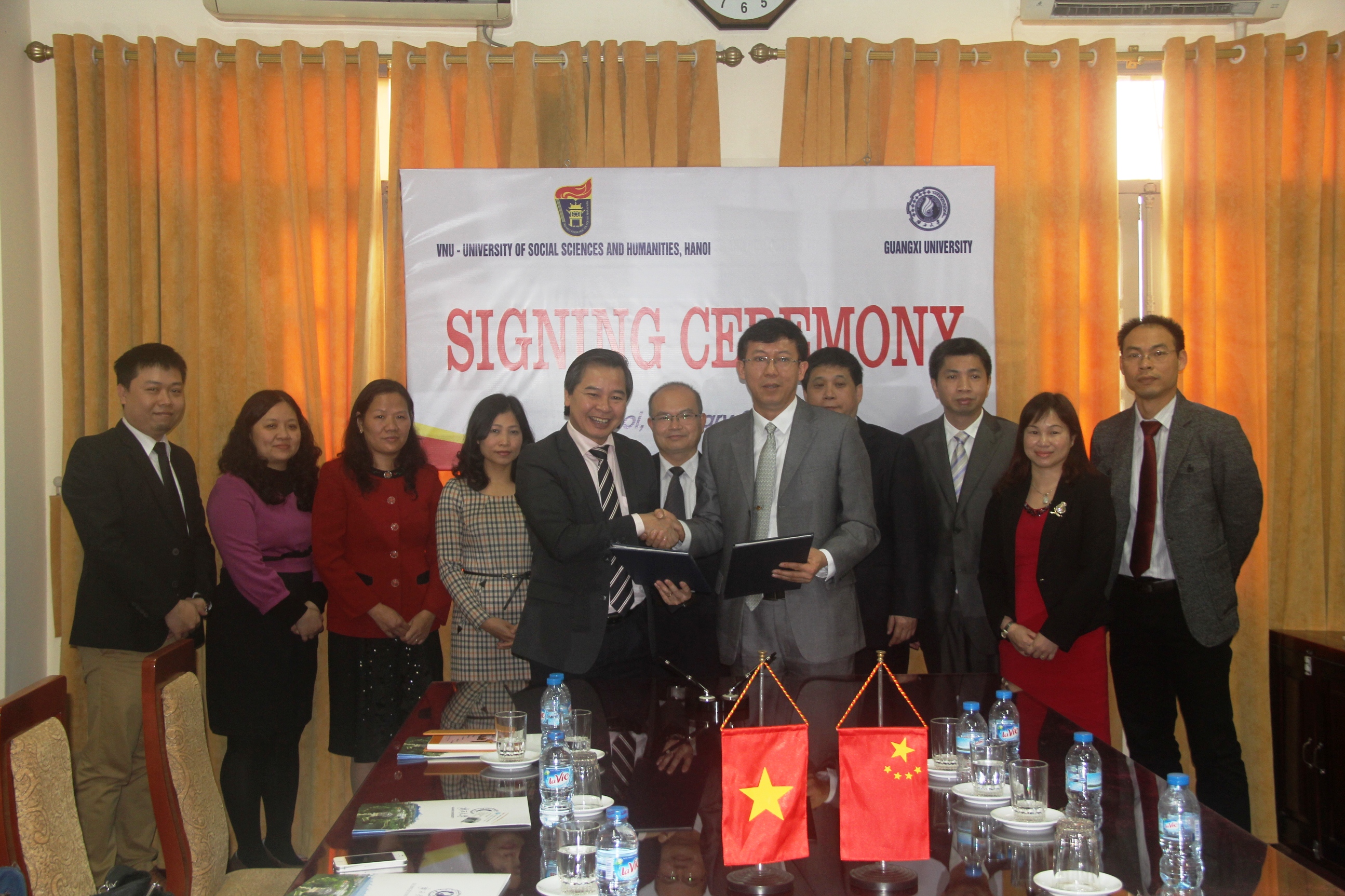 Both sides take photographs signed the memorandum (Photo: Tran Minh)
Mr. Tang Pingqiu was grateful for the reception of USSH and said the visit of Guangxi University aimed to renew the MOU in 2007, which promotes cooperation between the two sides and discuss the potential establishment of a Confucius Institute at the University in the near future. He said the two sides have great potential for cooperation for three reasons: first is the close geographical distance between Nanning and Vietnam, making it convenient for both sides to visit each other; second is that Guangxi University has many units studying and teaching social sciences and humanities; and third is in Nanning there are frequent ASEAN exhibitions, enabling local people to better understand the ASEAN countries including Vietnam.
Assoc.Prof.Dr. Pham Quang Minh welcomed and shared the proposals of Tang Pingqiu and said the two sides shared more cooperation in the past, but had yet to make full use of the mentioned advantages. He proposed further cooperation in the future, especially in organizing a workshop with the participation of professors from Guangxi University at the beginning of 2016.
Guangxi University was founded in 1928. It is an integrated University with many different majors. The university has 20 faculties of the Department of Education, 1st study physical education. In addition, it has 15 research projects desined for Autonomous Region, 01 University of Science and Technology, 01 modernized agricultural research institution, 48 research centers, 67 labs.