https://ussh.vnu.edu.vn/en/news/activities/cooperation-in-psychology-with-aix-marseille-university-france-and-university-of-campinas-brazil-launched-11668.html
https://ussh.vnu.edu.vn/uploads/ussh/news/2015_04/cooperation-in-psychology-with-aix-marseille-university-france-and-university-of-campinas-brazil-launched01042015151428.jpg
Assoc. Prof. Dr Pham Quang Minh said USSH is one of the members of Vietnam National University, having a wide range of cooperative relations with universities in the world. To achieve the status of a research-based university in the future, USSH desires to have more support from foreign partners in inter-disciplinary research and training. He also proposed initiatives for cooperation with the two universities in exchanging students, lecturers and conducting common research projects.
In return, Prof. Marcio Pereira said he appreciated the warm welcome and open discussions from Assoc. Prof. Dr Pham Quang Minh. He expressed his willingness to cooperate with USSH via Faculty of Psychology in different areas relating to psychology such as domestic violence, psychotherapy, pathology and psychiatry, with an emphasis on Agent Orange victims. In particular, Aix Marseille University and University of Campinas aimed to sign a memorandum of understanding to form a collaborative research team specializing in psychotherapy. This would be a proper contribution to psychotherapy and psychology in Vietnam.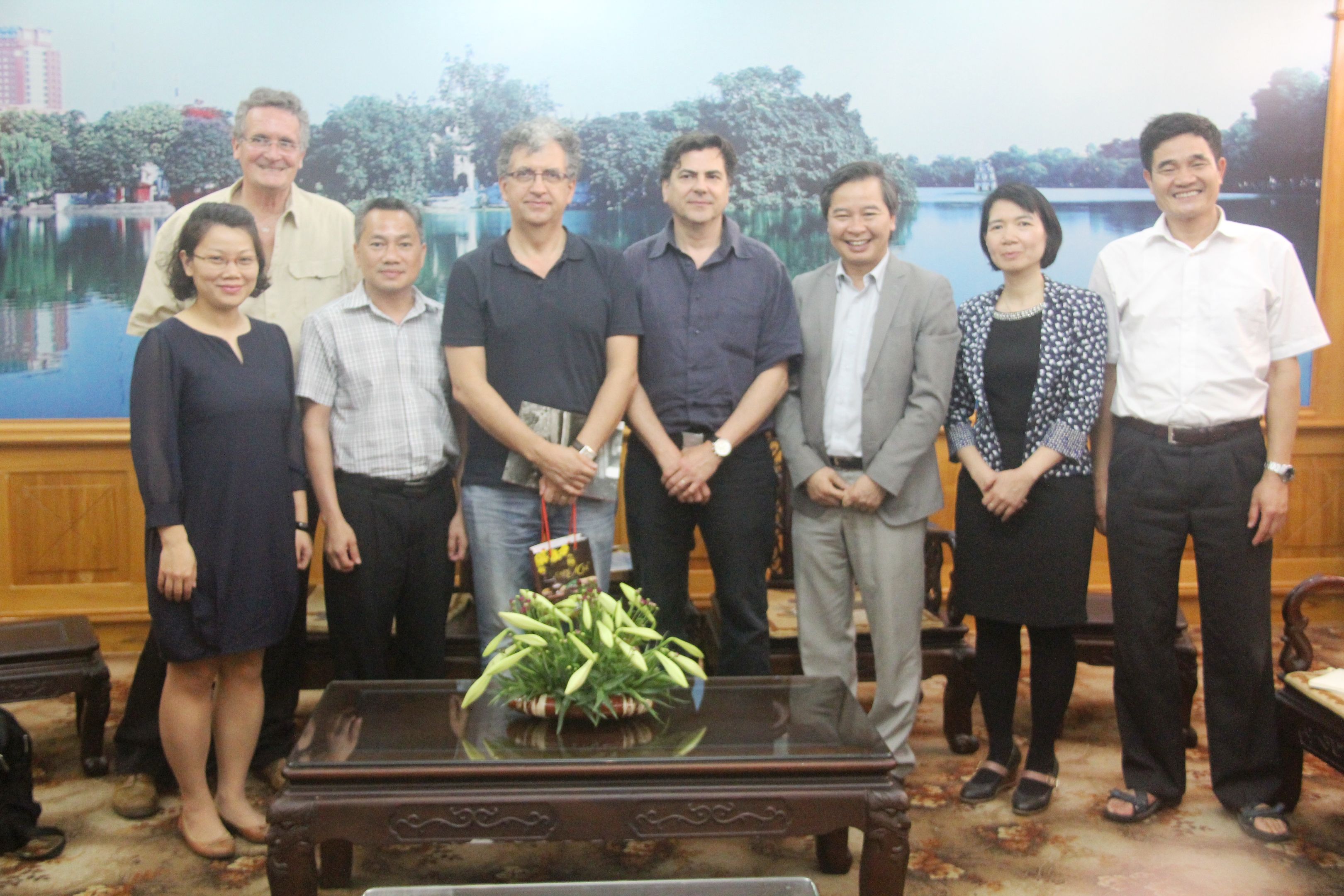 Assoc. Prof. Dr Pham Quang Minh took a photo with the Prof. Guy Gimenez and Prof. Mario Pereira and the representatives
Assoc. Prof. Dr Pham Quang Minh appreciated the recommendations of Prof. Marcio Pereira and hoped the three sides would soon kick off the signing and implementation of the cooperation. He also suggested additional methods for cooperation such as co-organizing international conferences on psychological issues, establishing short-term courses on psychotherapy and seeking grants from international organizations such as the Vietnam Red Cross Society, American Embassy to Vietnam and the United Nations programs.