https://ussh.vnu.edu.vn/en/news/activities/globalization-modernity-and-urban-change-11659.html
https://ussh.vnu.edu.vn/uploads/ussh/news/2015_03/globalization-modernity-and-urban-change30032015143608.jpg
On March 30th, 2015, the international conference titled "Globalization, Modernity and Urban change" was held by University of Social Sciences and Humanities and the Institute for Culture and Society (University of Western Sydney). Participating in the conference were Prof.Dr Nguyen Van Khanh (USSH's Rector), Assoc.Prof.Dr Pham Quang Minh (USSH's Vice Rector), Ms Kim Cleary (Australian Education and Science Counselor in Hanoi), Mr Nguyen Van Phong (Deputy Director, Hanoi Party Organization's Propaganda Department), and Prof. Paul James (Director of the Institute for Culture and Society, University of Western Sydney).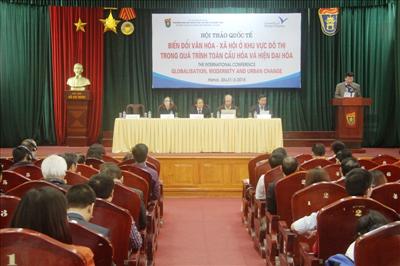 In his opening speech, Prof. Dr Nguyen Van Khanh said this conference served as a forum for scientists and researchers to exchange inter – disciplinary discussions on the socio-cultural changes in the cities. The conference gathered more than 70 distinguished papers, focusing on various topics from geographical locations to multi-dimensional changes in different social areas such as religion, culture, beliefs and other cultural practices. In particular, Vietnam was a focus for the scholars. The conference aimed to answer three big questions: 1) how is urbanization going on in different spatial and temporal locations, 2) how can social sciences and humanities have stronger voice in the examination of socio-cultural and other changes in urban areas, 3) how to connect scientists into a common research project on urban changes.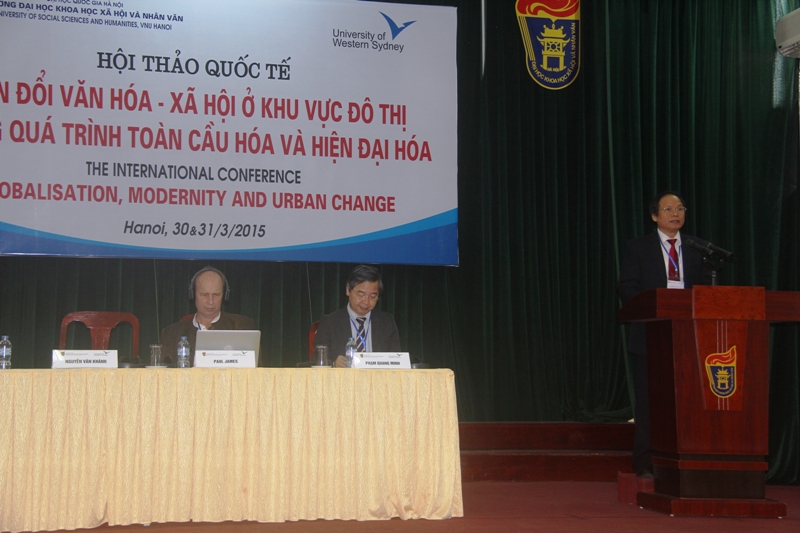 Prof.Dr Nguyen Van Khanh deliver his opening remark 
Sharing the views of Prof.Dr Nguyen Van Khanh, Ms Kim Cleary said Vietnam had seen great changes in the process of modernization and globalization in two recent years. These changes signify social and cultural progress of Vietnam in general and Hanoi in particular, while also indicating more challenges to be resolved. Thus she applauded USSH for organizing this conference as a contribution to the academic discourse on socio-cultural changes in urban areas.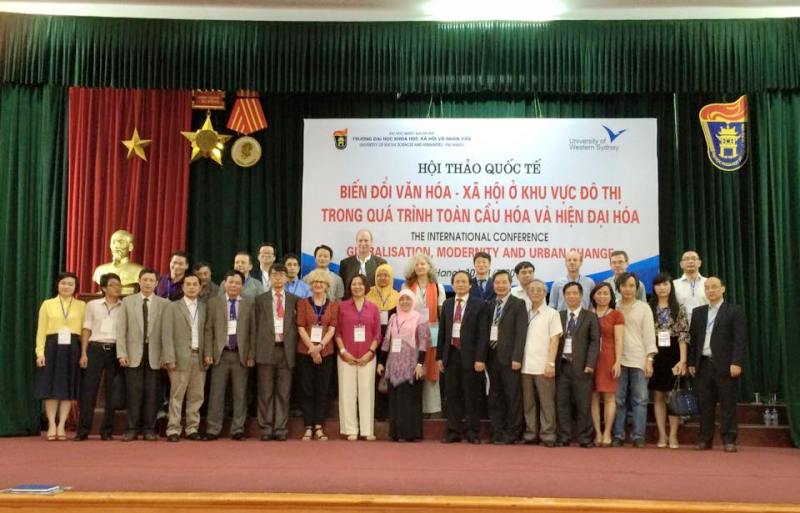 The participants have a group photo
The conference would be held from March 30th to 31th, 2015 with these main topics:
"Urbanization and migration" with the main papers such as Migration and socio-demographic change in the process of urbanization in the Central Highlands of Vietnam (Assoc. Prof. Dr Hoang Ba Thinh), Migrants' social inclusion in Vietnam's urban areas: Towards an model for social assistance (Assoc. Prof. Dr  Pham Van Quyet and Dr. Tran Van Kham), The development of the Pacific Economic Belt and Labor Mobility after World War II (Prof. Tamaki Toshiaki).
Urbanization and livelihood with the main papers such as Urbanization and Livelihood Transformation Challenges in a Hanoi Peri-Urban Village (Dr. Nguyen Thi Thanh Binh), Some issues of urbanization in Hanoi's peri-urban areas (Assoc.Prof.Dr Nguyen Van Suu), Low-income Malaysian Women Surviving Urban Change via Social Safety Nets (Prof. Suriati Binti Ghazali).
"Region, rituals and cultural change" with the main papers such as Religious places as places of modernity in urban spaces of ancient quarter of Hanoi (Prof. Micheal Dickhart), Migration and Changes: The  Case of White Thai's Religious Life in Quynh Nhai, Son La (Dr. Doan Thi Tuyen).
"Social change" with the main papers such as Catastrophe and Formation of deep ethnicity: Global actors in interstitial passages among the Lisu in Thailand (Prof. Masao AYABE), Study on the promotion of citizen participation in urban and regional development (Prof. Kim Chong-Soo and Tran Diep Thanh).
"Urban culture and everyday life" with the main papers such as The bicycle in contemporary urban culture in Vietnam (Dr. Ashley Carruthers), Mass media and socio-cultural change in urban Vietnam in the context of market and globalization (Assoc. Prof. Dr Dang Thi Thu Huong).
"Environment and sustainability" with the main papers such as Assessing adaptive capacity of coastal urban areas to climate change for sustainability: case study in Lien Chieu district, Da Nang city, Vietnam (Prof. Dr. Mai Trong Nhuan, Dr. Nguyen Thi Hong Hue, Assoc. Prof. Dr. Tran Manh Lieu), Plastic in Hanoi: the changing material textures of consumption and waste in Vietnam (Prof. Gay Hawkins).