https://ussh.vnu.edu.vn/en/news/activities/challenges-and-new-features-in-journalism-education-12070.html
https://ussh.vnu.edu.vn/uploads/ussh/news/2015_07/challenges-and-new-features-in-journalism-education24072015165645.jpg
A new training model
The international integration of Vietnam in recent years requires improving the training methods aimed at building a life-long learning atittude and improving the activeness as well as competitiveness of learners. In 2007, the University of Social Sciences and Humanities became one of the first universities that converted the traditional training system into a credit-based system. With its flexibility, the new system has offered students major benefits, one of which is that they are proactive in organizing their academic process.
The Faculty's curricula is currently composed of 134 credits divided into 5 modules: foundational knowledge; foundational knowledge based on areas; foundational knowledge based on groups of minors; knowledge based on minors and specialized knowledge. These 5 modules all comprise compulsory and optional courses. The number of optional subjects is usually three or four times larger than that of compulsory subjects. Thanks to that, the students are able to actively arrange their study plans and select the courses essential for their own future careers. 
The lack of practical facilities has been a common problem for many journalism training institutions in Vietnam. To overcome this inadequacy, the Faculty of Journalism and Communication managed to establish a Centre for Media Practice (CMP), which offers a great deal of modern equipment that help students practice more effectively. Many media products made by students have been broadcast on local and national stations.
For external strategies, the Faculty has signed many strategic agreements with the Vietnam Journalists' Association and media agencies all over the country. It also invited experienced journalists to lecture and share their personal experiences with students. Additionally, the Faculty has held many academic seminars and offered short-term courses funded by institutions in other countries. In addition, cooperation with foreign universities is also strategic part, in which the Faculty shares partnerships with Guangxi University (China) in holding an undergraduate program, and University of Stirling (United Kingdom) a postgraduate program in Media Management.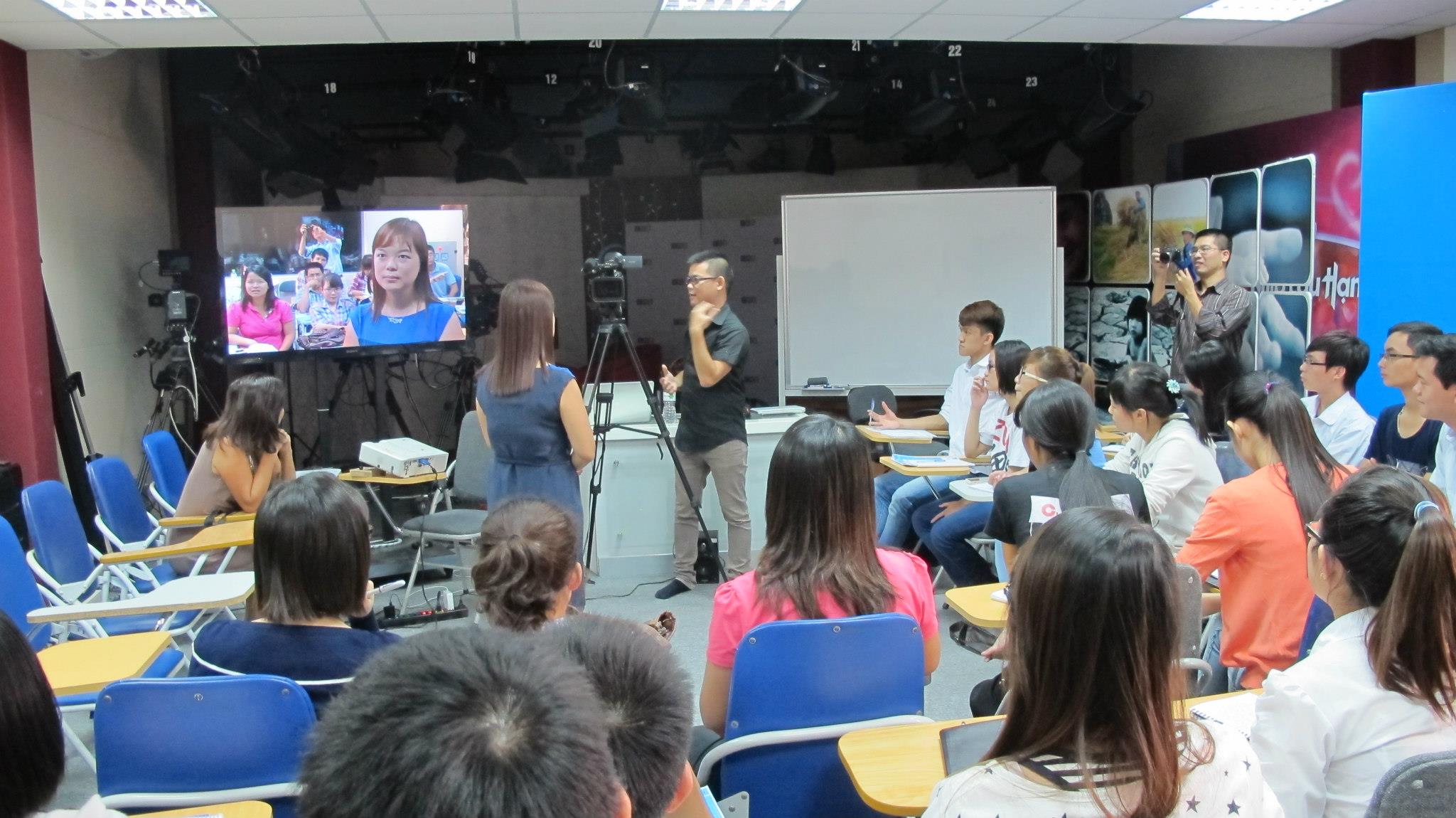 A practical lesson at the Center for Media Practice
New challenges
Having maintained the credit-based model for 8 years, the Faculty of Journalism and Communication has nevertheless faced many difficulties and challenges.
Firstly, the pressure put on educators is considerable. They have to do such things as collecting educational materials, preparing lessons, maintaining the curricula and providing academic advice for students, which takes a great deal of time and effort. In addition, staff shortage and inadequate salary make the burden even heavier.
Secondly, the technologies, particularly software that help monitor and evaluate students' academic progress, including course registration, academic review, class management, tuition fee and so on, are still inadequate and need improving as soon as possible.
Thirdly, many students' thinking and routines are still not compatible with the credit-based system: they are not active enough in learning and putting what they have learnt into practice. Although according to this system the required amount of time in class is less than before, it is not an excuse for less enthusiasm.
Fourth, the large size of classes results in a lack of interaction between teachers and students. Also, the visiting lectures have difficulties organizing their schedules, since most of them work at press agencies.
The rapid development in media industry is putting increasing pressure on journalism education and training. The trainers are required to be sufficiently knowledgeable and experienced in professional journalism to meet social demands and successfully implement the tasks assigned by the Party and State. This is the development aim and direction currently pursued by Faculty of Journalism and Communication.
After 25 years since its establishment in 1990, the Faculty of Journalism and Communication has trained more than 10,000 bachelors; 250 masters; 2 doctors. The rate of graduates being employed within a year after graduation usually reaches 90%. 20 textbooks, 24 specialized lectures and nearly 30 monographs have been compiled. 15 foreign materials have been translated into Vietnamese. More than 40 studies at all levels and 200 scientific works have been published domestically and internationally.