https://ussh.vnu.edu.vn/en/news/activities/funding-program-by-the-sumitomo-foundation-in-2015-2016-12079.html
https://ussh.vnu.edu.vn/uploads/ussh/news/2015_07/funding-program-by-the-sumitomo-foundation-in-2015-201627072015115635.jpg
Participating in the meeting were many researchers and faculty of USSH that were interested in the program, among which was Assoc.Professor Nguyen Van Kim (Secretary of the Party Committee and Vice Rector).
Sumitomo Foundation is a non-profit aid organization established on September, 25th ,1991 by 20 companies of the Sumitomo Group to commemorate the 300th anniversary of Besshi Copper Mine in Shikoku, Japan. Its purpose is to contribute to the betterment of human society by appealing to the support of communities. The foundation provides grants to many projects related to international exchanges, culture, environment, and basic sciences.
To Vietnam, the foundation played an active role in bridging Vietnam–Japan relations, especially in training human resources and connecting researchers. In recent years, various Vietnamese professors and researchers have received grants to implement their research projects. According to statistics, up to now 115 out of 519 grant proposals of Vietnamese scientists have been supported by the foundation.
At the meeting, Mr. Koichi Ishizuka provided detailed information on the funding program for the year 2015 – 2016, including application procedures and specific deadlines for the grant proposals in each category of social sciences and humanities. According to which, to be approved a proposal has to be related to Japanese studies or comparative studies between Vietnam and Japan.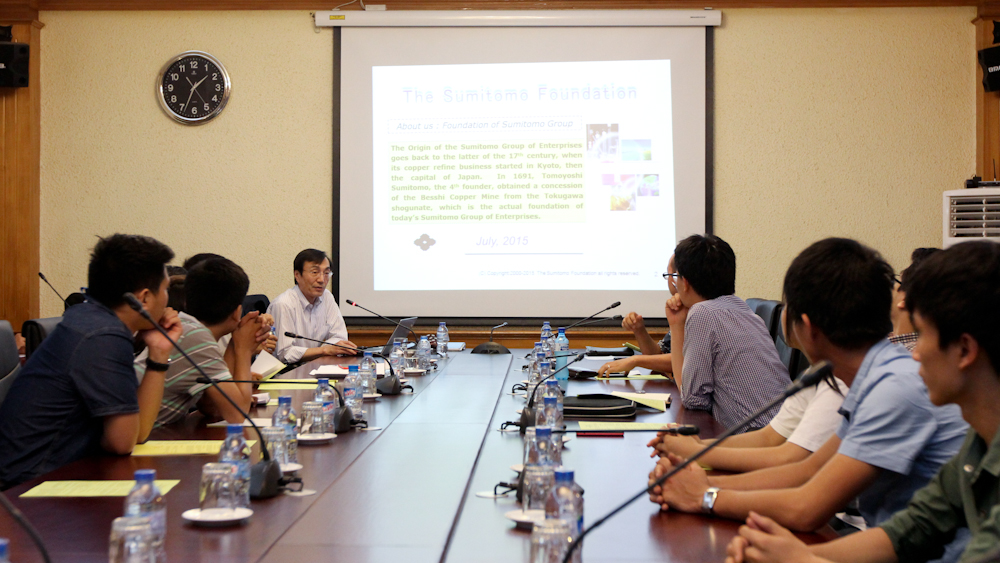 Mr. Koichi Ishizuka introduces the program
In his presentation, Mr. Koichi also expressed his expectation that by getting the grant, many Vietnamese research projects would be able to compete with those from other countries. These grants were expected to greatly contribute to the development of Vietnamese human resources in the future.
Assoc.Professor Nguyen Van Kim offered his warmest thanks to Mr. Koichi Ishizuka. Mr. Kim emphasized that the grants were extremely significant to the faculty doing research. They were seen as the motivation for the development of research teams at USSH, paving way for the cooperation and exchanges among researchers in Asia in general and Vietnamese and Japanese researchers in particular.
"The Sumitomo Foundation provides reasonable grants and simple procedures, because it mainly focuses on the results, not the way studies are conducted", said Dr. Pham Van Thuy, a lecturer at Department of History, who had used to receive a grant.
At the meeting, many lecturers and faculty asked questions concerning the foundation, which helped them in preparing for their proposals.