https://ussh.vnu.edu.vn/en/news/activities/launching-cooperation-with-the-japanese-national-institutes-for-humanities-19532.html
Mrs. Chuma Ai (Second Secretary for Cultural Affairs, Embassy of Japan in Vietnam) says the well-developed relationship between Japan and Vietnam is a good condition for the academic institutions of two countries to establish education cooperation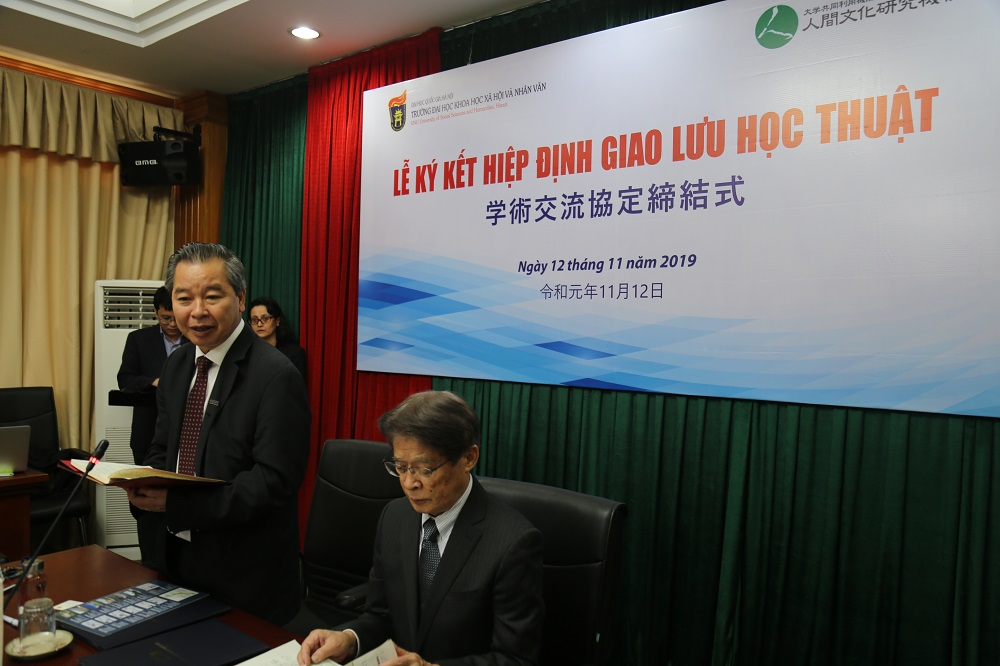 Prof.Dr Pham Quang Minh introduces about the rich tradition and international status of USSH and thanks NIHU for choosing it as a partner for academic cooperation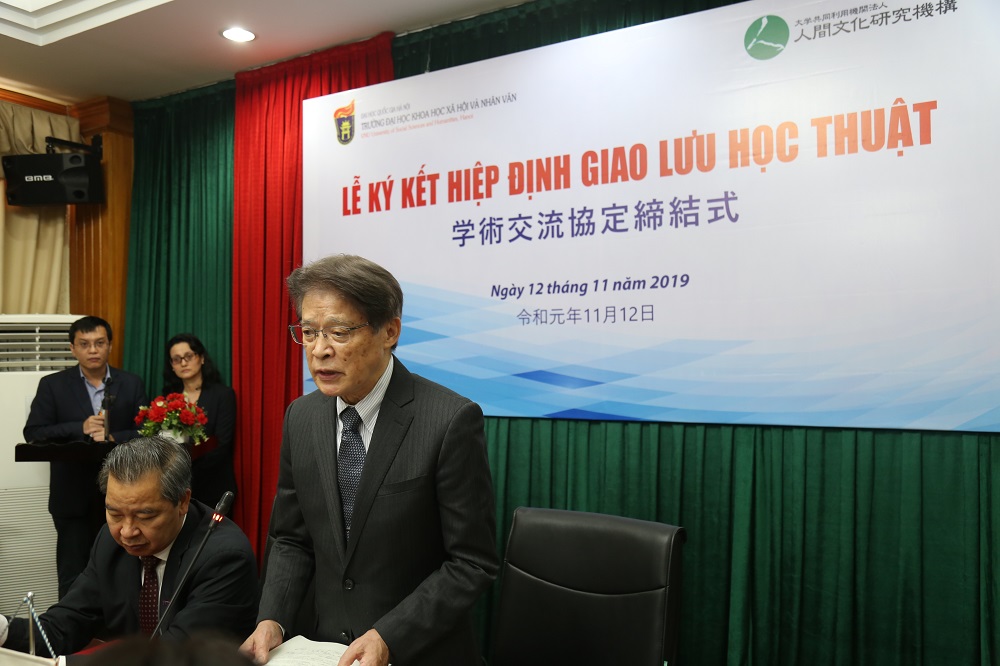 Prof. Hirakawa Minami expresses his hope in the development of common research projects between the two institutions with a mutual interest in social sciences and humanities
Speaking at the conference, the representatives of the Embassy of Japan in Vietnam and the two signatory institutions highly appreciated the significance of this event in promoting the humanities as well as in deepening the friendly relations between the Vietnamese and Japanese peoples. They all noted, apart from political, economic and cultural relations, Vietnam-Japan educational relations have been developing remarkably. These relations are based on the early Vietnam-Japan academic exchanges initiated and developed in decades by the precedent teachers and scholars, one among whom is the late Prof.Phan Huy Le (Vice President of the Vietnam-Japan Friendship Association), a historian credited for having made foundational studies on the two countries' cultural exchanges in history. For USSH and the Japan National Institutes for Humanities, the signing of MOU would be a stepstone for potential cooperation that will help them fulfill the mission left by the predecessors.
After the opening speeches, representatives of the two institutions signed on the MOU, according to which the two sides would engage in educational cooperation through exchanging scholars and researchers; exchanging materials and facilities; and conducting common research projects.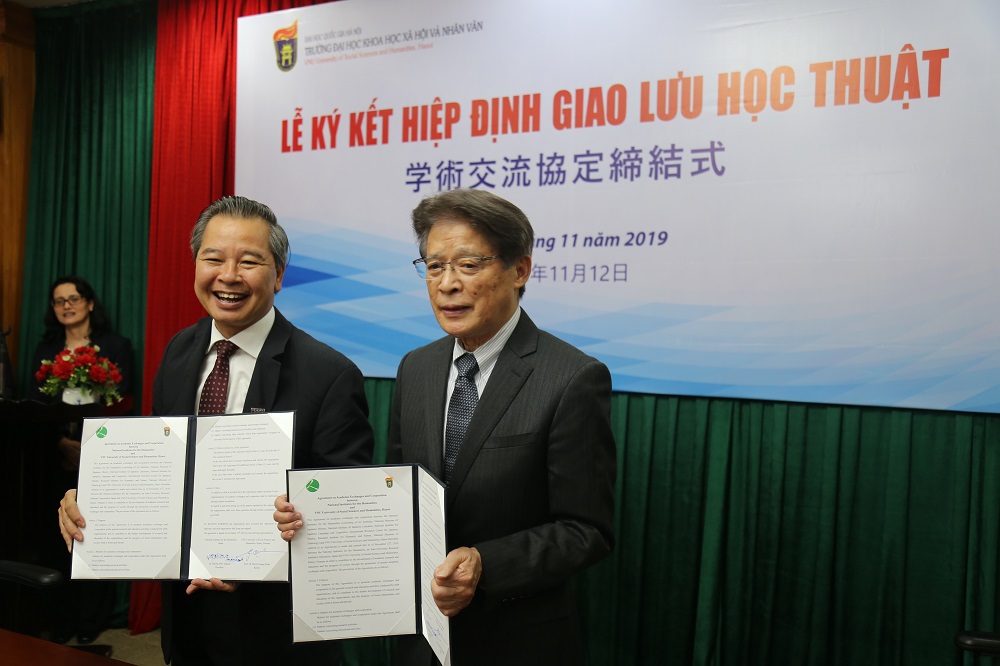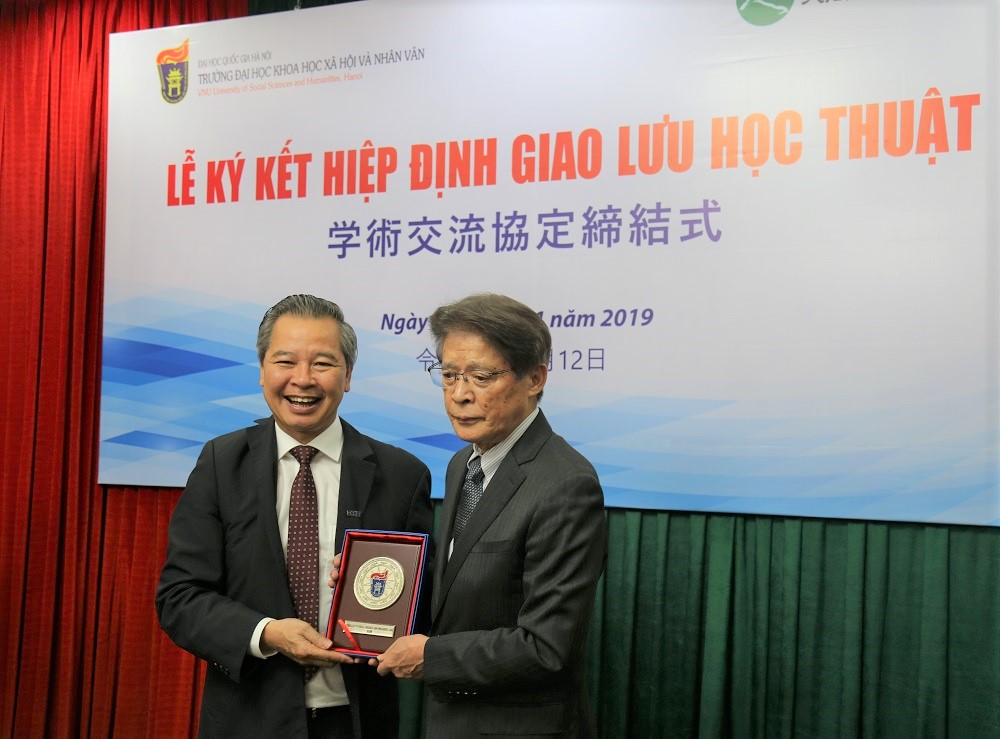 Prof.Dr Pham Quang Minh and Prof. Hirakawa Minami exchange copies of MOU and gifts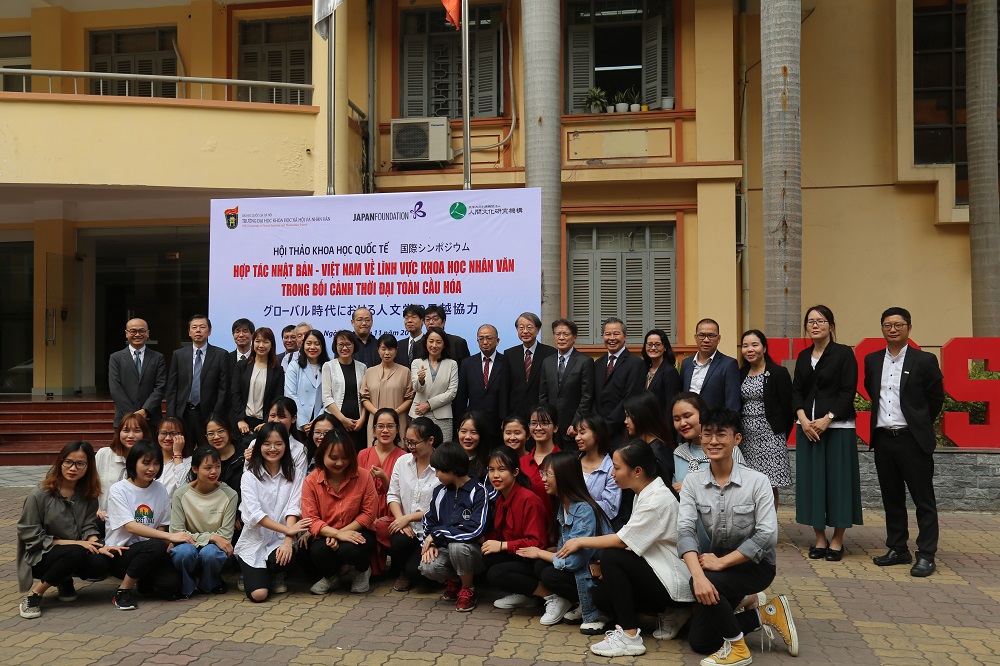 The delegates take a photo with USSH's students
In the afternoon, the international Conference "Japan-Vietnam cooperation in the field of humanities in the context of globalization" was held by USSH and NIHU with the sponsorship by the Japan Foundation. The conference presented the research findings by scholars of two sides on the history, culture and people of Vietnam-Japan.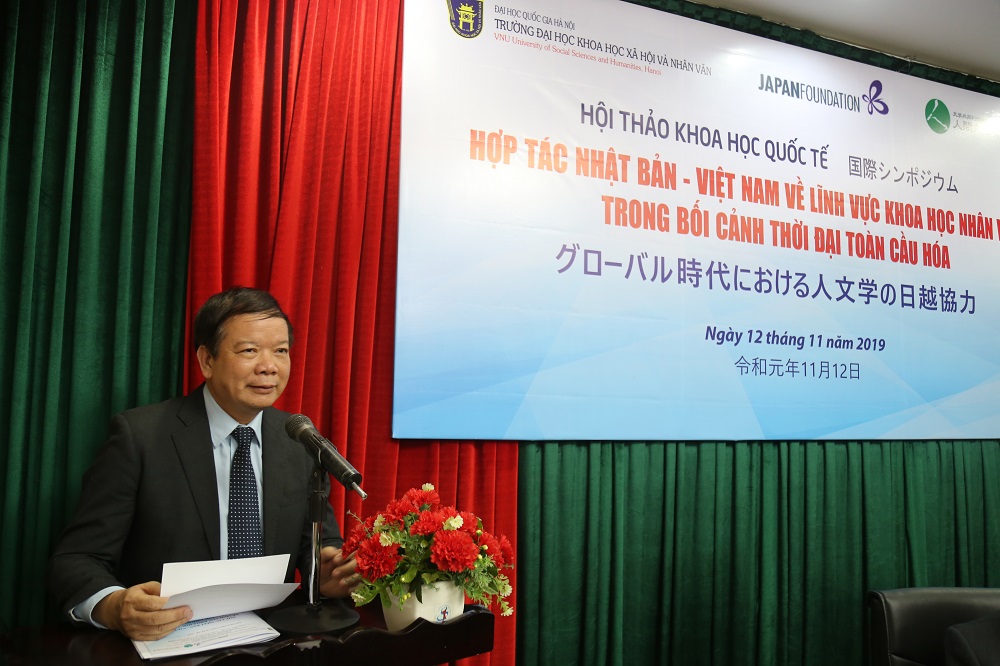 Prof.Dr Nguyen Van Kim (USSH's Vice Rector) delivers his opening speech of the conference, hoping it would serve as forum for the scholars of two institutions to exchange findings and develop good understanding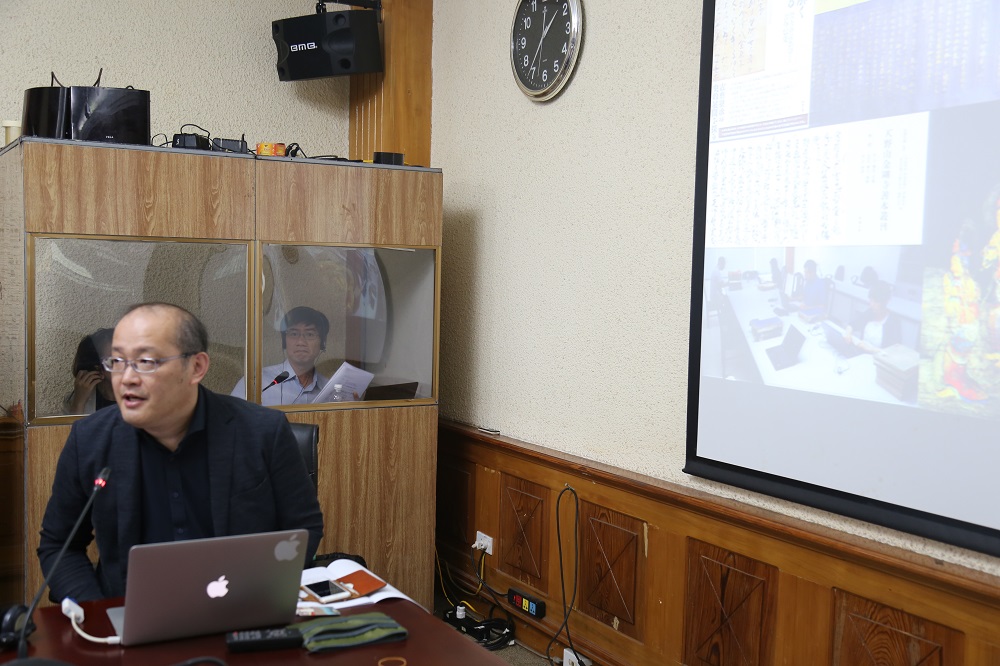 Prof. Unno Keisuke (National Institute of Japanese Literature) presents his paper "Buddhist lineages and the culture of scriptures in Vietnam and Japan"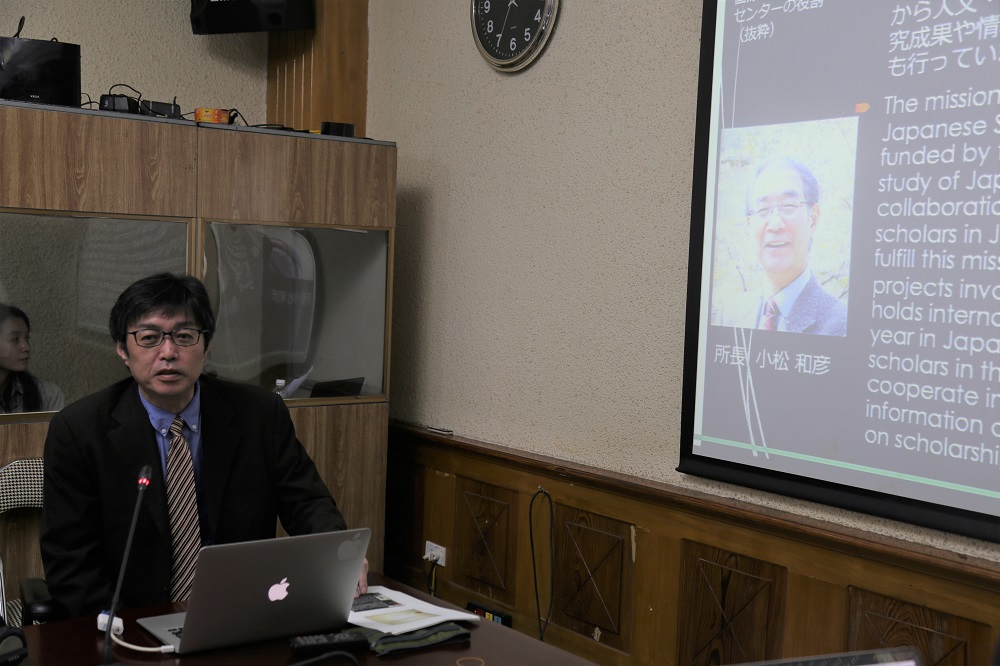 Prof. Araki Hiroshi (Vice Director of the International Research Center for Japanese Studies) presents his paper "The reality of studying Japanese culture in Vietnam"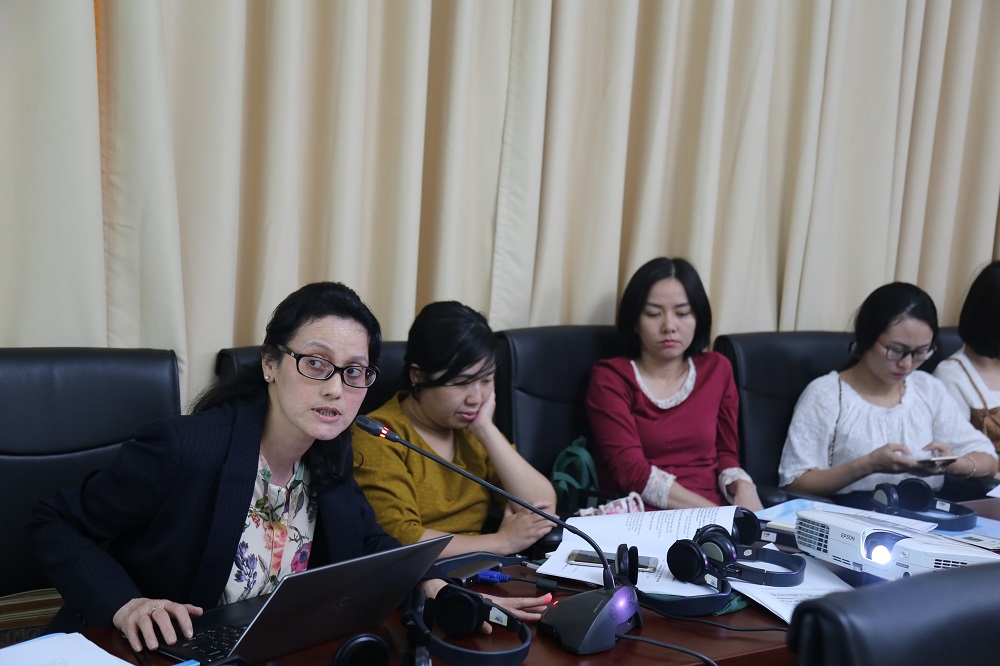 Assoc.Prof.Dr Phan Hai Linh (Faculty of Oriental Studies, USSH) presents her paper "The role of women in promoting cultural heritage: The case of Matsusaka Momen"
The Japan National Institutes for the Humanities (NIHU) was founded in April, 2004 and is one of the largest inter-university research organization in Japan with over 300 members. NIHU set our its mission as leading the study of humanities so as to resolve the critial issues of humankind in the 21st century. NIHU has been cooperating with 17 partners around the world in the field of humanities. It consists of 6 subordinate organs: the National Museum of Japanese History, the National Institute of Japanese Literature, the International Research Center for Japanese Studies, the Research Institute for Humanity and Nature, the National Museum of Ethnology, and the Japanese Language and Linguistics.